This post may include affiliate links. Read our disclosure policy for more information.
Asparagus is at its peak in April, which means the prices are going to be very low, lower than any other time of the year. If you love asparagus but hate how expensive it can get, buy now and freeze for later. Freezing is a really simple way of preserving vegetables and anyone can do it, all you really need is some freezer space. 
Asparagus is a favorite in my family, even my picky eaters like it, so the other day when I saw that it was on sale for $0.99 per pound I went wild. I purchased 10 bundles, that's about 15 pounds. There was no way I was going to pass up on that deal. Normally the price is anywhere from $1.99 (on a good day) to $3.99, and when it's that high we just don't eat it. Luckily, I have a couple of freezers that help me avoid paying the $3.99.
Freezing fruits and vegetables when they are at their peak is one of the best ways to lower your grocery bill.  If you've never tried freezing fruits or vegetables before you're in for a treat, it's the simplest way there is to preserve food. It doesn't require a lot of time or special equipment, other than a freezer. 
How to Freeze Asparagus:
When choosing asparagus look for firm spears that are bright green or that have a tinge of violet. The tips should be tightly closed and compact.
To clean, rinse the spears under cold water to remove any dirt that remains. 
Remove the the woody part of the stem  by using your fingers to snap off the bottom inch or so. There is a natural breaking point where the woody part of the stem meets the tender part. To speed up the process, snap one of the spears to use as a guide and use a knife to cut the bottoms off of the others.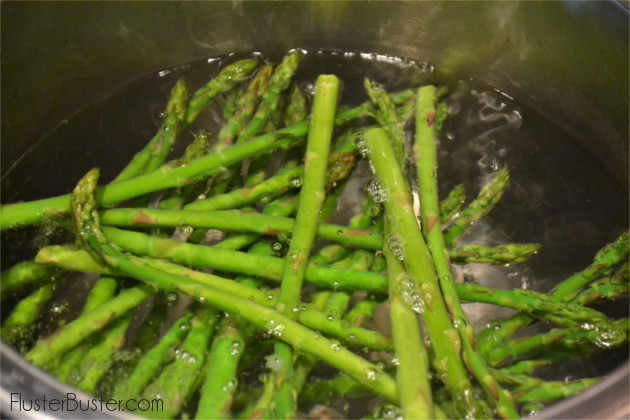 Blanch the asparagus by bringing 8-10 cups of water to a boil. Season with 2 tablespoons salt. Add asparagus; once the water comes back to a boil set the timer for 1-3 minutes. Thin stems require one minute of boiling, while the thick stems will take 3 minutes.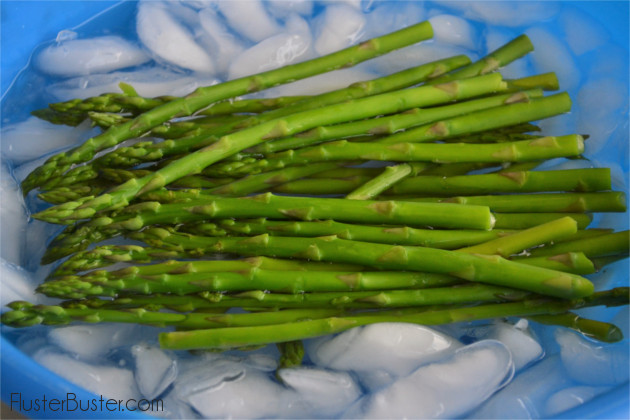 Remove asparagus from boiling water using a net ladle or tongs and immediately plunge them into the ice water, to stop the cooking process. Remove from the ice water after a minute and let them dry off a bit before placing in the freezer bags.
Portion the asparagus into freezer bags. Remove as much air from the bag as possible. With Ziploc bags you can use a straw and suck out the air before sealing. That's how I used to do it before I got my FoodSaver. 
Once the air has been removed and they've been sealed you can toss them in your freezer. Don't forget to put a date on them, you'll need to know when you froze them, they're only good for about 12 months. Make sure that you freeze enough to get your through to the next sale. 
When I was done freezing the 15 pounds of asparagus, it just didn't seem like that much, so I headed back to the store for more. I bought an additional 20 pounds. Hopefully 35 pounds of asparagus will be enough to avoid having to pay $3.99 over the next year. Heck, if the sale is still going next time I go shopping I may pick up more to freeze, since it's so simple to do.  
What fruits or vegetables do you buy in bulk when they're in season?


Disclosure: Some of the links in this post are affiliate links. If you click on the link and purchase the item, I will receive a commission. I only recommend products or services that I personally believe will add value to my readers. All opinions stated are strictly my own. Read our full disclosure policy for more information.