This post may include affiliate links. Read our disclosure policy for more information.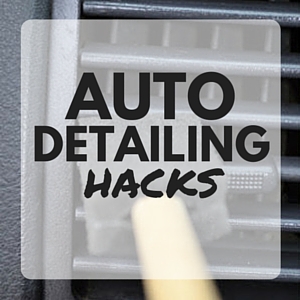 Auto Detailing – Most of us set time aside every spring to give our homes a good cleaning. What about our cars? Sure they may get washed and a periodic vacuuming throughout the winter months but do they really get a good cleaning?
If you are fortunate enough to have an extra couple hundred dollars laying around you could take your car in and have it detailed by a professional. If not, then the task falls on you. I have a few helpful tips to share with you to make this task a little easier.
First, make a car cleaning schedule. Every Thursday in our home is Errand Day, which is part of Home Organization schedule. One of the things on my schedule for Thursday is to clean my car. If my car is dirty or not, I wash it and vacuum it. You'd be surprised at how quick it is to clean if you are doing it every week. If you are sticking to your car cleaning schedule, detailing it in the spring will be a breeze.
Let's get ready to clean!

Some things you might need to get started:
(may include affiliate links)
Now, turn on your radio, the louder the better and make sure that you are tuned into some lively, shake your booty music. Everything is better with music! Ask the Seven Dwarfs they like to "Whistle While they Work".
Start by cleaning the inside and then finishing up on the out side.
Here are a few Auto Detailing tricks
Vents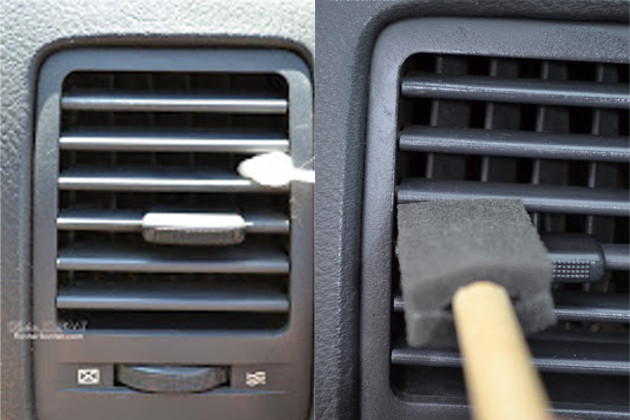 The easiest way I found to clean the vents is to use a cotton swab or a sponge brush dipped in a multipurpose cleaner. I actually prefer the sponge brush because the texture is a little rough and it helps to scrub away any dirt or allergens that are stuck to the vent.
Dashboard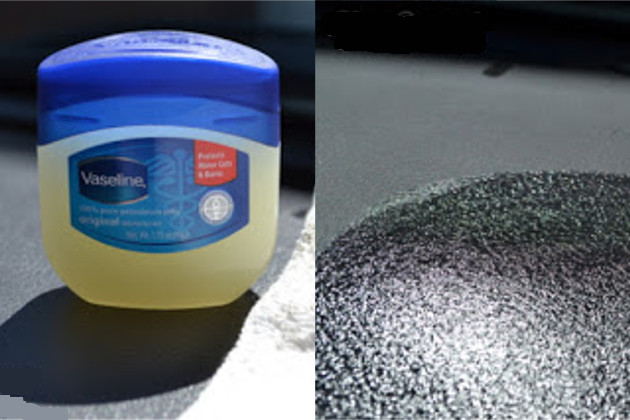 Wipe down the dashboard with a little water and cleaning solution. Once it's dry, apply a very small amount of Vaseline using a clean rag. Wipe away any excess with a clean rag. This works wonderfully at conditioning the dashboard and giving it a nice shine. I think it works better than Armour All.
Exterior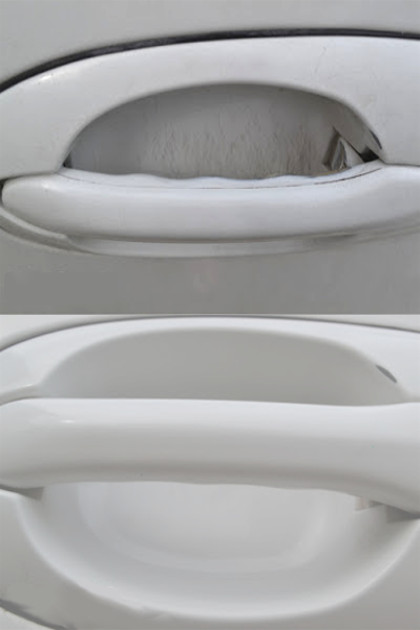 When washing the car, if you run across any areas that soap and water just won't clean try using a Mr. Clean Magic Sponge. You'll be surprised at what it can do. On the right is a picture of my door handle, I couldn't get the black marks to come off until I used the Magic Sponge. Check out how clean it is now.
The magic sponge is also great to use on your rims and all of the bugs that get stuck on the grill of your car. Tips like these help to make the job a little easier. If you have any tips for detailing your car that would save money or time I'd love to hear them. I'm always looking for ways to K.I.S.S. (keep it simple silly).
Windshield
For dirty windshields, use club soda instead of glass cleaner to get them clean. There's something about the carbonation that works really well to cut through stubborn dirt.
Here are a few additional tips from our readers:
Use baby wipes to clean the windshield  ~ Desmond Marshall
To clean the outside of the car, add one cup kerosene to 1 gallon of water, it will help repel rain water ~ Desmond Marshall
De-greaser works for removing de-icer ~ Jacqueline Gaumitz
Use furniture polish on dashboards ~ Laura Rowe
Use olive oil on dashboards, just be sure to wipe off excess ~ HHS Choral Booster Club
Use a wet dryer sheet to remove bugs from the headlights and hood ~ Melanie Gardner

To your final bucket of water add 8 drops of glycerin. Apply to car and dry with a chamois. It will make your car shine for weeks and repel bugs and sap ~ Nutty Bird

Use Scrubbing Bubbles on the dashboard, it won't leave a residue ~ Heather Lunstra

Disclosure: Some of the links in this post are affiliate links. If you click on the link and purchase the item, I will receive a commission. I only recommend products or services that I personally believe will add value to my readers. All opinions stated are strictly my own. Read our full disclosure policy for more information.