This post may include affiliate links. Read our disclosure policy for more information.
Uncle Sam Pavers are a festive way to decorate your garden this 4th of July. A paver or two, some paint and a couple of paint brushes is all that you need for this cheery, celebratory DIY Project.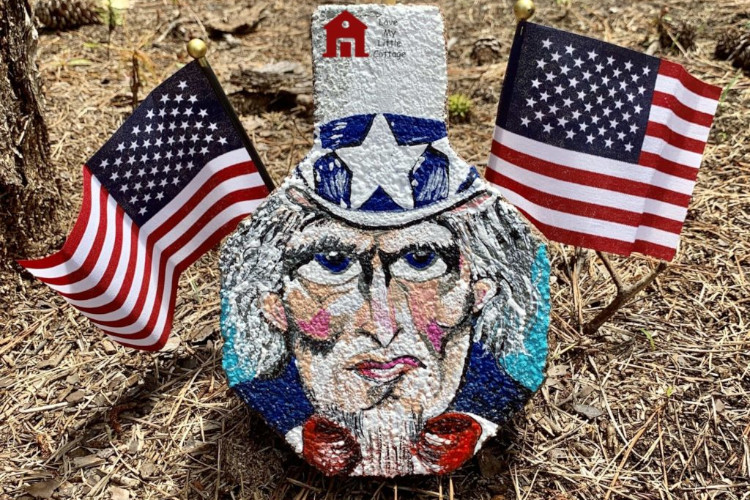 I've always enjoyed painting bricks. They're porous, flat, and just the right size. They're also heavy, which makes them great as lawn ornaments and doorstops. My Hand Painted Uncle Sam Concrete Paver is the perfect 4th of July ambassador for greeting friends and family this summer!
I've had three concrete pavers in a small flower bed for 13 years. My three oldest children decorated them with white concrete and found objects. If you've read my blog at all, you already know that I like reversible items. Why not make a concrete paver suitable for year-round display on one side, and for the 4th of July on the other side?
Materials: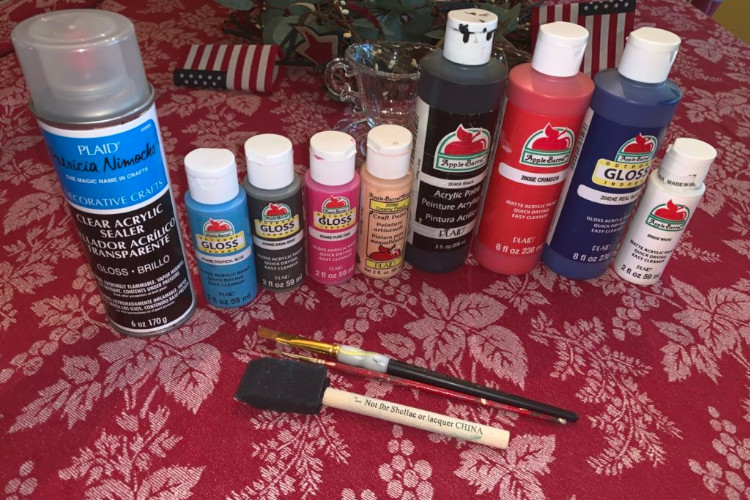 6″ x 8-1/2″ Basalite Classic Medocino Concrete Paver

Acrylic Paint (Various Colors)

Creamy Peach

White

Real Blue

Pure Pink

Dark Gray

Crimson

Black

Tropical Blue

1″ Foam Brush

Paint Brushes (Various Sizes)

Hair Dryer

Clear Acrylic Sealer
Instructions:
First, scrub the paver in the sink, to remove all the dirt and rocks. After cleaning my paver, I placed the side my children decorated face down, leaving the blank side ready for embellishment. Next, you will paint the base colors. I used Creamy Peach and White, and a 1" sponge brush for the first coat, and the angle brush for all subsequent coats. Use a hair dryer to speed things along. You will need a few coats of paint to achieve a solid base.
Next, paint Uncle Sam's collar and hat band with White and Real Blue. I viewed several photos of original Uncle Sam "I Want You" posters as I painted. You can see the original poster here.
Paint the whites of his eyes, the stars on his hat, and the pink and gray details of his hat and brim with the liner brush, Pure Pink, and Dark Gray paints. You can see where I painted over Uncle Sam's first ear, then painted the second one higher on his face. If you make a mistake with paint, its easy to cover the part you don't like, and begin again.
Paint the irises of his eyes with Real Blue, then add more details to the face with Dark Gray. You will be using the liner brush from now on.
Related: DIY Strawberry Garden Flag
For the next step, use Pure Pink, White, and Creamy Peach paint to highlight Uncle Sam's face, then add more detail with the Dark Gray paint. Outline his lips with Dark Gray as well. Paint the bow tie with Crimson. Add shading to his eyes with Black and Dark Gray paint. Paint highlights over the eyebrows with White paint.
Color in his jacket with a mixture of Black and Real Blue as you continue to add more Dark Gray shading to his face. Then, paint Uncle Sam's lips with a combination of Crimson, Pure Pink, and White.