This post may include affiliate links. Read our disclosure policy for more information.
If your looking for simple recipes that will WOW people at Easter, then you'll want to add Crowd Pleaser Potatoes to your menu. They are the perfect side dish for any menu, they can be served for breakfast, brunch, dinner or even a pot-luck. What makes them perfect isn't just how versatile they are, but how simple they are, they can be made the day before, using basic ingredients, then popped into the oven before serving, saving you time in the kitchen. Be warned though, if you serve them, be sure to have copies of the recipe, you'll be asked.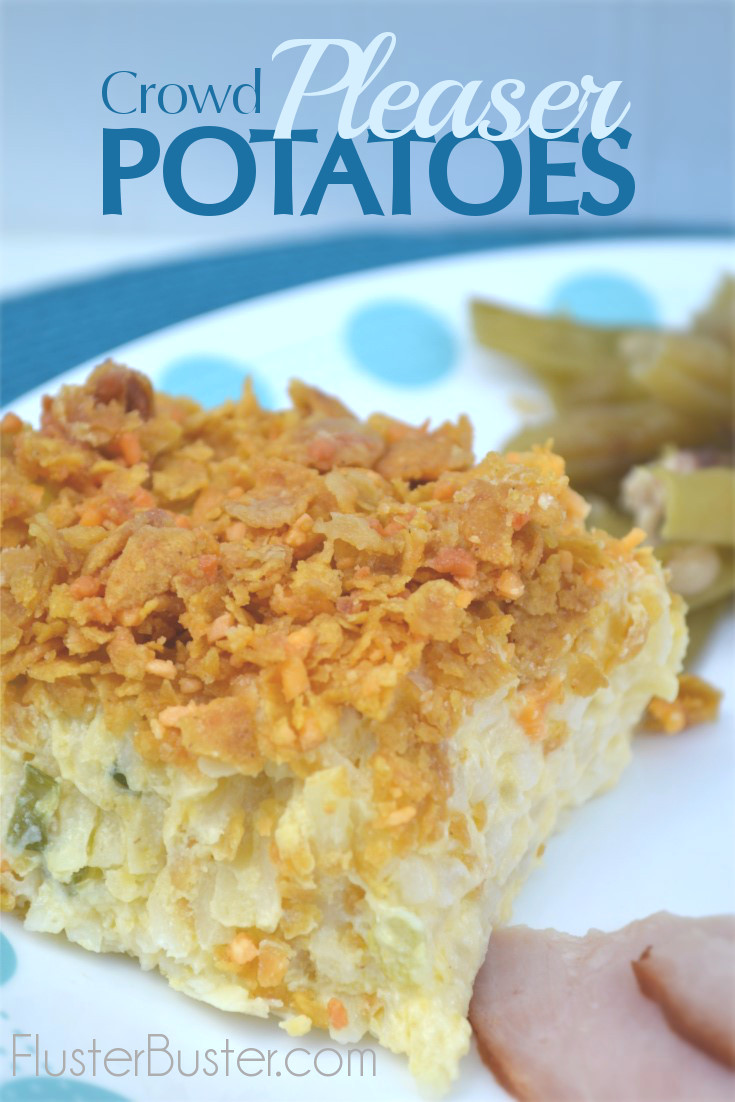 Fluster:

 
Preparing food for a large get-together
Did you take on the task of cooking for a large group? If you're a caterer, no problem, you have hired help. The rest of us, however, don't have the help, we're responsible for it all. We create the menu, shop for the food, prepare the food, serve the food, and do the clean up. Sometimes we get a little help but the majority of it falls on us.
The work starts days before actually getting into the kitchen. Finalizing the guest list, planning the menu, cleaning, decorations, it's a lot. If you haven't planned well you end up spending all of your time in the kitchen missing out on all of the fun that you've created.
I have to say, I've hosted many events where I was stuck in the kitchen, mainly because of the menus I created. I used to create the menus based around vanity not practicality. My focus was showing everyone what a wonderful cook I was, which caused me to miss out on a lot.
Buster:

 
Use simple recipes
Creating a practical menu, for a large group, is the key to spending time with your guests instead of in the kitchen. Choosing simple recipes that use only a few, easy to find ingredients, that can be made ahead of time, and ones that can be cooked in bulk will have you enjoying the fun instead of just creating it.
Crowd Pleaser Potatoes perfect for large gatherings
One of our families most requested dishes for large get together's is Crowd Pleaser Potatoes. Whatever the occasion you will always find this dish, I can't remember a time we haven't been asked to bring it. The best part about it being a favorite, is that it's super easy and cheap to make, plus there's never any leftovers to lug home.

Crowd Pleaser Potatoes
A simple recipe, using simple ingredients that can be prepared ahead of time and served as a side dish for breakfast, brunch, dinner or potlucks.
Author:
Robin @ Fluster Buster
Ingredients
1 cup butter
2 cans (10.75oz) cream of chicken soup
8 ounces sour cream
4 green onions, chopped
salt and pepper, to taste
2 pounds hash brown potatoes, frozen
2 cups cornflakes
1½ cup cheddar cheese, shredded
Cooking Spray
Instructions
Preheat oven to 350°. Coat a 9"x13" pan with cooking spray.
In sauce pan, over medium heat, melt butter. Add soup, sour cream, salt and pepper, 1 cup of cheese, stir until cheese is melted.
Place hash browns and onions in a large bowl. Add the soup mixture and stir to combine. Place in pan.
In a ziploc bag, add the remaining cheese and cornflakes, crush the cornflakes while combining with the cheese. Sprinkle the cornflakes/cheese mixture on top of the potatoes.
Bake at 350° for 45 minutes
To reduce the frustration of cooking for a large group, remember to create a menu using simple recipes that use a few simple ingredients, that can be made a head of time and that you can cook in bulk. Then sit back and enjoy your time with family and friends because the works done.
What is your favorite dish to serve at large gatherings?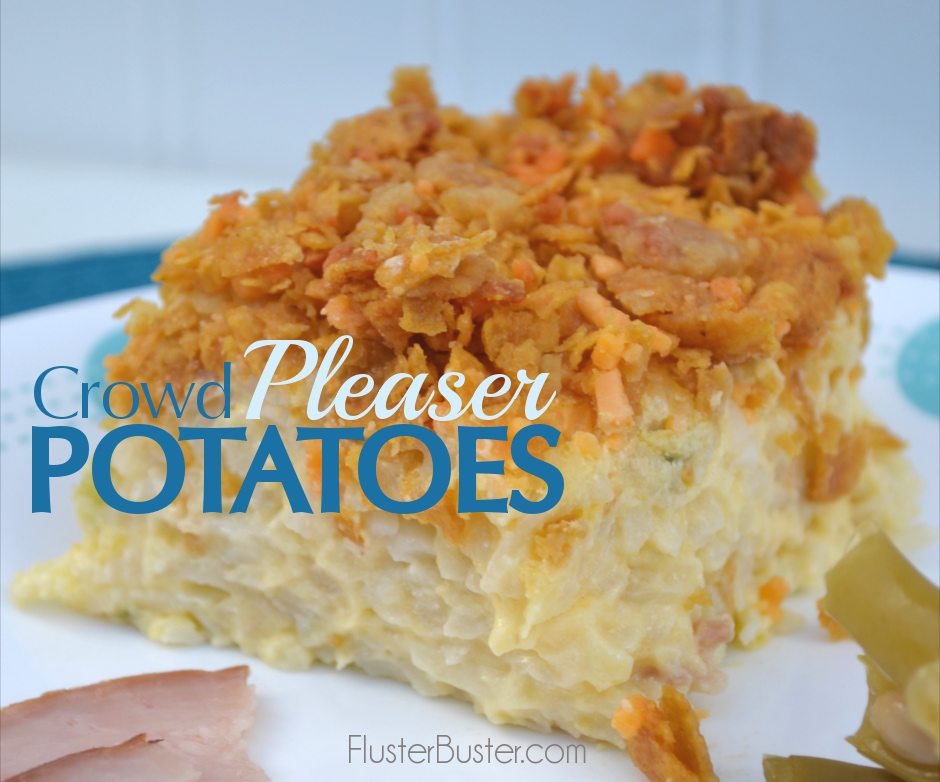 Reduce Fluster with the right tools:
More Like This:
Disclosure: Some of the links in this post are affiliate links. If you click on the link and purchase the item, I will receive a commission. I only recommend products or services that I personally believe will add value to my readers. All opinions stated are strictly my own. Read our full disclosure policy for more information.