This post may include affiliate links. Read our disclosure policy for more information.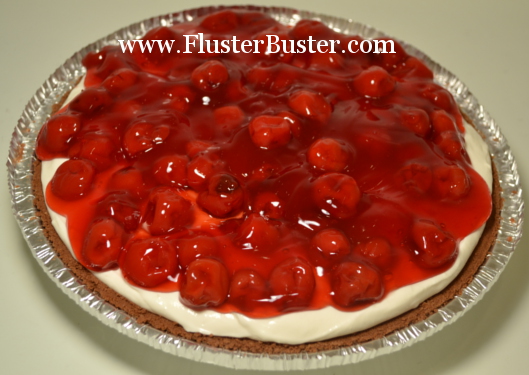 Last night for our Valentine's dinner I made Cherry Cheesecake for dessert. I pulled our Valentines menu together at the last minute so I had to do a dessert that was quick and easy. This is one of my go-to dessert recipes because it's so easy and is oh so yummy.
Last night I made the basic cheesecake recipe and used a chocolate graham cracker crust with cherry pie filling on top to go with our Valentine's theme. In the past I have used the basic cheesecake recipe to make:
Chocolate Chip Cheesecake – I mix mini chocolate chips in with the cheesecake, used a chocolate graham cracker crust and topped with a chocolate hard shell.
Oreo Cookie Cheesecake – I crumble Oreo cookies to make a crust and to mix in with the cheese cake.
Light Cheesecake – You can also make a light version of this recipe by using light cream cheese, yogurt and Cool-Whip and using Splenda instead of sugar.
As you can see this recipe can be used in many different ways, your only limit is your imagination.
Ingredients
8 ounces cream cheese, softened
8 ounces sour cream
1 cup sugar
1 teaspoon vanilla
1 tablespoon lemon juice
8 ounces Cool-Whip
1 graham cracker crust
1 can cherry pie filling
Instructions
In a large bowl, mix cream cheese, sour cream and sugar, until well blended.

Stir in vanilla and lemon juice. then fold in cool-whip.

Pour batter into the graham cracker crust and top with pie filling.

Refrigerate for 1 hour before serving.