This post may include affiliate links. Read our disclosure policy for more information.
A simple, Instant Pot meal that requires less than 5 minutes of prep time and only a few ingredients. This dish will quickly become a favorite, not just for the ease, but for the tenderness and the amazing smokey flavor that you expect from pulled pork.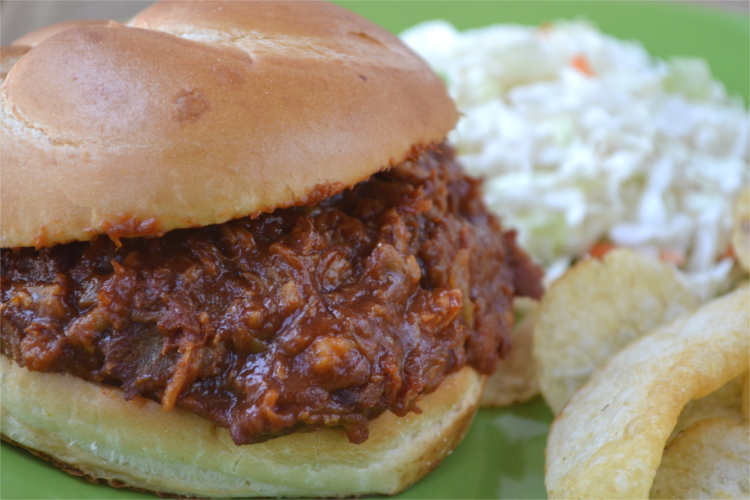 There are couple different ways that you can go to flavor pulled pork. There's the sweet version and the smokey version. I'm not a fan of the sweeter option, but give me some smokey pork and I'm all over it. 
Since my Instant Pot doesn't have a smoking option (yet), this is the closest I can get to that smokey flavor that pulled pork is know for. 
Instant Pot Pulled Pork
Pork: The preferred cut for pulled pork is the shoulder, which is also a Boston butt or a picnic roast. Both are good for making pulled pork, but I prefer to use a pork tenderloin. I like that the tenderloin has less fat than the shoulder, which makes me feel like I'm eating a little healthier. I also like that the price drops to around $1.69/pound several times a year, this is a lot cheaper than I can get the other cuts for. 
Cajun Seasoning: This is what makes this pulled pork recipe so darn delicious. To get a nice smokey flavor, rub a thick layer of the Cajun seasoning all over the raw pork, make sure that it is completely covered. As the pork cooks it will absorb all of the amazing flavors from the rub, which helps to make the pork taste like it was smoked.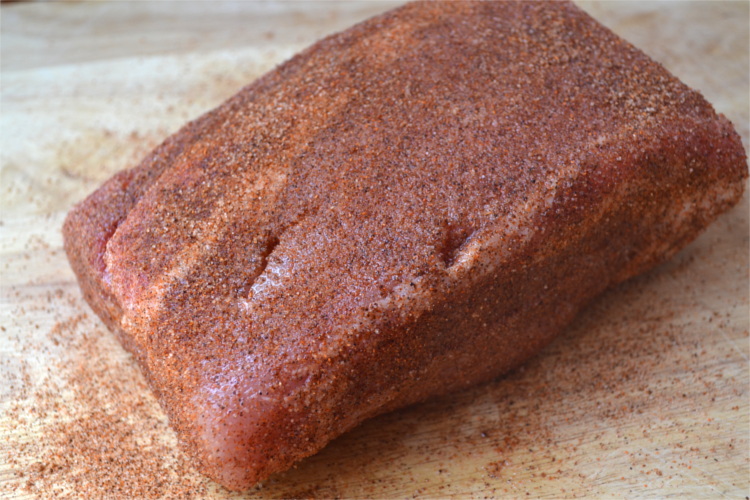 Barbecue Sauce: You can use any kind of sauce that you like. However, if you like that smokey flavor that you get from traditional pulled pork I would suggest using a hickory smoked barbecue sauce.

Simple Smokey Instant Pot Pulled Pork
Author:
Robin | Fluster Buster
Ingredients
2 pounds pork shoulder or pork butt, boneless
4 tablespoons Cajun seasoning
1 tablespoon vegetable oil
1 cup water
1 bottle (18 ounces) hickory smoke barbecue sauce
Instructions
Generously rub all side of the pork with 3 tablespoons of the Cajuns seasoning.
Turn your Instant Pot to the "saute'" setting, when hot add oil.
Brown pork for 5 minutes on each side.
Remove pork, add water and place trivet inside the Instant Pot.
Place pork on trivet, close lid and make sure that it is locked. Set the steam release knob to the sealing position.
Cook on "Manual" or "Meat" setting for 60 minutes.
When done, allow the pressure to release naturally (about 15 minutes).
Turn the steam release know to the venting position to quickly release any remaining pressure.
Place pork in a large bowl. Use shredder claws or two forks to shred the pork.
Mix the pork with the remaining Cajun seasoning and barbecue sauce.
Serve on buns.
Check for coupons before heading to the store.



Disclosure: Some of the links in this post are affiliate links. If you click on the link and purchase the item, I will receive a commission. I only recommend products or services that I personally believe will add value to my readers. All opinions stated are strictly my own. Read our full disclosure policy for more information.