This post may include affiliate links. Read our disclosure policy for more information.
Fried Apples are delicious any time of the day! They can be served for breakfast or for dinner, for dessert, or as a snack, they can also be served either warm or cold. Any way that you choose to eat them you'll fall in love.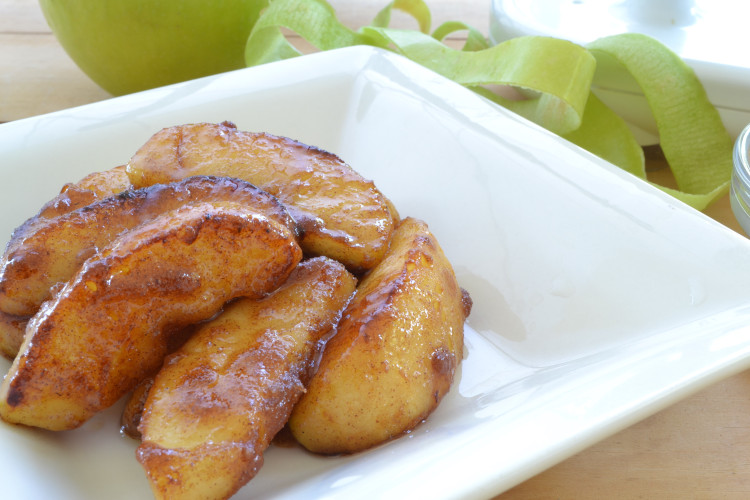 Have you ever had fried apples? I thought I had tried just about every apple recipe until I was on a visit to West Virginia and learned about fried apples. My husband's grandma, who was an amazing cook, made them for me. When I asked her how to make them she gave me a list of ingredients, but no measurements.  One of the things about her is that she never measured anything when she cooked, so it's very difficult to duplicate any of her delicious dishes.
For years I tried to duplicate her fried apple recipe, without success. It wasn't until another visit that I learned her secret. I closely watched over her shoulder and asked many questions. What I learned was that the secret was in the pan that she used. It was an old cast iron skillet, seasoned with lard. It's amazing what a difference that seasoned pan makes.
HOW TO MAKE CINNAMON FRIED APPLES
If you don't have a cast iron pan, I suggest that you get one they are a must-have in the kitchen. Or you can use a regular skillet and wipe it down with some lard before you start to melt the butter. It's not exactly the same but close enough.
Step 1
In a skillet over medium-high heat, melt the butter.
Step 2
Once the butter is melted add the apples, then drizzle with a little lemon juice. *Don't get carried away with the lemon juice, too much and the fried apples won't taste as good.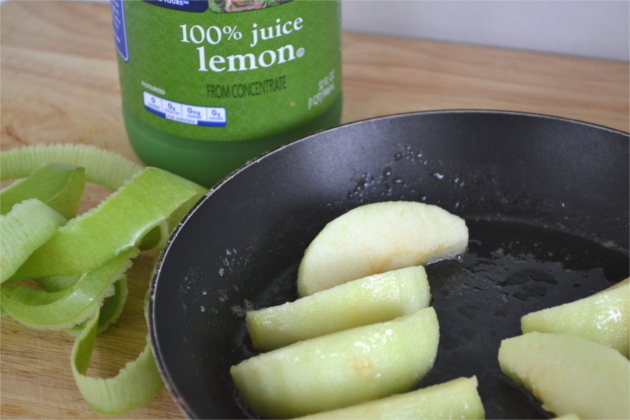 Step 3
Fry the apples until they are soft, golden brown, and have absorbed most of the butter. *I found that the more golden brown that they are the better flavor they have.
Step 4
Once the apples are done, turn down the heat and add your sugars. Toss the apples with the sugars and cook on med-low until the sugars are dissolved.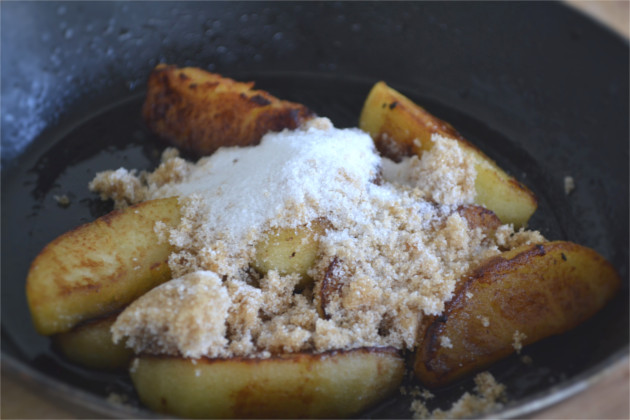 Step 5
Plate the apples and sprinkle with cinnamon.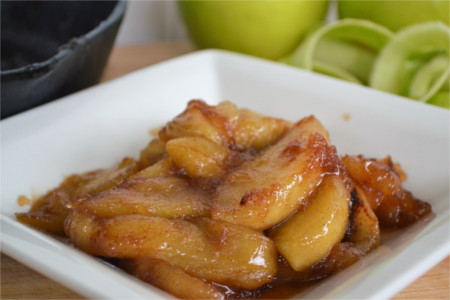 RECIPE TWEAKS
For a more traditional recipe, eliminate the butter and use lard to cook them in. To give the apples a warmer flavor try adding nutmeg or apple pie spice. 
MAKE IT A MEAL
Entrée: The Perfect Sunny Side Up Eggs
Side Dish #1: Sweet & Spicy Bacon
Side Dish #2: Grandma's Simple Buttermilk Biscuits
Drink: Cold Brewed Mocha Coffee

HOW TO SERVE FRIED APPLES
Fried apples are very versatile, they can be served for breakfast, as a side dish, for dessert and even a snack. My favorite way to have them is for breakfast on a homemade biscuit.
HOW TO STORE FRIED APPLES
Store in an air tight container. They can be refrigerated for up to 5 days and frozen for up to 3 months, be sure to cool before storing. To reheat thawed apples, melt butter over medium heat, and cook until warmed through. *Frozen apples will become slightly mushy when thawed. 
What is your favorite type of apple? Happy Fall!😃 
Southern Fried Apple
Tart apples, fried in butter until golden brown, then tossed in a mixture of sugars and fall spices.
Ingredients
¼ cup butter
4 medium Granny Smith apples, peeled, cored & sliced
1 teaspoon lemon juice
¼ cup sugar
¼ cup brown sugar
2 teaspoons cinnamon
Instructions
In a skillet, over med high heat, melt butter.
Add apple and drizzle with lemon juice.
Fry apples until they are soft and the butter has been absorbed.
Toss the apples with the sugars and continue cooking until the sugar is dissolved.
Remove from heat and sprinkle cinnamon.
Print Coupons
HELPFUL TIPS
✔ Granny Smith apples are the best choice for this recipe. However, any firm baking apple will work, such as Honeycrisp or Braeburn.
✔ When cutting the apples, be sure that they are cut into even slices. This will insure that they are cooked evenly.
✔ For the best flavor, use a cast iron skillet that has been seasoned with lard.
✔ Don't throw out the apple peels, they make a really delicious tea. Steep the peels along with a cinnamon stick and add a little honey to sweet it.
✔ The peels can be left on the apples if you prefer. I just like to serve it the way grandma did with the peels off.
---

Making This Recipe?

We'd really love to see how it turned out. Snap a pic & tag it on Instagram with @flusterbuster
---
_______________
MORE RECIPES YOU'LL LOVE
_______________
RECENT POSTS
_______________
CATEGORIES
BDessertB BApplesB


Disclosure: Some of the links in this post are affiliate links. If you click on the link and purchase the item, I will receive a commission. I only recommend products or services that I personally believe will add value to my readers. All opinions stated are strictly my own. Read our full disclosure policy for more information. 
updated: 10/7/19 (pictures & format)