This post may include affiliate links. Read our disclosure policy for more information.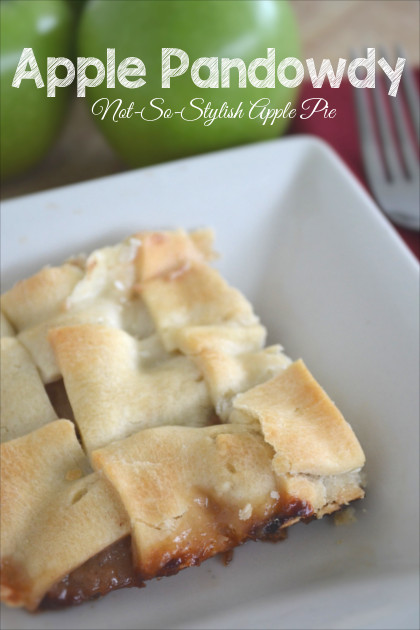 I have a recipe for the best pie crust ever and my recipe for apple pie filling is pretty great too. Whenever I make apple pie I always top it with a crumble. Family and friends think that the crumble is just part of my recipe, but honestly the only reason why I do a crumble is because I can never get the crust to look very pretty.
Having recipes for an amazing pie crust and filling only gets you so far. We eat with our eyes first and if a pie doesn't look a certain way, a lot of people will pass on it never getting a chance to experience the incredible taste. I'm guilty of it.
So, what's the alternative? Many wonderful home cooks before us had the same dilemma and came up with a really creative solution, change the name from Apple Pie to Apple Pandowdy. Changing the name and the pan that you bake it in, changes the expectations. Now, when people see the dish they see something other than apple pie and they are more likely to try it. Smart!
For Apple Pandowdy, just use your favorite pie crust and apple pie filling recipes. I've included my favorites below. If you're not into cooking from scratch, you can create this dish with a ready made pie crust and some canned apple pie filling.
Apple Pandowdy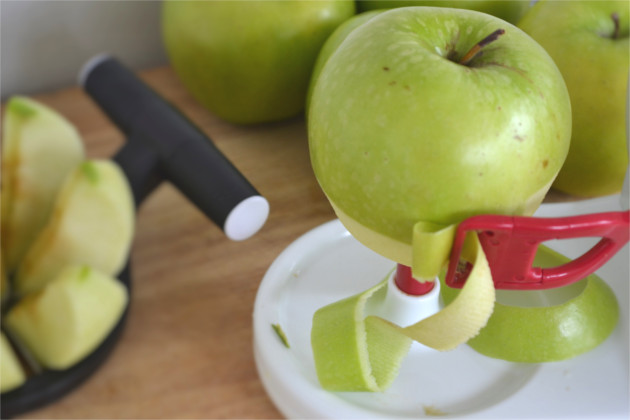 Peel, core and slice your apples. I use granny smith apples in my pies, I like the tart flavor that they have.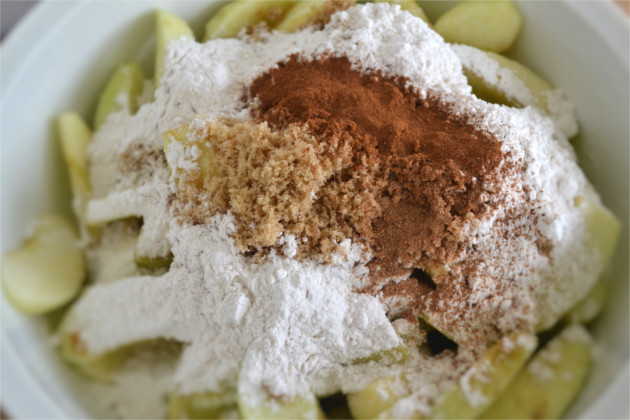 Coat the apples with lemon juice, this not only adds a little flavor to the filling but will also keep your apples from browning.
Toss the apples with a mixture of flour, brown sugar, cinnamon, and nutmeg. Be sure that all of the apples are coated.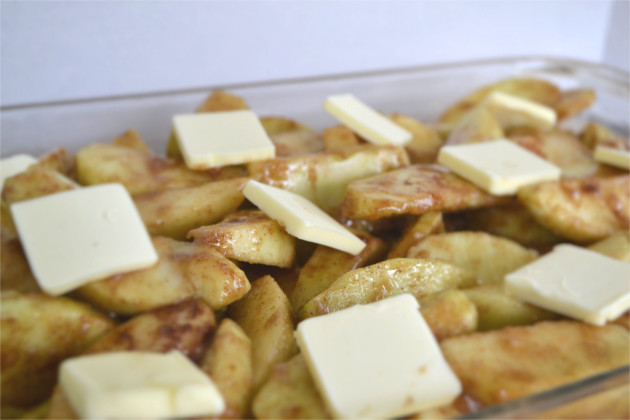 Pour the apples into a greased, 9×13-inch pan and top with slices of butter.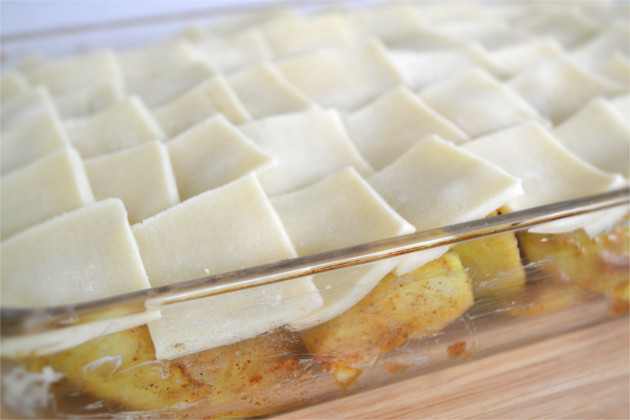 Now here's the part that gives the Apple Pandowdy it's name. Dowdy, which means not stylish, means you don't have to worry about what it looks like. For these pictures I cut the pie crust into squares and just placed it on top of the apples. I've also, used strips, scraps and even cookies cutters for the dough. Use your imagination, there is no wrong way to do this.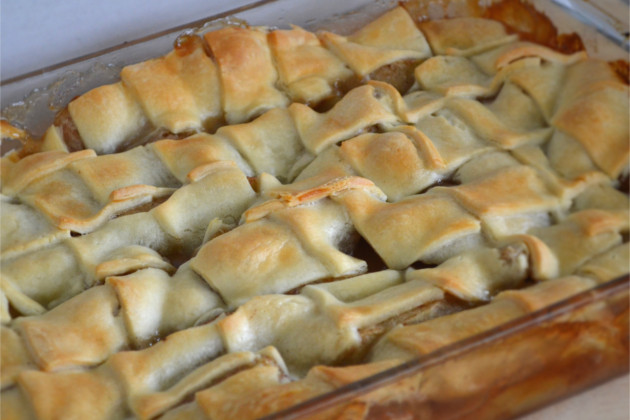 Then bake. It's not as pretty as an apple pie, but it's pretty for an Apple Pandowdy!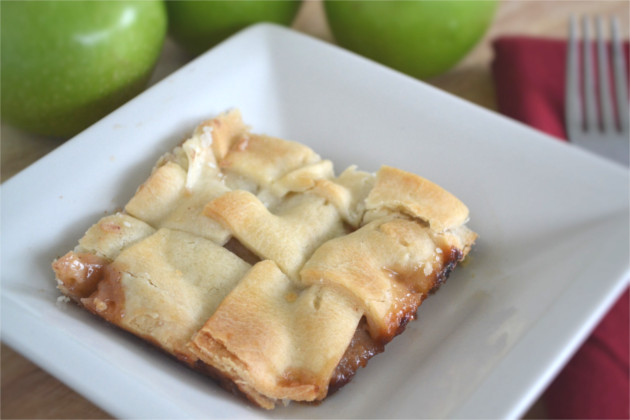 Apple Pandowdy
The Not-So-Stylish cousin to the Apple Pie.
Ingredients
Pie Crust
3 cups all purpose flour
1 teaspoon salt
1½ cup vegetable shortening
2 eggs
3 tablespoons vodka, iced
1-3 tablespoons water, iced
Apple Filling
7 medium apples, peeled, cored and sliced
1 lemon, juice and zest
¾ cup light brown sugar
¼ cup all-purpose flour
¾ teaspoon ground cinnamon
nutmeg, to taste
¼ cup butter
Instructions
Preheat oven to 450°.
Pie Crust
In a large bowl, gradually cut the shortening into the flour and salt with a pastry cutter until it resembles coarse corn meal.
In a small bowl, beat 1 egg with a fork then pour into flour mixture.
Add iced vodka (minus the ice) and water as needed into the flour mixture. Stir gently until all of the ingredients are incorporated.
Separate the dough into two balls and place each ball in a freezer bag. Use a rolling pin to slightly flatten. Seal the bags and place in the freezer for approximately 20 minutes.
Place the slightly frozen dough on a floured surface. Sprinkle the dough with a little more flour and roll until it's about a ¼" think.
Cut dough into desired shapes..
In a small bowl, beat one egg with a fork and brush the dough with the egg. *This will keep your filling from saturating the dough and making it soggy.
Apple Filling
In a small bowl, mix together, sugar, flour, cinnamon and nutmeg.
In a large bowl, toss the apples with lemon juice, then add the sugar mixture and coat the apples.
Pour the apple mixture into a grease 9x13 pan.
Bake for 45 minutes.
Let rest for 20 minutes. before slicing.
Notes
Simple Recipe:
1 pkg ready-made pie crust
2 cans apple pie filling
Apple pie's my favorite, what's yours?
Fluster Buster Tool Chest: