This post may include affiliate links. Read our disclosure policy for more information.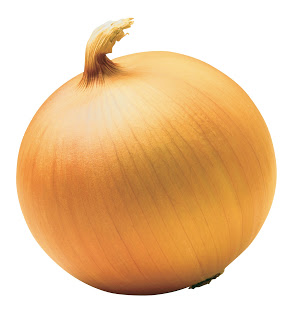 Onions are another one of those items that you can use for more than just cooking. They can be used to cure or soothe common ailments, for cleaning, to repel bugs, the list goes on. Every week, as my family sends me their list of uses I can't help but be amazed. These solutions are starting to become my go to before buying any over the counter medications, or household cleaning supplies and the best part is that they really do work, in most cases. I can't wait to complete this series because my hope is to put all of the information together, into a book, and give it to each family member as a Christmas gift.

Health
Always consult a doctor before using onion as a treatment.
Bruises – to reduce, place a freshly cut onion on the
affected area.
Burns – to soothe, rub a fresh cut onion on the burn.
Ear Ache – to cure, bake an onion with the skin on until
soft. Press out juice and pour a few drops in ear several times a day.
Insect Bites – to soothe, rub a fresh cut onion on the
affected area.
Lightheadedness – to cure, take a good sniff of a fresh cut
onion.
Sore throat – to soothe, make an onion tea by boiling the
peels from ½ an onion in 1 cup water.  Drink a couple of times a day.
Splinters – to remove, tightly tape a piece of raw onion on
the area. Remove the onion after and hour and the splinter will have worked it's
way out.
Stings – to soothe, place a freshly cut onion on the
affected area.
Warts – to remove, apply a mixture of crushed onion,
crushed aspirin and water to the area. Cover and reapply everyday until it
disappears.
Beauty
Acne – to eliminate, wash your face with a
mixture of crushed onion and water.
Cooking & Cleaning
Burnt Rice – to absorb the burnt taste, place half an onion
on top of the rice.
Grills – to clean, rub a cut onion over the grates to scrub
clean.
Knives – to remove rust, cut into a raw onion several times.
Metal – to polish, crush an onion and mix it with a little
water. Dip a soft cloth in the mixture and rub it on the surface, rub until
clean.
Scorch Marks – to remove from clothing, rub the
area with a freshly cut onion, soak in cold water overnight and wash as
directed.
Miscellaneous
Ants – to repel, place a bowl of onion slices in the
area where ants are a problem.
Caterpillars – to keep them out of your garden, add 2 medium
grated onions to a gallon of water. Allow the mixture to sit overnight. Strain
and use the liquid to spray on your fruits and vegetables.
Fruit Flies – to quickly rid your home, check out this Redneck Fruit Fly Trap
Insects – to repel, rub afresh cut onion on your skin.
Paint Smells – to remove, place a small dish of onion slices
in the room. The onions will absorb the odors.
Windshields – to keep from frosting, rub a cut onion on your
windshield.
Yellow Dye – to make your own, cover onion skins with
water in a saucepan, boil for 30 minutes and then allow them to sit for a few
days. Strain the the mixture and use the liquid for dying.
Do you have any unique uses for onions? or, do you have another common household item that does double duty that you would like to see covered?
** If, by some small miracle, you worked at Amway in Ada, MI in the 1980's and were the person my mother loaned the notebook to, please contact me. The notebook is a small (aprox. 6″x9″) black leather, 3-ring binder, and contains hand drawn patterns (teddy bear), recipes and household tips and tricks. It would mean so much to my family to have it back.
This post has been to these fabulous party's: