This post may include affiliate links. Read our disclosure policy for more information.
This week we came up with a wonderful list of frugal living tips using Honey. Honey is one of those things, like all of the other items in the WWII Series, that I've purchased for one specific reason, in this case, sweetening my tea or biscuits. So when we decided to add honey to our list I was a little skeptical that we would be able to come up with enough uses that it would warrant doing a whole post about it. To my surprise, my frugal and oh, so creative family came up with 21 uses.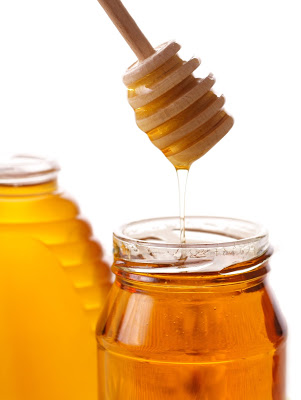 I've always been amazed with honey and how it is harvested. I think it started when I was a little girl. My grandfather used to have beehives and I was always intrigued when he would put on his white beekeepers suit and grab his smoker. All of us grand kids would sit at a safe distance and watch him pull out the beautiful honeycombs. When he was done harvesting, my grandmother would have a batch of warm biscuits ready to serve with the fresh honey. It's such a great memory.
Besides being a tasty treat, honey has a number of medicinal uses. For centuries it has been used for it's anti-inflammatory and anti-bacterial properties so the uses that my family came up with make a lot of sense. However, when using honey as a remedy or as a beauty treatment be sure to use fresh local honey. Studies say that local honey is best because the honey contains the environmental properties that you are in contact with everyday, so it has a better likelihood of curing what ails you.
Healthcare
Always consult a doctor before using honey as a treatment.
Bacterial infection – to treat, soak raw garlic cloves in honey and take 1 teaspoon 3-4 times a day.
Burns – to soothe, apply honey to the burn.
Constipation – to naturally cure, drink an 8 ounce glass of water mixed with 2 tablespoons honey. Repeat as needed.
Cough – to control, heat 1/4 cup Honey with 3 tablespoons lemon juice. Take one teaspoon of the warm syrup as needed.
Cuts – to clean, apply honey to the cut before bandaging.
Energy – to boost, eat a tablespoon of honey.
Hangover – to speed up recovery, add some honey to a cup of warm tea as soon as you wake.
Indigestion – to relieve, take a spoonful of honey.
Sore Throat – to soothe, add a teaspoon or two of honey to an 8 ounce cup of warm tea.
Beauty
Acne – to control, wash your face with a little honey and warm water.
Dandruff – to control, after shampooing, apply a little honey to your scalp. Let it remain on scalp for a few minutes before rinsing.
Elbows – to moisturize, apply honey to clean elbows. Allow honey to remain on your elbows for 30 minutes before rinsing.
Face – to clean, mix a little honey with warm water and massage onto your face.
Face – to moisturize, give yourself a honey facial. To make: Peel and remove seeds from one small cucumber. Puree the cucumber and extract 2 tablespoons of juice. Stir 2 tablespoons honey into the cucumber juice and add 1 tablespoon Milk. Apply the mixture to your face and neck and allow it to remain for 20 minutes before rinsing.
Hair – to condition, after washing, add a little honey to hair and rinse after a few minutes.
Hair – to control frizziness, after washing apply honey to the ends and let it sit for a few minutes before rinsing.
Hair – to shine, add a teaspoon of honey to one quart of warm water. Pour the mixture over clean hair.
Skin – to exfoliate and soften, make a mixture using 1 teaspoon of honey and 1/2 teaspoon of baking soda.
Skin – to moisturize, make your own moisturizer by heating 8 ounces of honey until it's thin. Pour honey over your 1 tablespoon of your favorite herbs and cover. Let the mixture sit for one week and pour 1 teaspoon of the honey mixture into your favorite lotion.
Skin – to soften, add a few tablespoons of honey to your bathwater.
Weight – to speed up metabolism, use honey instead of sugar.
What  household tips do you have for using honey?
* If, by some small miracle, you worked at Amway in Ada, MI in the 1980's and were the person my mother loaned the notebook to, please Contact Me. The notebook is a small (aprox. 6″x9″) black leather, 3-ring binder, and contains hand drawn patterns (teddy bear), recipes and household tips and tricks. It would mean so much to my family to have it back.