This post may include affiliate links. Read our disclosure policy for more information.
The supermarket industry has developed many strategies over the years to get you to spend more money. Knowing their tricks and developing your own strategies for maneuvering around them is one of the most valuable tips you'll learn for saving money on your grocery bill.
The moment you walk into any store you are being seduced into spending as much money as possible. The supermarket industry has spared no expense to determine what they can do to entice you into filling your cart.
33 Subtle Supermarket Traps to Avoid
Go Alone – Even though supermarkets offer shopping carts created for the kids, you should avoid bring them or anyone else with you. Shopping alone can lower your bill significantly. Having others in tow can slow you down and cause you to make purchases that you otherwise wouldn't have made.
Smaller Shopping Cart – Reach for the smaller cart or hand baskets the next time you only need a few items. Reaching for a bigger cart means reaching deeper into your wallet. It's a common industry trick to offer bigger carts. The thought is the bigger the cart the more that you'll put in it, thus spending more money.
Smells – Filling the store with amazing smells is a temptation that many industries employ. The thought is the more senses that they can please the more likely you will be to spend your money. Don't fall for it!
Sights – Greeting you at every turn are visual temptations, like bright bouquets or bakery treats. The key to avoiding these visual traps is by sticking to your shopping list.
Sounds – A common trick to get you to slow down while shopping so that you'll spend more is to play slow or popular music. Recognizing this trick will help you be more aware of the trap next time you go shopping.
Touching – Don't touch anything unless you are fully committed to buy it. Research shows that just touching an item sparks a sense of ownership which leads us into purchasing it.
Tasting – Those free food samples that the supermarket offers you while you shop, they aren't free. They are being offered to you because research shows that most people don't expect to get something for nothing. So, once the free sample passes your lips, they know they've got a sale.
Turn Left – The natural flow of traffic in most grocery stores has you turning right when you walk in the doors. Be a rebel and turn left instead, it will save you money. Our natural way of looking at things is from left to right, for instance when you read. Going against what is our normal behavior, like turning right, causes or brains to have a bit of a misfire, which causes us to make impulsive decisions, again spending more money.

Produce Last – If you are following the natural traffic flow of the store the first section you'll approach is the produce department. There is a reason for this! Common practice dictates that if you offer your customers healthy options upon arrival, they'll feel so good about their choices that they'll make poorer ones as the continue shopping. This is another reason why you should turn left instead of right.
Wet Look – A visual trick many produce departments like to play on their customers is with those misting systems. We're meant to believe that they are good for the produce, but actually they aren't. They use them to keep the produce looking visually appealing, but what they don't do is keep the produce fresh. In the end all of that water leads to the produce rotting faster. To extend the life of the produce you should thoroughly dry it when you get home.
Prepared Produce – Produce departments lead us to believe that they are doing us a big favor by packaging produce for us. Sure it might seem that way, but that bag of salad, bag of apples, or those sliced onions are costing you and quite a bit. By choosing your own produce you are able to pick the freshest vegetables and the quantity that you will actually use, not to mention slicing onions yourself isn't really that hard.
Go Big – We tend to determine how much we've spent by how full our cart is. A little trick, besides using a smaller cart, is to load up with bigger items, like toilet paper, cases of soda or water, before doing the bulk of your shopping.
Watch Your Step – To keep you lingering in the gourmet section, many stores will install textured flooring. The idea is that the vibration of your shopping cart from the flooring will slow you down so that you'll spend more time and money.
Deceitful Displays – There are many displays throughout the store that are designed specifically to catch your eye. Don't assume because they've put a balloon arch over the display that it's on sale.
Don't Make Eye Contact – Have you ever noticed all of the eyes that are watching you in the cereal isle? There is a reason for it, characters like "Tony the Tiger" or "Captain Crunch" were designed to make eye contact. The science behind it is that making eye contact promotes trust and encourages sales.
Got Milk? – Many stores place their dairy case in the back of the store, there is a reason for this. Milk is one of those items that people will make a special trip for and because of this they are forced to pass by many enticing items to get to it, thus spending more money. Don't get distracted!
Fine Print – 10 for $10 sales doesn't always mean that you need to buy 10. Read the fine print if it doesn't require you to buy all 10 then buy only what you need. This tip applies to all sales not just the 10 for $10 ones.
Price Game – Retailers like playing the numbers game with consumers. They've been taught that putting a price at $19.99 as opposed to $20.00 makes consumers think that they are saving more than just $0.01.
Size Matters – A trick many supermarkets use is with the size of the writing on the sales signs. Research shows that consumers perceive smaller writing with cheaper prices.
Unit Pricing – Don't be fooled, just because one price is lower than another doesn't mean that it's the best value. Manufacturers have little packaging tricks that they use to make you think that you are getting more than what you actually are. When comparing prices be sure that you are looking at the unit price, it's a more accurate comparison.
Bundle Display – Beware of displays that bundle complimentary products, such as graham crackers, chocolate and marshmallows. Products displayed like this create the perception that they are on sale, when actually they aren't, they were created to entice customers into impulse purchases.
Fresh vs. Frozen – Meat, fish and seafood found at the butcher's station is often sold at a premium price, unfortunately they aren't always of premium quality. What you are actually paying for is the ability to pick and choose which cut you want. Head over to the freezer section instead, you can purchase the same items at a fraction of the price and you won't be sacrificing quality when you do.
Imported Cheese – Stay away! Items found in this section are often marked up twice as much, if not more, than the cheese you can find in the dairy section.
Arrangement – This one personally drives me nuts! In order to get customers to make more impulse purchases the supermarket will change the location of products or rearrange the whole store. Their thinking is, if a customer has to hunt down the item they came in for, they are bound to run across items that they don't necessarily need, but want, making them spend more.

New and Improved – Beware of manufacturers tricks to get you to purchase their products. Packages that say new and improved might be referring to the packaging and not the product. Questioning how a product got the label "World's Best" or "Award Winning" is the first step to not being fooled by their sneaky ploys.
Buy Level – Supermarkets like to place the most expensive items at eye level. The science behind this is that consumers are more likely to buy the first thing that they see. However, a smart shopper knows that the less expensive items can be found on the top and bottom shelves.
Convenience – Beware of bulk items, just because the package is bigger doesn't mean that you're getting a price break on it. Many times manufacturers provide larger packages for convenience and you'll pay handsomely for that convenience. Be sure to check the unit price before purchasing.
Price Hike – Warning, that advertised sale might not actually be a sale. It's a little shady, but supermarkets have been known to raise the price on an item only to drop it back down to the original price and call it a sale. This is a pretty common practice in the meat and deli departments.
Rewards Club – A lot of stores require you to have a rewards card in order to take advantage of sales prices. This sounds like no big deal, but it's costing you! Those sales for club members makes consumers believe that they are special and are receiving amazing deals on items. However, many times there is an item (on the bottom shelf) that isn't on sale and costs less. Don't be lured into a more expensive purchase just because it appears to be on sale.
Final Trick – The last opportunity the supermarket has to reach into your wallet is when you are checking out. Those small, low cost items, lining the conveyor belt, are there with a purpose, to tempt you into spending just a little more money before you leave.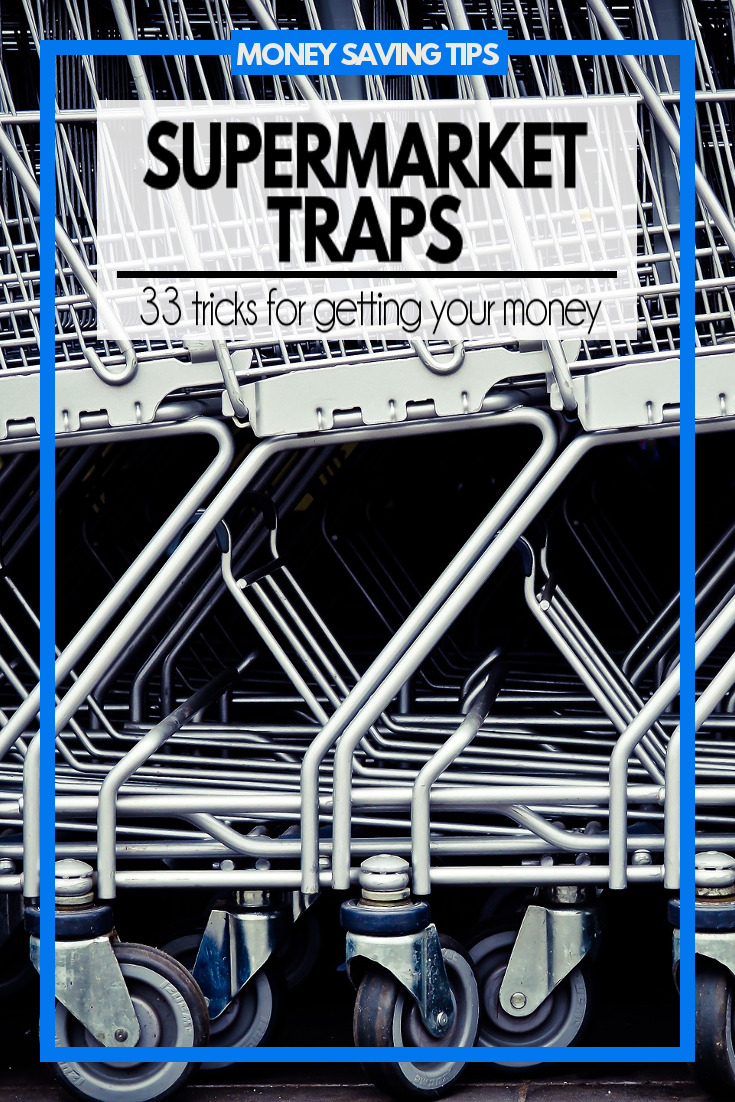 Disclosure: Some of the links in this post are affiliate links. If you click on the link and purchase the item, I will receive a commission. I only recommend products or services that I personally believe will add value to my readers. All opinions stated are strictly my own. Read our full disclosure policy for more information.