This post may include affiliate links. Read our disclosure policy for more information.
Jerkies are one of the best snacks in the world if you ask me. They're so good that several variations of jerky have been made for us to enjoy. However, one cannot deny the goodness that comes with good old beef jerky.
What makes beef jerky a great snack is its super long shelf life. Whether you are keeping your jerkies in the fridge or in the pantry, if completely sealed, it can last for months or even years.
Another great thing about jerkies is that they're a good source of protein. If you ever need a snack during a long hike or a long car drive, a piece or two of jerky will satisfy your need for food.
Unfortunately, most of the beef jerkies you can buy in the market today are laced with gluten. Since I have noticed that a lot of people in the gluten-free community are looking for gluten-free beef jerky recipes, I figured I should share this recipe I use to make it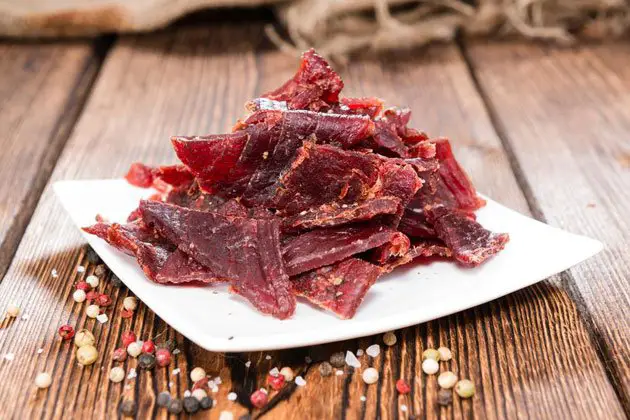 Want to make gluten-free beef jerky on your own? Read on and let's get started!
Ingredients
Pepper flakes to taste

5 tbsp water

½ tsp granulated onion

½ tsp granulated garlic

½ tsp freshly cracked pepper

1 ¼ tsp of pink Himalayan salt

¼ cup brown sugar

1 lbs top round beef (thinly sliced)
Materials
Ziplock bag

Bowl

Oven

Aluminum foil
Cooking Steps
Mix all of the ingredients together in a bowl that's large enough to contain all your meat.

Coat every strip of your meat with the seasoning mixture

Place your meat strips in a ziplock bag, release all the air from the bag, seal it shut, and refrigerate the meat for 12 up to 24 hours.

After marinating, remove the meat from the ziplock bag and prepare it for dehydration.

Wrap the lowest rack of your oven with aluminum foil.

Run your oven's broiler for 5 minutes to remove any bacteria and moisture from your oven.

Preheat your oven to 170 degrees Fahrenheit.

Hang the beef strips on the top rack grates of your oven. When doing so, make sure that you place the strips of meat with even spaces between them for faster drying. 

Dehydrate the meat strips for 5 up to 8 hours.

To find out when your beef jerky is done, wait for it to get a nice dark brown color.
There you have it! A simple recipe for making gluten-free beef jerky.
Remember, dehydrating food can immensely concentrate the flavors of the ingredients you have used in making a certain dish or snack. This is why you should keep in mind not to go overboard with seasonings to avoid getting overwhelming flavors.
Since this is a homemade recipe for gluten free beef jerky, also keep in mind that you should keep it in an airtight and clean container to attain a rather long shelf life. Depending on where you store it, it can last for up to 3 months when left unopened.
Author Bio: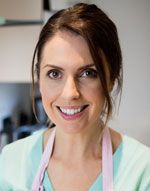 My name is Jennifer Smith, I consider myself a foodie and a more than average home cook. I run my own food blog called Jennifer's Cozy Kitchen to share all my culinary ideas with other people who love to learn about cooking at home. I highly appreciate all kinds of food for health and leisure. Because of so, I see to it that I frequently create informative content that all people can engage in.
Products Featured in this Recipe:
(may include affiliate links)