This post may include affiliate links. Read our disclosure policy for more information.
Perfect Scrambled Eggs. Scrambled eggs can be hard to get right, but if you follow a few simple tricks you'll have perfect eggs every time. Fluffy, silky, tender and moist without being runny.  
Before I share with you how to make the perfect scrambled egg, let me start off by telling you I know how silly this might seem to some of you. However, there are a lot of young people out there that don't know some of the cooking basics. In order to help them stay fed, I thought this might help. 
Surprisingly, there are a lot of older people that have never mastered the art of making a perfect scrambled egg either. How do I know this? I polled a few of my friends. What they've been making are eggs that are tough and dry, just like the diners do.
So you might be asking what makes a perfect scrambled egg. Well, first of all they have to be fluffy, there's nothing more unappetizing than spongy eggs. Then they need to be silky, where they egg kinda' melts in your mouth when you eat it. They also need to be moist, when I say moist I don't mean runny, that's disgusting. Finally, the curds need to be small, you shouldn't have to use your fork to cut into the eggs, just to get a bite. Also, when the curds are small it's easier to mix in other yummy ingredients, like cheese, sausage, onions.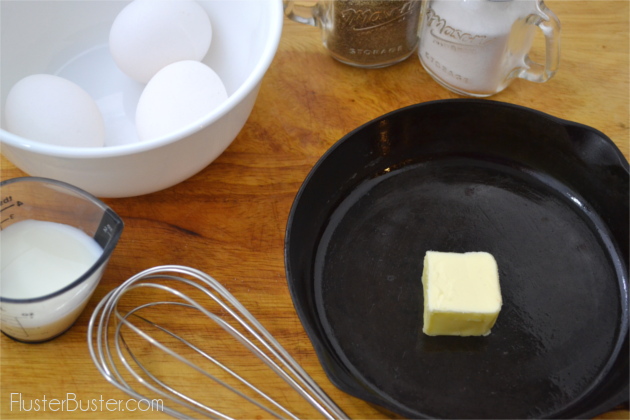 Ingredients Needed:
3 eggs
2 tablespoons milk
pat of butter
salt and pepper
Reduce Fluster with the Right Tools:
non-stick skillet
measuring spoons
mixing bowl
whisk
rubber spatula
Perfect Scramble Eggs for One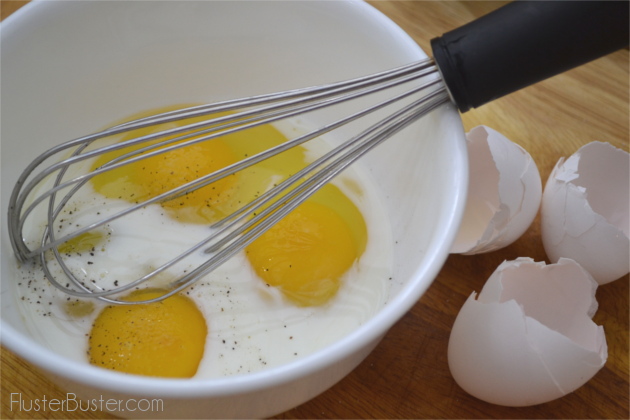 Crack 3 fresh eggs into a bowl. Add 2 tablespoons of whole milk and a dash of salt and pepper. **Some people suggest salting after the eggs are done. I prefer adding salt in the beginning because the salt breaks up the protein so that the eggs don't become tough. It also helps the eggs to retain their moisture.  
Using a whisk, whisk the heck out of the egg mixture. You want to add as much air to the eggs as possible. The more air the fluffier the eggs will be.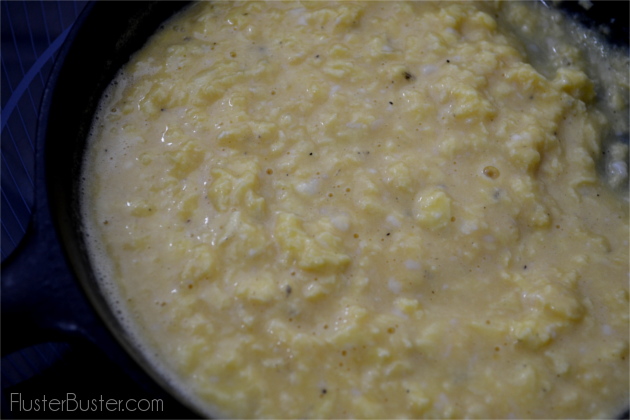 Now, in a cool, nonstick skillet, add a pat of cold butter to the center of the skillet (a pat of butter is around a half of tablespoon). Pour in the egg mixture and turn the burner on medium-low, low and slow is how you'll cook the eggs.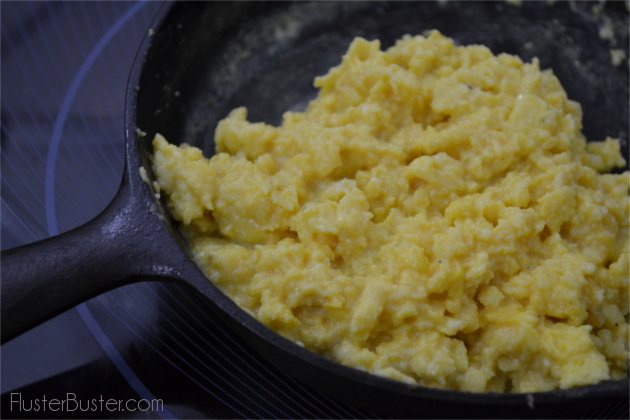 Using a rubber spatula, continuously stir the eggs, breaking up any big curds that develop. If the eggs seem like they are cooking to fast remove the pan from the heat for a few seconds, but be sure to continue stirring. Return to heat and continue stirring until they're almost done. The eggs will continue to cook when removed from the burner due to the heat of the pan. 
Adding Goodies to the Eggs
If you are planning on adding cheese, herbs or meat to the eggs you'll want to add them in just before the eggs are done. When adding meat, be sure that it's fully cooked and drained before adding them to the eggs. You'll also want to cook your vegetables first. Vegetables hold a lot of water and if you don't cook them before adding them to your eggs, your eggs will become watery.
Cheats
Sometimes, depending on the type of eggs, the color may be very pale. If you are trying to impress guests with the perfect scrambled eggs, you can add a drop or two of yellow food coloring to the egg mixture before cooking. 
If you prefer bigger curds, add the egg mixture to a hot pan and fold the eggs from the side of the pan to the center. Continue folding until the eggs no longer look wet.
For fluffier eggs, use club soda instead of milk or water.
I prefer my scrambled eggs with small curds, what is your preference?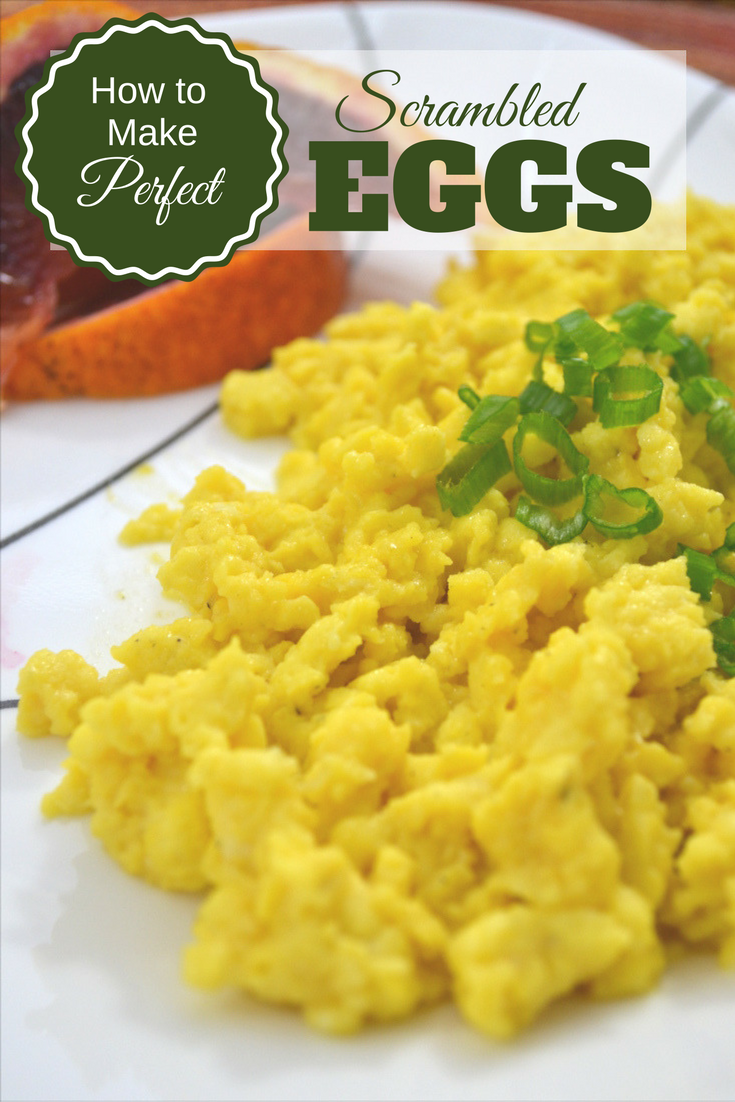 Disclosure: Some of the links in this post are affiliate links. If you click on the link and purchase the item, I will receive a commission. I only recommend products or services that I personally believe will add value to my readers. All opinions stated are strictly my own. Read our full disclosure policy for more information.