This post may include affiliate links. Read our disclosure policy for more information.
Meatless meals are a great way to lower your grocery bill and with the beginning of lent around the corner (March 6th) there is no better time to start adding them to your menu.
If you're not sure real sure about serving meatless meals to your family, a good place to start is with pasta dishes. Pasta dishes are always a hit and with the variety of delicious sauce, it's easy to forget that they are meatless.
Here's what our meal plan looks like this week:
Honey Glazed Carrots from Betty Crocker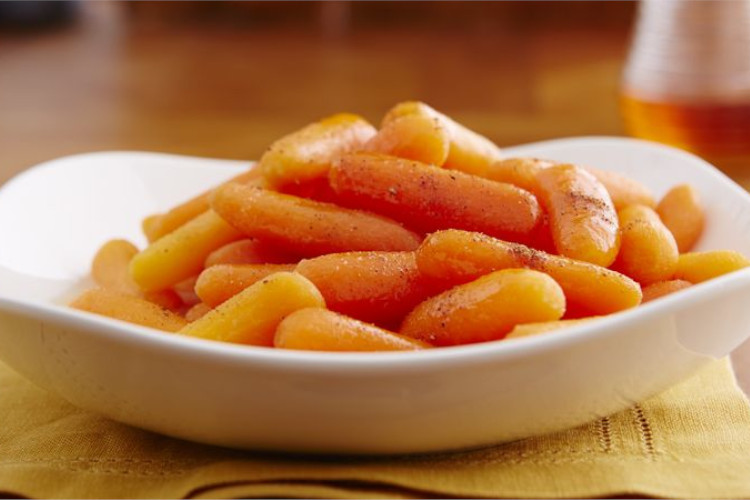 Budget Friendly Meal Planning
Broccoli Alfredo Stuffed Shells – served with a tossed salad and garlic toast.
Serves 8

Leftovers can be refrigerated and used on leftover night.

Tips for cutting the cost on this meal:

Pasta tends to go on sale often, pair the sale with a coupon for big savings (stock up).
For a tastier and cheaper Alfredo sauce (Cincy Shopper) try making it yourself. It's simple to make and only uses 4 ingredients.
Make your own ricotta cheese, it's really simple to make.

Frozen broccoli is normally cheaper than fresh, but check the prices to get the best deal.

Don't buy the bags of salad. Instead buy salad ingredients separately, it's cheaper and they go further.

Make your own salad dressing, it's cheaper and tastes better. Bonus, you only have to make what you'll use so no more wasted space in the refrigerator.

Garlic toast can be made from slices of buttered bread sprinkled with a little garlic and Parmesan cheese.
Honey Mustard Chicken & Potatoes – served with Brussels sprouts and biscuits.
Serves 4

Tips for cutting the costs on this meal:

Stock up on chicken when it goes on sale. Purchase enough to last about 3 months, that is the average time between sales.

The mustards and spices can be purchased at dollar stores at a considerable discount.

Frozen Brussels sprouts are usually the cheaper option, compare the prices before purchasing.

Instead of purchasing prepared biscuits, try making biscuits from scratch. They're cheaper, more delicious and super simple.
Leftovers – Heat up the leftover London broil and roasted potatoes from Sunday's dinner. Make a vegetable and some biscuits to go with it if want. If you're bored with just meat and potatoes you could make it into a stew..
Leftovers – Warm up the broccoli Alfredo stuffed shells, toss another salad and you can have dinner on the table in about 15 minutes.
Blackened Tilapia – served with couscous and honey glazed carrots (Betty Crocker).
Serves 4

Tips for cutting the costs on this meal:

Tilapia is a pretty reasonably priced fish, purchasing it frozen will save you even more.

Instead of purchasing the Cajun seasoning for the fish recipe try making it yourself using spices from the dollar store.
Thai Sweet Chili Chicken – served with rice and Asian green beans.
Serves 6

Freeze leftovers or refrigerate and eat for lunch.

Tips for cutting the costs on this meal:

Stock up on chicken when it goes on sale. Purchase enough to last about 3 months, that is the average time between sales.

Christmas is a good time to stock up on baking items, such as cornstarch, just be sure to store it in air-tight containers.

Normally I suggest purchasing frozen vegetables because they more budget friendly, however for this green bean recipe you really need the fresh ones.
Balsamic Pork Tenderloin – served with Hasselback potatoes, corn, biscuits and for dessert apple pie flautas.
Serves 8

Refrigerate leftovers and serve later in the week.

Tips for cutting the cost on this meal:

Purchase pork when it is on sale and be sure to stock up, about 3 months worth. The lowest price that I've seen for pork tenderloin is $1.49 per pound. I usually buy about 20-25 pounds worth and I have the butcher cut some of it into boneless chops.

Biscuits and cornbread are really good sides to serve when you're on a budget. They are simple to make and taste amazing.
Download – Week 9: Menu & Shopping List
Budget Friendly Tips
✔ Keeping a price book, is a great way to keep track of prices so that you can purchase items when they are at their lowest.
✔ Stock up when prices are at there lowest. Sales usually go in a 3 month cycle, so if you see an item at it's rock bottom price, buy enough to use between now and the next sale.
✔ One way that I keep my grocery bill low is by using coupons for the items that I need. I rarely plan my menu around the coupons that are available, I find that I end up spending more. Instead I create my menu first and then look for coupons that will lower my bill.
Time Saving Tips
✔ Many grocery stores are now offering online ordering. For a small fee, they will do your shopping for you and even load it into your car. This is a excellent way to save time as well as being in control of what you spend.
✔ Spending a little time meal planning can make your life so much easier. It'll save you time and money, improve your nutrition, it'll make cooking more manageable and it will give you more control over what you put on the table.
✔ A simple way to save yourself some time in the kitchen is by prepping your food for the week. This can be done by simply washing your fruits, chopping your vegetables or portioning the food for each meal. It's up to you how much you want to do to save yourself sometime later in the week.
About Our Meal Plan
✔ Our menus are designed to feed a family of four, two adults and two teenage boys. It can also feed two adults and 3-4 young children.
✔ Many of the meals included in our meal plan are budget friendly to begin with, however we do offer tips that will reduce the grocery bill even further.
✔ Our menus do not include breakfast or lunch, but there is space for you to fill in what your family likes. Our family eats a pretty simple meal for breakfast and lunch, like cereal or sandwiches and sometimes leftovers. We don't make to much of a fuss over it.
✔ Sunday dinner is our biggest meal of the week, that's when all of the family gets together, so we tend to spend a little more money and include dessert. I try to make enough for leftovers during the week.



Disclosure: Some of the links in this post are affiliate links. If you click on the link and purchase the item, I will receive a commission. I only recommend products or services that I personally believe will add value to my readers. All opinions stated are strictly my own. Read our full disclosure policy for more information.