This post may include affiliate links. Read our disclosure policy for more information.
Mango Avocado Salsa – this spicy fruit salsa is made with sweet mangoes, creamy avocados and a little cucumber and tomato. It's simple to make and goes great with some of your favorite summer dishes; fish, chicken, beef, it also makes an amazing side dish.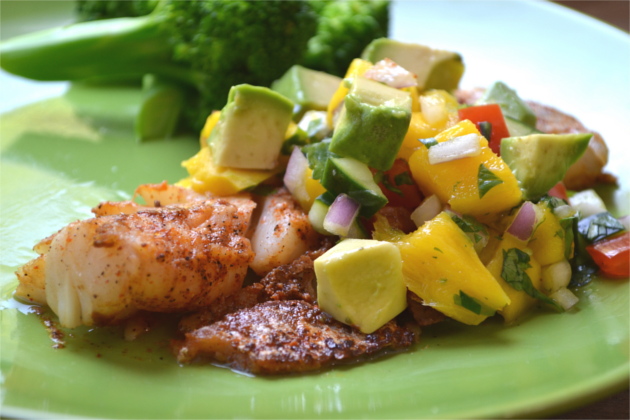 Recently, I set a few goals for myself. One was to lose some weight so that I could get back into a bikini before I was to old to pull it off. The second goal was to eat healthier. And the third goal was to try new foods and recipes that fit into my healthier eating goal.
Last week, I was preparing my weekly menu and came across a recipe for Mahi Mahi. This is one of my favorite fishy's to prepare and eat so I thought I would give the recipe a try. Although it sounded really good, there was one thing wrong, it paired the fish with mango salsa. Mango salsa  is one of those things I've never tried, it's just never sounded appealing to me. Based on my goals, to eat healthier and try new things I thought I would go for it, with a few of my own tweaks to the recipe. 
Okay, just a minute, I have to finish chewing. If you've never tried mango salsa you're missing out. Hang on, I need to take another bite. It's such a great mixture of flavors and when it's paired with the mahi mahi it's simply  amazing. —–Pause—– I'm back, sorry, I had to run to the kitchen to refill my bowl. It also goes great with tortilla chips for an afternoon snack. Sorry to cut this post short, but I ran out of mango salsa and I have to get my butt to the store so that I can make more.
You have to give this a try – it's delicious and addicting.

Mango Salsa (with Avocados)
Author:
Robin | Fluster Buster
Ingredients
1 mango, diced
1 cucumber, diced
1 tomato, diced
1 avocado, diced
1 small red onion, diced
1 jalapeno, diced
¼ cup cilantro, minced
lime juice, to taste
Instructions
Combine all ingredients and refrigerate 1 hour before serving.
Notes
Serve with tortilla chips or over your favorite fish.
Check for coupons before heading to the store.


Products Featured in this Recipe:
(may include affiliate links)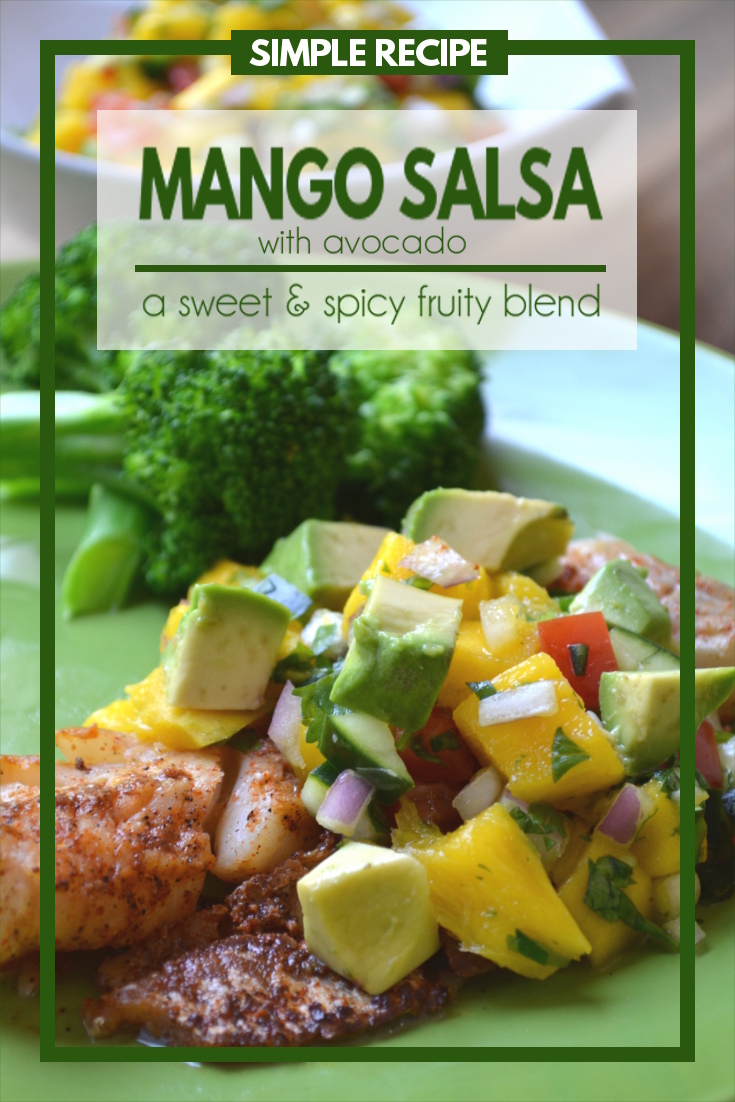 Disclosure: Some of the links in this post are affiliate links. If you click on the link and purchase the item, I will receive a commission. I only recommend products or services that I personally believe will add value to my readers. All opinions stated are strictly my own. Read our full disclosure policy for more information.