This post may include affiliate links. Read our disclosure policy for more information.
A nice twist on a fruit smoothie is to make it with three colorful layers. Each one can highlight the flavor of the individual fruits in it. The presentation of a three layered smoothie is quite enticing and unique.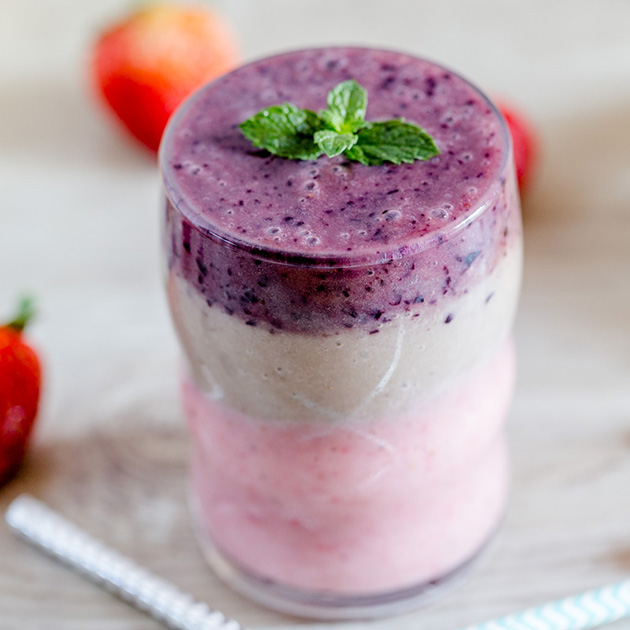 You can choose any fruit you prefer for this type of thick beverage. The recipe here is for a pink, white, and blue smoothie, using strawberries, bananas, and blueberries. It is simple, cold and refreshing on a hot summer day.
There is no dairy or added sugar in the recipe, just the sweetness of the fruit.
Nutritional Value
Blueberries and strawberries are considered super foods. The amounts in the recipe provide us with our recommended daily amount of vitamin C. They are also a great source of disease fighting antioxidants. Blueberries contain heart healthy resveratrol.
Bananas are an excellent source of dietary fiber. They also provide us with minerals, such as copper, magnesium, and manganese.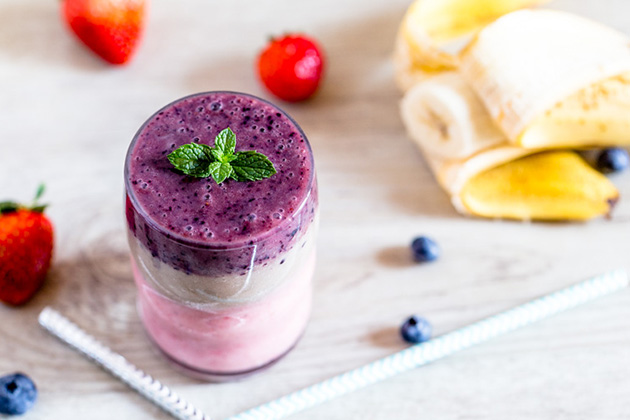 This will easily make 2 filling smoothies. Using frozen fruit will help to make each component thicker. Use unsweetened milk, as the fruit provides plenty of sweetness. You can find coconut milk beverages in the non-dairy milk section of your market. Feel free to substitute almond milk or a milk blend.

Three Layered Fruit Smoothie Recipe
Ingredients
First layer
1 cup frozen strawberries
½ ripe banana
¾ to 1 cup coconut milk beverage
Second Layer
1 whole ripe banana
¾ to 1 cup coconut milk beverage
Pinch of cinnamon
Third layer
1 cup frozen blueberries
½ ripe banana
¾ to 1 cup coconut milk beverage
Instructions
Place your smoothie cups in the freezer for up to 30 minutes to get them nice and cold. This helps the ingredients to stay firmly in place.
Add first set of ingredients to the smoothie blender and mix until smooth. Start with ¾ cup of milk and add more if too thick to pour. Pour into the cups. Rinse out the blender and repeat with the second layer. Do the same for the third.
You can also place the smoothies in the freezer for a few minutes until ready to serve.
Optional Additions
If you would like a little more texture and fiber in your smoothie, add any of these items.
1 tsp raw hemp seeds

1 TBS shredded, unsweetened coconut (suggested in white layer)

1 tsp wheat germ or rice bran
Products Featured in this Recipe:
(may include affiliate links)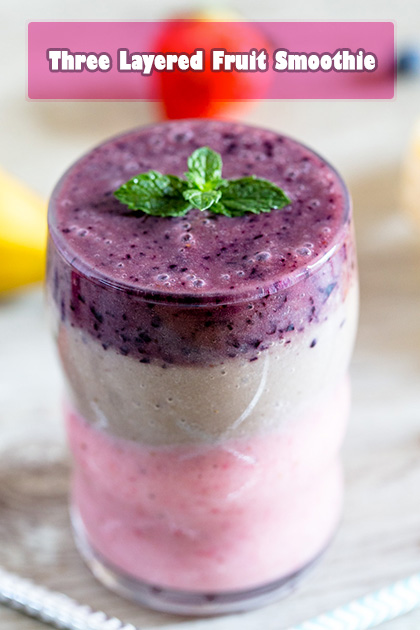 ​