This post may include affiliate links. Read our disclosure policy for more information.
Fried Green Tomatoes – a simple, southern delicacy made from unripe tomatoes, dredged in a flour mixture and fried.  The slight sour flavor of the tomatoes works great with crunchy coating. 
Okay, I confess, I cheated. My intentions were good though. I went to the farmer's market to pick up some fresh fruits and vegetables for my diet, when out of the corner of my eye I spotted some green tomatoes. They were shiny and the most beautiful color of green, I just couldn't resist. My intentions were to find a way to use them, other than frying, which is the only way I've ever had them.
When I got home and put away my harvest these beautiful green tomatoes began calling out to me…"Fry us, just fry us, we taste soooo good fried, you'll be disappointed serving us any other way". After their constant badgering, I gave in! So I decided, as a reward for doing so well on my diet, I would fry them, but limit myself to only two.
Okay, I confess, I have no self control when it comes to Fried Green Tomatoes, especially when their dipped into a Thyme Sauce. How many did I have? I don't know, I lost count, I'm sure the scale will tell me that I had way to many, but they were so, so, so good!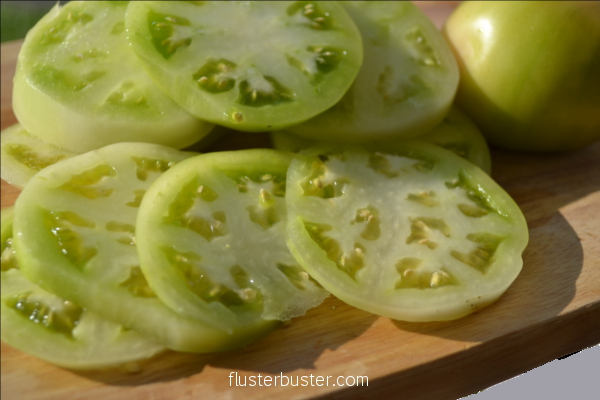 Fried Green Tomatoes
Author:
Robin | Fluster Buster
Ingredients
4 large green tomatoes, firm
2 eggs
½ cup milk
1 cup all-purpose flour
1 cup panko
2 teaspoons kosher salt, course
1 teaspoon garlic powder
¼ teaspoon ground black pepper
Vegetable oil
Instructions
Slice tomatoes, ½ inch thick.
Set up your breading station, using three shallow dishes. Pour flour into the first dish. In the second dish, whisk together the eggs and milk. In the third dish, add the panko and spices.
Heat a ½ inch of oil in a large skillet over medium heat.
Dredge the tomatoes into the flour, than dip into the egg mixture and finally coat with the panko crumbs.
Place tomatoes into the hot oil, making sure not to crowd them. When the tomatoes are golden brown turn them over and brown.
Drain the tomatoes on paper towels, serve with dipping sauce.
Thyme Dipping Sauce
Author:
Robin | Fluster Buster
Ingredients
1 cup yogurt, plain
1 clove garlic, minced
½ teaspoon thyme leaves, chopped
½ teaspoon ground corriander
⅛ teaspoon chili powder
1 pinch cayenne pepper
salt and pepper to taste
Instructions
In a small bowl combine all of the ingredients.
Refrigerate 1-2 hours before serving
Check for coupons before heading to the store.




Disclosure: Some of the links in this post are affiliate links. If you click on the link and purchase the item, I will receive a commission. I only recommend products or services that I personally believe will add value to my readers. All opinions stated are strictly my own. Read our full disclosure policy for more information.