This post may include affiliate links. Read our disclosure policy for more information.
Get ready for a cool and crispy summer salad that will have your taste buds dancing with joy! With a creamy dressing, sharp cheddar cheese, smokey bacon, and a medley of fresh vegetables, this 7-layer salad is a flavor explosion on a plate. It's the perfect accompaniment to your grill master skills or a satisfying main course when you're too lazy to cook (we've all been there!).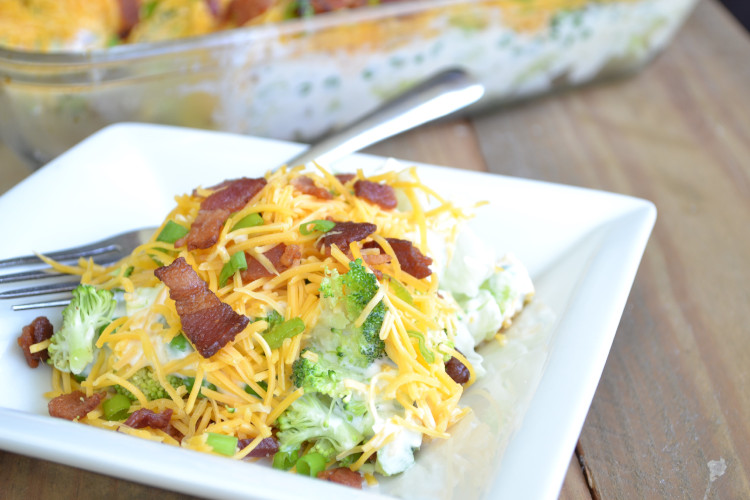 EASY 7-LAYER SUMMER SALAD
Searching for a tasty and hassle-free meal to whip up for your loved ones or guests? Your search ends here with this impressive 7-layer summer salad! This dish has a refreshing and crunchy texture, complemented by a medley of fresh ingredients that will leave everyone delighted. Get ready, because, in this post, I'll guide you through the steps to create this delectable salad. I'll break down each ingredient, give you some serving tips, share suggestions for storing any leftovers, and offer some delicious variations. Let the salad-making adventure begin!
WHAT ARE THE INGREDIENTS IN A 7-LAYER SALAD?
This delicious dish is made up of some seriously tasty ingredients that will have your guests wanting seconds (and maybe even thirds). This salad will steal the show at any summer get-together.
Layer 1: Lettuce
The foundation of this salad is the lettuce layer, which provides a refreshing crunch and a healthy dose of greens. Use your favorite type of lettuce, whether it's green leaf, iceberg, or romaine. Just make sure to chop it into bite-sized pieces before layering it on the bottom of your dish.
Layer 2: Mayonnaise
It doesn't get the spotlight like the colorful layers of veggies and cheese, but it's the glue that holds everything together. Plus, it's not just any old mayo. It's dolled up with a little sugar to give it some sweetness and depth. 
Layer 3: Peas
Add a layer of peas for some additional color and sweetness to the salad. Frozen peas work well, but if you are going to serve the saladright away thaw them out first. Peas are rich in fiber and iron, and add some additional protein to the salad as well.
Layer 4: Broccoli
The next layer is broccoli, which is essential for taking the salad to a new height in flavor and texture. When chopped into small bite-size pieces, it adds a nice crunch and vibrant green color that will make your salad pop.
Layer 5: Cheese
Cheese is the next delicious layer, and my personal preference is sharp cheddar cheese. The sharpness plays well with the other flavors in the salad, adding a delightful bite to every bite. Plus, the beautiful orange color is a perfect match for the fresh green color already in the dish.
Layer 6: Bacon
Get your tastebuds ready because we're about to take our salad up a notch with the addition of some crispy, crumbled bacon. When that smokey flavor is combined with the different layers of fresh vegetables and sweet, creamy mayonnaise, it creates a flavor explosion.
Layer 7: Onion
The final layer of this dish – is the onion. I prefer to use green onions because they don't have a strong, overpowering flavor. They have a more mild flavor which allows the other flavors in the dish to stand out, plus their vibrant green color looks beautiful as a finishing touch.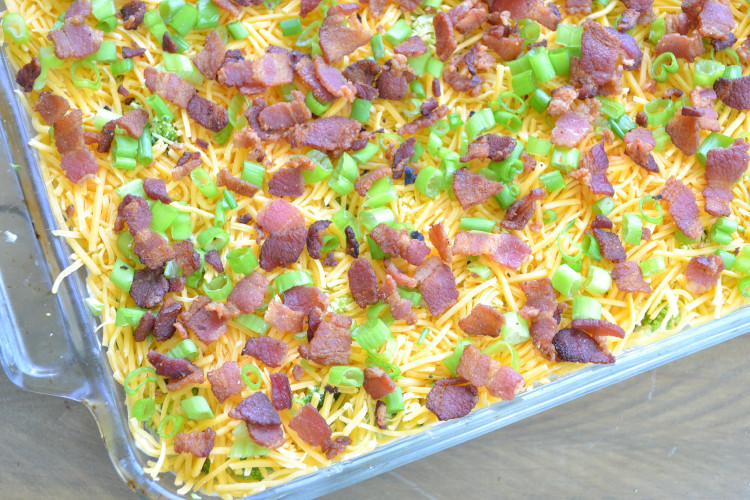 HOW TO MAKE A 7-LAYER SALAD STEP BY STEP
Clean the lettuce, broccoli, and onions. Make sure they are completely dry before you use them. I like to use a salad spinner and then pat dry with a paper towel.
Cut the lettuce into small, bite-sized pieces and put it at the bottom of a casserole dish or a bowl. I like to use a 9×13 casserole dish because it helps spread the ingredients out evenly.
Cover the lettuce with mayonnaise like you would spread frosting on a cake. Then, sprinkle some sugar on top of the mayonnaise.
Take a few handfuls of frozen peas and sprinkle them over the mayonnaise.
Cut the broccoli into small, bite-sized pieces and put them on top.
Sprinkle everything with a healthy layer of shredded cheddar cheese.
Finish off your dish with some crunchy bacon and chopped green onions.
HOW TO SERVE THIS 7-LAYER SUMMER SALAD
Once the salad is assembled, cover it with plastic wrap and refrigerate it for at least an hour to let the flavors meld together. When it's ready to serve, you can either spoon it out onto plates or let guests serve themselves buffet-style.
WHAT IS THE BEST WAY TO STORE ANY LEFTOVER SALAD
Keep it fresh and tasty by storing the leftovers in an airtight container in the fridge. It'll stay delicious for up to 3 days! Just a heads up, if you didn't dry off the veggies completely, your salad might get a little watery. No worries though, simply drain off any excess water or grab a trusty paper towel to soak it up. Easy peasy!
If you're serving this salad as a main dish, you can pair it with some hearty bread like a baguette or sourdough. If you're using it as a side dish, consider one of our favorite menus:
---
Entrée: Crispy Baked Chicken Drumsticks 
Side Dish #1: 7-Layer Salad
Side Dish #2: Chips and/or Baked Beans
Drink: Southern Sweet Tea
Dessert: Lemon Fluff
No matter what you serve with this salad it will definitely be the star of the show. Your guests won't leave without the recipe.
Do you like this recipe? Please leave us a star rating in the comments below, and share it on social media. We would really appreciate it!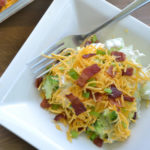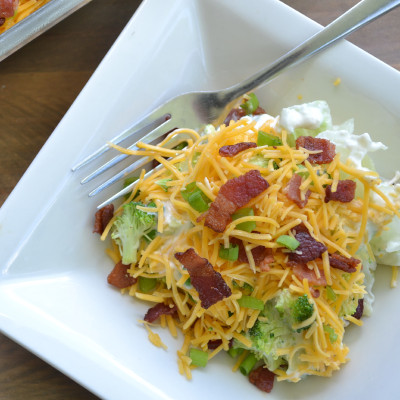 Print Recipe
7-Layer Salad
A refreshing summer side dish (or meal), perfect for those days when it's to hot to cook! In less than 10 minutes you can whip up this simple, light and delicious recipe.
Ingredients
1/2

head

iceberg lettuce

chopped

1

cup

mayonnaise

1/2

cup

sugar

1 ½

cups

peas

frozen

1 ½

cups

broccoli

chopped

1 ½

sharp cheddar cheese

grated

3

green onions

diced

4

strips

bacon

cooked & crumbled
Instructions
Place chopped lettuce in the bottom of a casserole dish or a salad bowl.

Spread a layer of mayonnaise over the lettuce. Sprinkle sugar over the maynnaise.

Sprinkle a handful or two of frozen peas on top of the mayonnaise.

Top with broccoli that has been cut into bite size pieces.

Cover with shredded, sharp cheddar cheese.

Sprinkle with green onions and bacon. Refrigerate until ready to serve.
Notes
There are no exact measurements for this recipe. Simply make as much or as little as you like. **The above measurements are approximate, and serves 8.
Nutrition
Making a 7-layer salad is an easy and delicious way to add some variety to your mealtime routine. With this simple recipe, you'll have a beautiful and tasty salad in no time. Whether you're hosting a backyard BBQ or looking for a quick and healthy weeknight meal, give this salad a try and see for yourself just how scrumptious it can be!
TIPS
✔ To prevent the salad from getting soggy, make sure to thoroughly dry the vegetables before constructing the salad. Also, use vegetables that maintain their crispiness.
✔ Other ingredients you can add to the salad: hard-boiled egg, celery, cauliflower, red pepper, red onion, ranch dip, spinach, cucumber, sugar snap peas, mushrooms, and tomatoes.
✔ Swap out the bacon for some cooked chicken or turkey.
✔ Use different types of cheese like feta or Parmesan for a different flavor.
✔ Add some nuts or seeds on top for extra crunch.
✔ Use a vinaigrette dressing instead of a creamy one for a lighter option.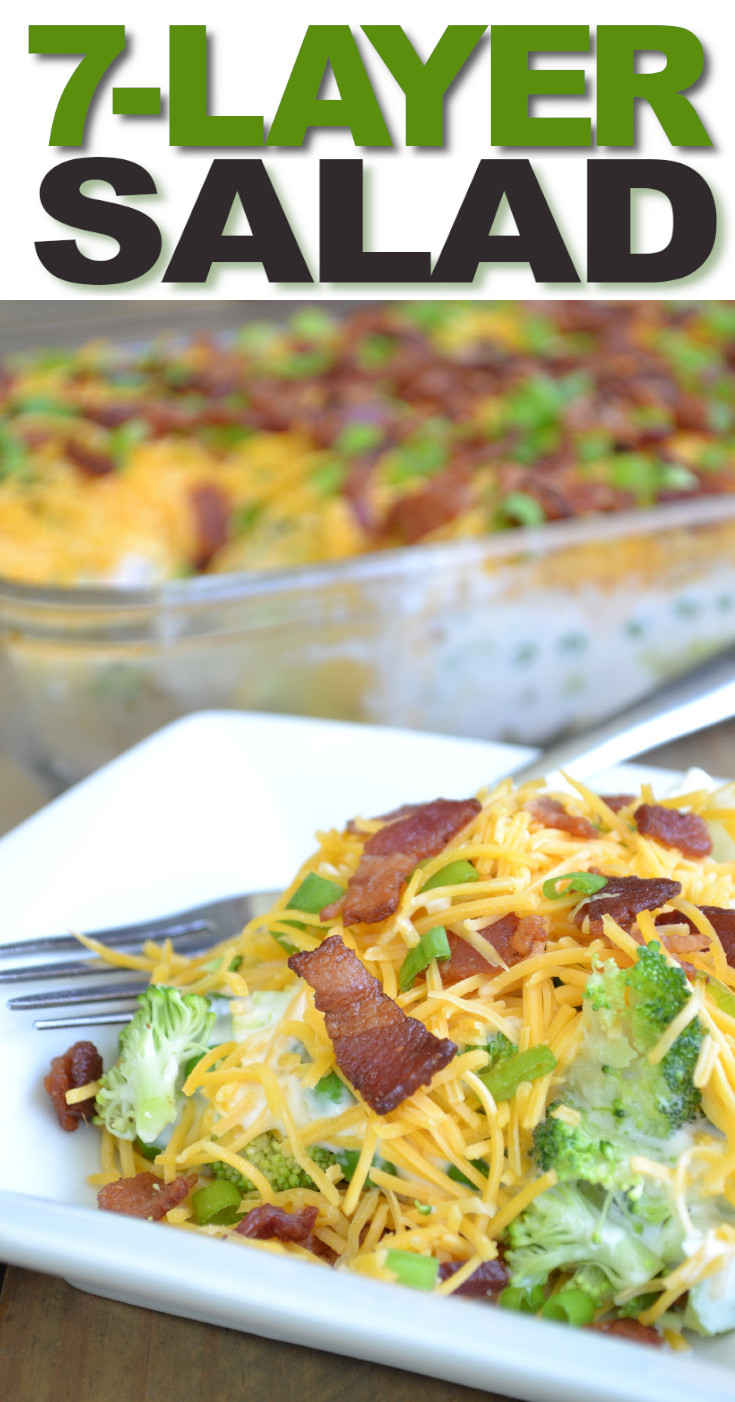 What ingredients do you think make the best combinations for a 7-layer summer salad?
Disclosure: Some of the links in this post are affiliate links. If you click on the link and purchase the item, I will receive a commission. I only recommend products or services that I personally believe will add value to my readers. All opinions stated are strictly my own. Read our full disclosure policy for more information. 
Original Post Date: 07/15/2019, Updated: 07/24/2023