This post may include affiliate links. Read our disclosure policy for more information.
You're in for a creative treat! Check out our Homemade Pickles – fresh, crispy cucumber slices and sweet onions packed into a mason jar. Our homemade brine locks in all the flavor and juiciness, creating perfect tangy snacks ready to eat after just a few hours in the fridge. Ideal for your next BBQ, or as a refreshing snack anytime, anywhere. These guaranteed lip-smackers won't last, so go ahead and munch straight from the jar!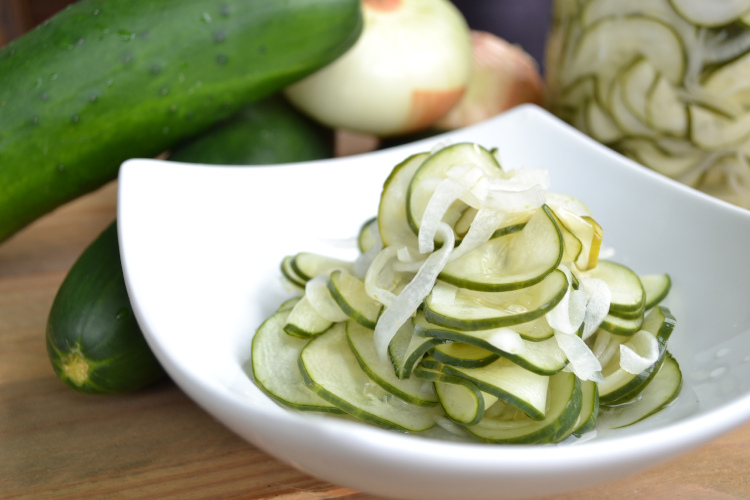 Purchasing pickles off the shelves of your local supermarket may seem like the easy way out, but have you ever tried homemade pickles? Homemade pickles are a game-changer. They are fresher, tastier, and packed with more nutrition than store-bought varieties. Here are just a few reasons why homemade pickles are better than purchasing them.
Firstly, with homemade pickles, you can choose exactly what ingredients go into your pickling brine. This means that you can avoid any added preservatives, artificial colors, or other harmful additives that are usually found in store-bought varieties. When you make pickles, you have complete control over the quality and nutrition of the ingredients that go into making them.
Secondly, homemade pickles are far fresher than any pickles you will find on store shelves. This is because they are made using freshly harvested vegetables, which have all of their nutrients and vitamins intact. Store-bought pickles, on the other hand, usually go through long shipping and preservation processes that strip them of their nutritional value.
Thirdly, and perhaps most importantly, homemade pickles taste amazing! By making your pickles, you can experiment with different flavors and spices to come up with a delicious pickle that perfectly suits your taste buds. The sweet homemade brine described in this recipe is just one example of the endless possibilities of homemade pickle recipes. Once you've tried making pickles, you'll never go back to purchasing them.
THE BASIC INGREDIENTS FOR HOMEMADE PICKLES
When it comes to making refrigerator pickles, the process of purchasing and preparing the ingredients is incredibly simple. With just a few basic ingredients such as cucumbers, onions, vinegar, and sugar, anyone can make a delicious batch of tangy, crispy pickles right at home. In fact, refrigerator pickles are a great option for those who want to enjoy pickles without the hassle of traditional canning methods. Purchasing and preparing the ingredients for these pickles is a breeze, as cucumbers can be easily found at any local grocery store and the remaining ingredients are pantry staples for most households. Overall, it's hard to resist the temptation of freshly made, homemade pickles!
Cucumbers – When it comes to picking the best cucumbers, there are a few key things to keep in mind. First and foremost, look for cucumbers that are firm, with no soft spots or blemishes. Additionally, you want to select cucumbers that are a vibrant green color – avoid any that appear dull or yellowed. As for when to buy them, peak cucumber season is typically during the summer months, so that would be the ideal time to snag the freshest and most flavorful options. However, cucumbers are available year-round.
Onions – Of all the types of onions available, sweet onions reign supreme when it comes to refrigerator pickles. Sweet onions have a milder flavor than their counterparts, making them the perfect addition to refrigerator pickles. Additionally, the high sugar content in sweet onions balances out any acidity of the brine, resulting in a perfectly balanced flavor.
Vinegar – Vinegar is a natural preservative that inhibits the growth of harmful bacteria. This means that when you combine the vinegar with the sugar you create an acidic environment that prevents spoilage and preserves the flavor and texture of the cucumbers. Plus, using vinegar means you don't have to go through the trouble of canning and processing your pickles in a hot water bath.
Sugar – Sugar adds a touch of sweetness to balance out the tanginess of the vinegar, but it also helps to preserve the crisp texture of the vegetables. Sugar acts as a natural preservative by drawing water out of the vegetables and into the brine, preventing the growth of bacteria that can cause spoilage.
HOW TO MAKE PICKLES STEP BY STEP
Slice the cucumbers and onions into thin, even slices, ensuring that they are of a similar size to guarantee even pickling.
Tightly pack the sliced cucumbers and onions into a mason jar. Avoid over-packing the jar, this can prevent the brine from reaching all of the cucumbers and onions.
In a medium-sized saucepan, bring a mixture of vinegar, and sugar to a boil, stirring until the sugar dissolves. Once boiling, reduce the heat and let the brine simmer for 10 minutes.
Carefully spoon the hot brine over the packed cucumbers and onions, making sure to leave approximately 1/2-inch of headspace at the top of the jar.
Use a chopstick or similar utensil to help remove any air bubbles that may have formed in the jar. Then, place the lid onto the jar, making sure that it is tightly sealed.
Allow the jar to cool to room temperature before transferring it to the refrigerator.
HOW LONG DOES IT TAKE A CUCUMBER TO TURN INTO A PICKLE?
Transform your cucumbers into delicious homemade pickles in a blink of an eye! With thinly sliced onions, you'll have a fridge full of crunchy, tangy goodness in no time. For the most mouth-watering flavor, let your pickles soak in the brine for 24 hours. But, if you can't wait that long, dig in just a few hours after making them.
HOW TO SERVE HOMEMADE PICKLES
My favorite way to eat them is right out of the jar. However, if you have to share them it's best that you spoon them out onto a plate first, for sanitary reasons. Besides them being a delicious snack, they also make a nice, refreshing summer side dish for both lunch and dinner and if you're barbecuing, it's always a good idea to have a bowl of them close at hand.
Plus, these little gems are versatile enough to add some flavor to your favorite recipes. Mix them in with tuna or potato salad for a unique twist. Or, try them on top of hot dogs or hamburgers for an added pop of flavor. Trust us, you'll want to have a bowl of these on hand at your next barbecue!
HOW TO STORE THE PICKLES
Keep your pickles fresh and flavorful by storing them in an airtight container like a mason jar or Tupperware. They'll stay crisp and delicious in the fridge for up to 2 months, or until you devour them all (whichever comes first)!
ADD-INS (OPTIONAL)
If you would like to kick up the flavor here are some things you can try:
Add 1 teaspoon of celery seed, mustard seed, and/or turmeric to the brine.
Add thinly sliced bell peppers or sweet peppers to the jar.
Add thinly sliced apples or pears to the jar.
Use apple cider vinegar.
Use Splenda instead of sugar.
Get ready to celebrate 4th of July in style with our awesome menu!
---
Entrée: Grilled Western Bacon Hot Dogs 
Side Dish #1: 7-Layer Salad
Side Dish #2: Chips and/or Baked Beans
Drink: Southern Sweet Tea
Dessert: Peaches & Cream Gelatin Salad
No matter what you pair these bacon-wrapped dogs with, they are guaranteed to steal the show.
Do you like this recipe? Please leave us a star rating in the comments below, and share it on social media. We would really appreciate it!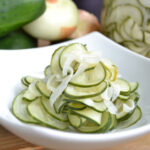 Print Recipe
Bread & Butter Refrigerator Pickles
Fresh cucumbers and onions that are tightly packed into a mason jar and then topped with a sweet homemade brine. The thinly sliced cucumbers and onions only take a couple of hours in the refrigerator to absorb all of the sweet goodness.
Ingredients
2

cup

cucumbers

thinly sliced

1/2

cup

sweet onions

thinly sliced

1

cup

white vinegar

1

cup

granulated sugar
Instructions
Pack sliced cucumbers and onions in a clean, quart size mason jar. Set aside.

In a medium sauce pan, combine vinegar and sugar. Bring to a boil over medium heat, stirring until the sugar dissolves. Reduce heat and simmer 10 minutes.

Spoon hot liquid into the jar to a half-inch from the rim. Place lid on jar and allow to cool to room temperature.

Refrigerate at least 2 hours before serving.
Notes
ADD-INS (OPTIONAL)
Add 1 teaspoon of celery seed, mustard seed, and/or turmeric to the brine.
Add thinly sliced bell peppers or sweet peppers to the jar.
Add thinly sliced apples or pears to the jar.
Use apple cider vinegar.
Use Splenda instead of sugar.
Add a pinch of salt to the brine, it will live'n up the sweetness a bit.
Nutrition
Homemade pickles are better than purchasing them in every way. They are healthier, fresher, and more delicious than any commercially produced pickles you will find on store shelves. So, the next time you're in the mood for a tangy, sweet, and refreshing snack, try making your own pickles at home. You'll be surprised at how easy and fun it is. Plus, you'll be doing your body a favor by indulging in a snack that is packed with nutrients and flavor!
TIPS
You'll need 4-6 medium-sized cucumbers, it takes about 2-3 to make one cup.

Peak cucumber season is typically during the summer. However, they can be found year-round, you'll just be paying a bit more for them.

Savings Tip: When shopping, keep a running total of what you are purchasing. When checking out watch the prices and make sure that they are scanning at the right price.  It's extremely common to be overcharged at check out.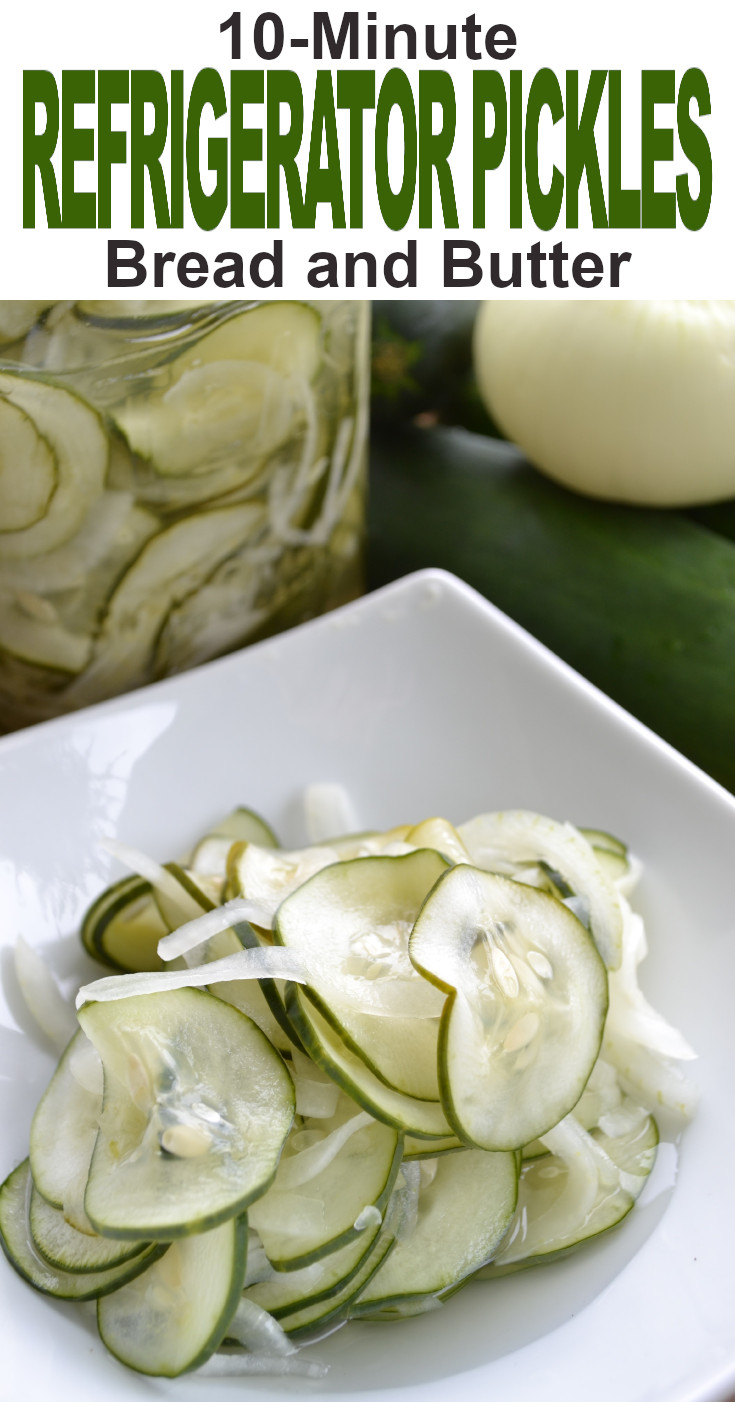 Are there any tips or tricks that you've discovered for creating the perfect batch of pickles at home?
Disclosure: Some of the links in this post are affiliate links. If you click on the link and purchase the item, I will receive a commission. I only recommend products or services that I personally believe will add value to my readers. All opinions stated are strictly my own. Read our full disclosure policy for more information. 
Published: 06/17/2019 – Last Updated: 06/19/2023