This post may include affiliate links. Read our disclosure policy for more information.
Sweet tea the staple of the south! Attend any function and you'll see just how popular this beloved beverage is. What makes it so special, is how smooth and sweet it is without ever being bitter. The key to a good sweet tea, is the type of tea you use and how it is brewed, oh, and don't forget about the sugar.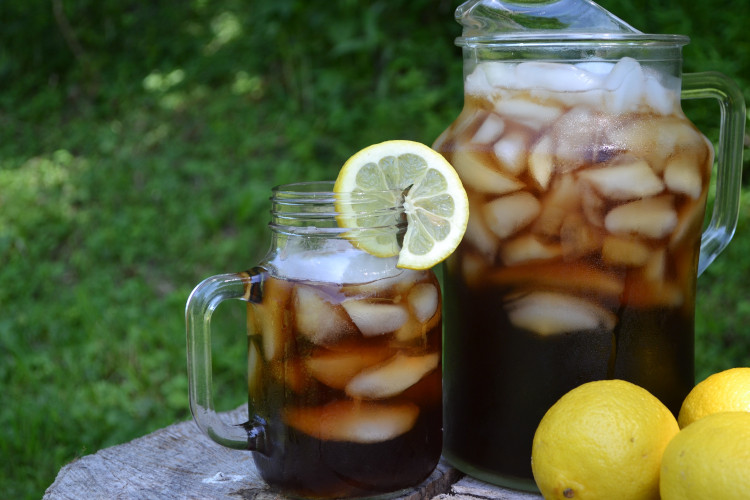 Okay, I'm going to be perfectly honest here, I'm not a huge fan of sweetened tea, I'm an un-sweet kinda tea drinker. However, that doesn't keep me from making sweet tea, my family goes nuts for the stuff.
I've been brewing tea for a long time, it's always been a favorite, hot or cold, but it wasn't until I moved to the south that I learned how to brew an amazing sweet tea. In the past, I made iced tea using an iced tea maker. If I wanted the tea sweet, I'd throw in a little sugar, emphasis on little. It was easy and the family loved it until…… we moved to the south.
Simple Southern Sweet Tea
Tea: There's a bit of a debate over what kinda' tea to use. A lot of folks swear by Luzianne Iced Tea bags while others swear by black tea. Personally, I like the taste of the black tea. Try em' both and you decide which team your on, Luzianne or black tea.
Bag Size: Another debate is what size of tea bags to use. Some prefer the family size, while others like the small ones. I prefer the small tea bags, the large tea bags tend to make the tea to strong for my liking.
Sweetening: If you thought that the debating was over, it's not! The way the tea is sweetened also sparks quite a debate. Some swear that a classic southern sweet tea should be sweetened with a simple syrup, while others believe that straight up sugar is the way to go. For simplicity's sake, I go the straight up sugar route, I don't see a huge difference between the two.
How much sugar to use, is a personal preference, but I can tell you from experience, southerners like it sweet! I've been told, "the sweeter the better" from many people. When I make sweet tea, I use no more than 1/2 cup. My kids would love it if I used more, like their grandma, but it's just to much sugar to be putting into their little bellies.
Eliminating Bitterness: Baking soda, it's the key to making a classic southern sweet tea, yup, you heard that right, baking soda. What it does is neutralize the tannins in the tea, making the tea smoother and less cloudy. If you're skeptical, test it out, it really helps!
Equipment
Throw out the iced tea maker, that is not the southern way!!! All you need for a classic southern sweet tea is a small saucepan, a glass pitcher and a spoon.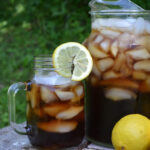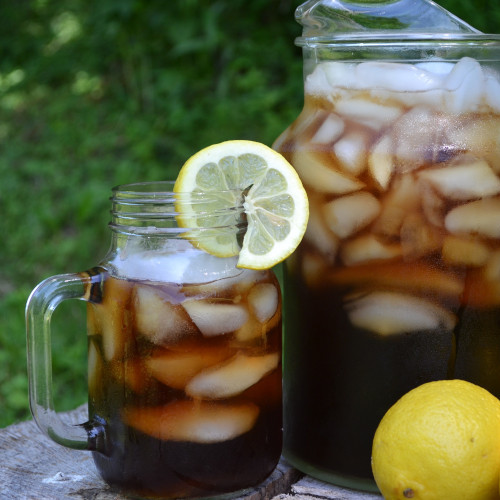 Print Recipe
Southern Sweet Tea
Smooth, sweet and never bitter, the perfect glass of sweet tea.
Ingredients
6

black tea bags

⅛

teaspoon

baking soda

½ – 1½

cups

sugar

water

ice
Instructions
Bring 4 cups of water to a boil.

Remove from heat, add baking soda and tea bags, and cover. Let the tea steep for 5-15 minutes. The longer you let it steep the stronger it will be.

Remove tea bags. Don't squeeze them, squeezing them will make your tea bitter.

Stir sugar into the hot tea, stir until dissolved. Let it cool for 5-10 minutes.

Fill a 2-quart pitcher with ice, then pour the warm tea over the ice. Top off with cold water and stir.
Nutrition
RELATED PRODUCTS
(may include affiliate links)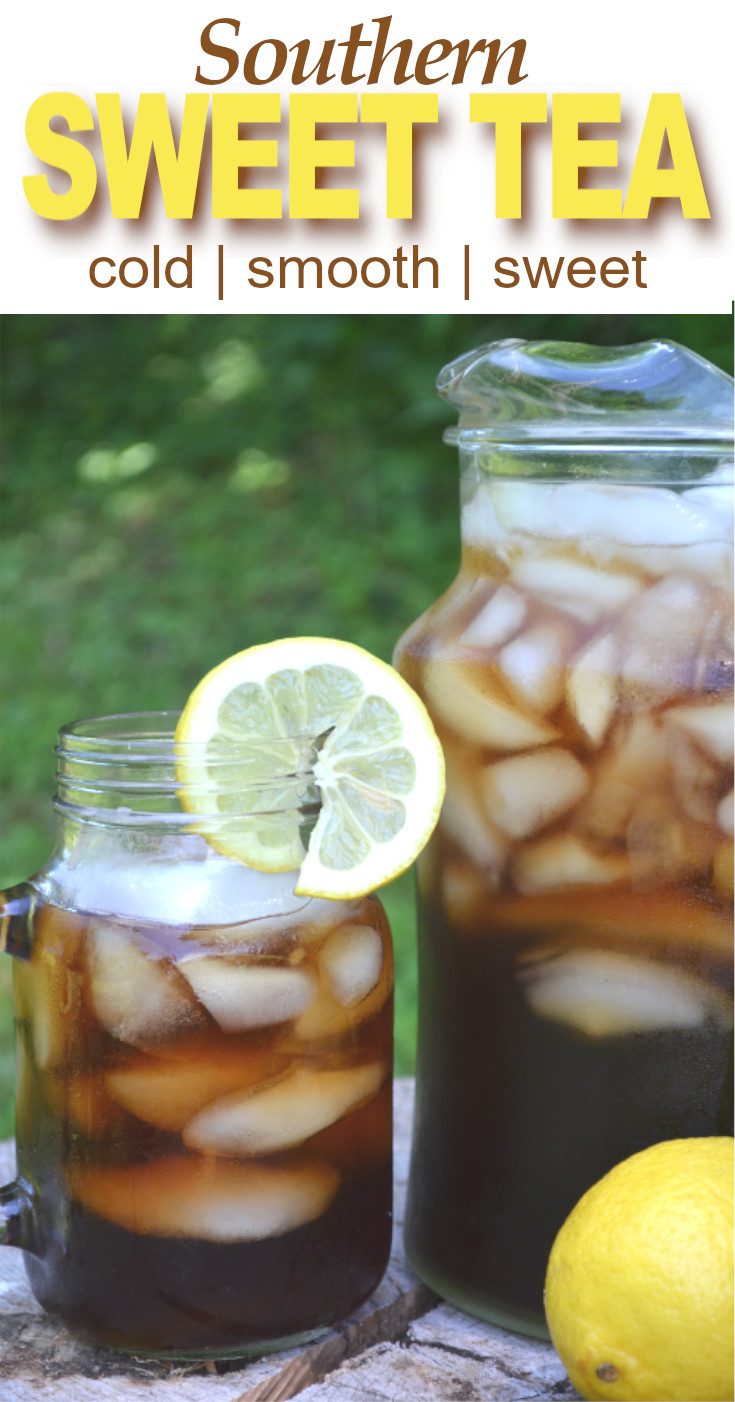 Disclosure: Some of the links in this post are affiliate links. If you click on the link and purchase the item, I will receive a commission. I only recommend products or services that I personally believe will add value to my readers. All opinions stated are strictly my own. Read our full disclosure policy for more information.