This post may include affiliate links. Read our disclosure policy for more information.

Please excuse the mess! We're doing a little redecorating. I'm so excited for this to happen. I have so many fun things planned and I can't wait to share them with you. These changes are going to make this party so much more fun. I just can't wait for you to see them.
I want to thank everyone who attended last weeks party. I had such a blast checking out all of your links. P.J. over at Planned in Pencil was last week most viewed link. She linked her Craft Challenge 2013 – Repurpose where she cleverly repurposed a vintage suitcase so that she could bring current projects with her where ever she went. Great idea – so much better than my plastic grocery bag.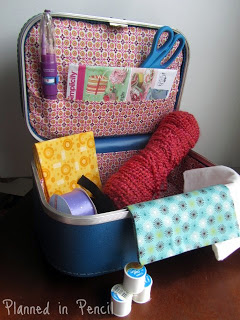 Planned in Pencil
Fluster's Creative Muster
Party #9
(begins on Tuesday @ 6:00pm)