This post may include affiliate links. Read our disclosure policy for more information.

Thank you everyone who participated in last weeks party.  I had so much fun visiting everyone's links and was inspired by so many. If you didn't get a chance to check out last weeks party you missed a lot of really creative projects.
This weeks Featured Post is from The Chicken Chick for her Cupcake Bouquet Tutorial.  She is being featured because she had the most views, follows Fluster Buster, and linked Fluster's Creative Muster Party to her post. For being this weeks Featured Blog her link will be displayed on the side bar (for a week), pinned to the Viewers Choice board, Tweeted and shared on Facebook.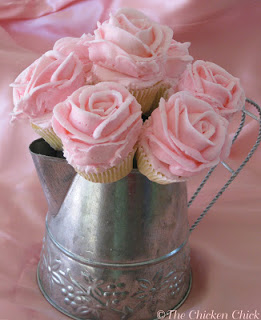 Congratulations Kathy! When I first saw the picture I thought that they were actually roses. What a beautiful gift to give someone for Valentine's Day. After how well these roses turned out, I think that you could now call it your strong suit.
Fluster Creative Muster Wednesday
Party #6
(begins on Tuesday @ 6pm)It's time to get the party started and muster up all of the wonderful and creative ideas that have been flowing throughout the week.