This post may include affiliate links. Read our disclosure policy for more information.
When I'm looking for an
easy recipe
, hamburgers are one of the first things that come to mind. Slap a few patties on the grill or in a skillet, pull out the condiments and wah-lah you've got dinner on the table in no time. I also love that it's easy to take with you, just place the hamburger in a sandwich bag and you've got a homemade take out meal.. Easy Breezy!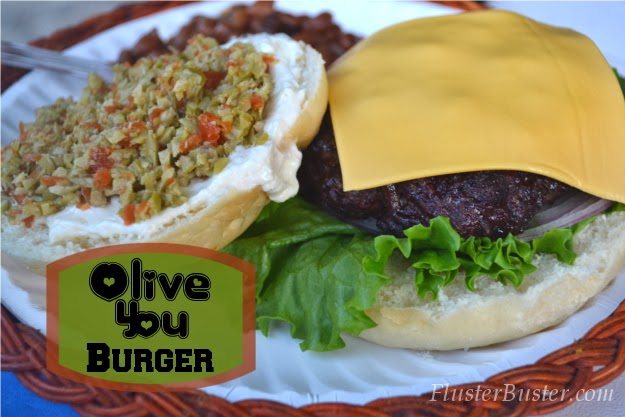 Hamburger night is not quite that easy at our house though, in fact, burger night has become a big event. Several years ago I put a little twist on the plain boring hamburger to change things up a bit and my family ended up loving it.  Dinner that night was very interesting as everyone began coming up with their own ideas. That one little change sparked what we now call the Burger Challenge.
You need to know, I live in a house full of competitive, aspiring chefs so they tend to get quite creative with this challenge. They all want the bragging rights of creating the "Best Burger". The challenge is pretty easy it only has rules: (1) it must have some kind of a bun, and (2) it must have some kind of a meat, other than that anything goes. I have to say I've been pretty impressed with most of the creations, however there have been a few that not even the dog would touch.
I wish I could share some of the amazing creations that my family has come up with, but I promised my oldest son that I wouldn't . He's in the process of writing a business plan for a gastropub specializing in gourmet burgers. The gourmet burgers are, you guessed it, the recipes that our family has created for our family Burger Challenge. He did however give me permission to share my favorite burger, the Olive You. From the long list of burgers we've created this is the one that tops my personal list and it's one of the easier ones to make.
Normally, when I'm sharing a recipe I make a pretty little index card that you can print and file away in your recipe box.  I'm not doing that this time, I think everyone knows how to make a hamburger patty, this is about what goes on it.  I do suggest using ground sirloin for the burger though, it makes the best burgers.
Here's what you need:
Chibatta Bun
Mayonnaise
American Cheese
Red Onion
Leaf Lettuce
Green Olives, chopped
It's an easy burger with amazing flavor, I can't wait for you to try it, because I know you'll love it.
Do you have any creative or easy recipes for burgers? Maybe I'll use your recipe in our next challenge.  I need all of the help I can get, my kids culinary skills are beginning to surpass mine.