This post may include affiliate links. Read our disclosure policy for more information.
We got our first snow of the season today so I guess it's finally time to pull out my soup and stew recipes. For this weeks cheap and easy recipe I thought that I would share my Feed 4 for 5 Beef Stew in honor of the cold weather. One of the things that's great about soups and stews, other than how delicious they are, is how inexpensive they are to make.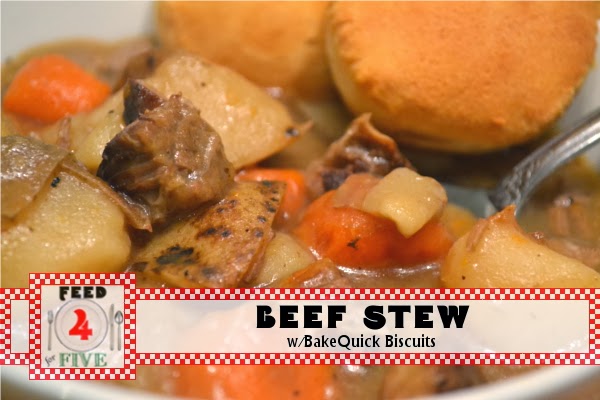 One of my bad habits before creating the Feed 4 for 5 was always making more than what we could eat. I would make so much that my family would get sick of it before we could eat it all. Have you ever done that? Not only does serving the same thing over and over make meal time boring, it's also a huge waste of money. When I think back on how much food I've thrown away over the years it makes me a little sick to my stomach.
When I first started creating the recipes for the Feed 4 for 5 I had to continually remind myself that I was feeding 4 people and not an army. One of my nagging fears was that my family wouldn't get filled up if I cut back on my recipes. No one likes to hear that someone left the table hungry. To my surprise though, I've never heard that comment on any of my Feed 4 for 5 meals, and I'm feeding two teenage boys and a husband with large appetites.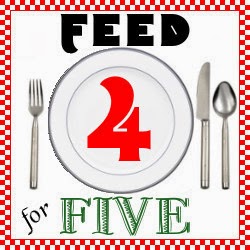 Beef Stew
Ingredients
            2 tablespoons vegetable oil ($0.06)
            2
garlic
cloves, crushed ($0.08)
            3 medium
potatoes
, peeled and quartered ($0.19)
            3 carrots, cleaned and diced ($0.18)
Instructions
In a Dutch oven or large pot, brown the stewing
beef in the oil.
Add the beef broth or water and bring to a boil.
Lower the heat and add the potatoes, carrots,
garlic and salt and pepper.
Simmer until the meat and vegetables are tender,
about 30-45 minutes.
While the stew is simmering, prepare rolls
according to recipe.
To thicken stew, mix cornstarch with some water
and whisk the mixture into the stew.
Category: Main Dish, Poultry                                                                                       Serves: 4

Cost = $4.56
Cost Breakdown
Stewing Beef – ($2.44 per pound) purchased a side of beef and had it butchered. Another way to save on beef is by doing your grocery shopping early in the day, it's a great way to snag discounted meat. The butcher will usually knock down the prices for quick sale early in the day. If you are not going to use the quick sale meat immediately be sure to freeze it. 
Vegetable Oil – (48 ounces for $2.49) purchased from a local grocery store on sale.
Beef Broth or Water – (free) the broth is from the Roast Beef Crockpot Dinner that I saved and froze. If you don't have any broth, you can use water and a couple of beef bouillon cubes. 
Garlic – (1 head for $0.49) purchased from a local grocery store.
Potatoes – (10 pounds for $1.99) purchased from a discount grocery store. 1 pound of potatoes yields about 3 medium sized potatoes.
Carrots – (1 pound for $0.50) purchased from a local grocery store on sale. 1 pound of carrots yields about 6-8 medium sized carrots.
Cornstarch – (16 ounces for $0.99) purchased from a discount grocery store.
BakeQuick Biscuits – made from Homemade BakeQuick Mix.
Savings Tip
Double your favorite recipes and freeze the other half for a future meal. Cooking in larger batches is a great way to save a little extra money as long as you are sure to freeze the other half. It's also a great way to save some time on those busy nights when you don't feel like cooking.


Do you have a favorite cheap and easy recipe that will Feed 4 for 5? Submit it and maybe we'll feature it on one of our future posts.
Bon Appetit on the Cheap!