This post may include affiliate links. Read our disclosure policy for more information.
Homemade Caramel Sauce – A super simple, 3-ingredient, thick, yet smooth, sweet topping that tastes amazing with apples, ice cream or many of your favorite fall desserts. It is so simple to make and wildly delicious that you'll be slathering it on everything.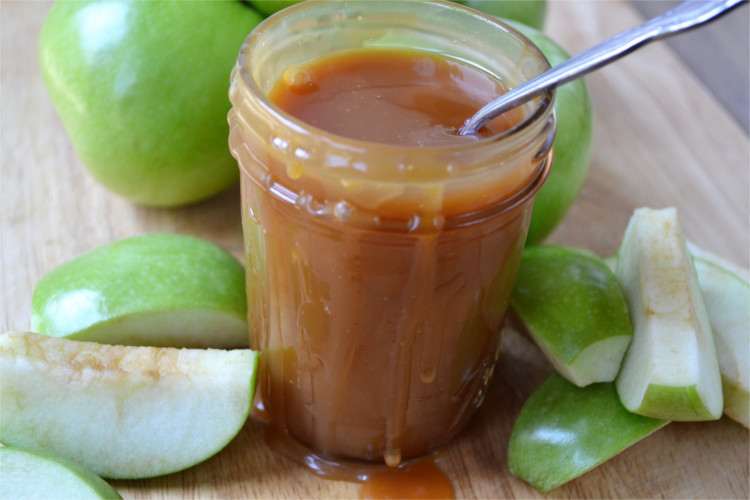 This homemade caramel sauce is to die for and the best part is that it's super simple to make and only uses 3 ingredients. That preservative packed caramel stuff that you buy at the store, doesn't even come close to tasting as good as homemade. I used to buy that packaged caramel sauce only because I thought that making it myself would be difficult. Boy was I surprised when I learned how simple it really is to make and that I didn't have to use a candy thermometer to get tasty results.
Now that I make my own caramel sauce I find that I make it all of the time because I keep finding new ways to use it. In fact for breakfast this morning I had steel cut oats with nuts and caramel sauce, I have to say it was amazing! I also tried adding a little salt to the caramel and then drizzling it over some brownies, that was equally amazing. I keep coming up with new and delicious ways to use this caramel sauce. Check back with me next week for my apple pie flautas recipe, they go great with this caramel sauce.
Homemade Caramel Sauce
Sugar: Many are surprised when they see that recipe calls for regular granulate sugar and not brown sugar. It's natural to assume that homemade caramel sauce would use brown sugar because of the color. However, the amber color of the caramel actually comes from heating up the sugar. It is that same heat that gives the sugar that toasted flavor that caramel is known for.
Heavy Cream: The cream is what gives the caramel that smooth, creamy texture that makes caramel so much more than just heated sugar.
What delicious ways do you use Caramel Sauce? 
Caramel Sauce
A super simple, thick, yet smooth, sweet topping that tastes amazing with apples, ice cream or many of your favorite fall desserts.
Author:
Robin | Fluster Buster
Ingredients
1 cup sugar
6 tablespoons butter, room temperature
½ cup heavy cream, room temperature
Instructions
Place an even layer of the sugar in the bottom of a sauce pan. Heat the sugar over medium-high heat, whisking only when it begins to melt. As the sugar begins to melt it will clump up before it completely melts.
Continue to cook the melted sugar until it turns a deep amber color. At this point carefully add the butter and whisk until the butter is melted.
Remove from heat and slowly add the cream, whisking until it is smooth and the cream is completely mixed in.
Allow to cool for 10-15 minutes before serving.
Notes
For Salted Caramel: add 1-2 teaspoons of sea salt to the sauce.
Refrigerate: up to 4 weeks
Freeze: up to 3 months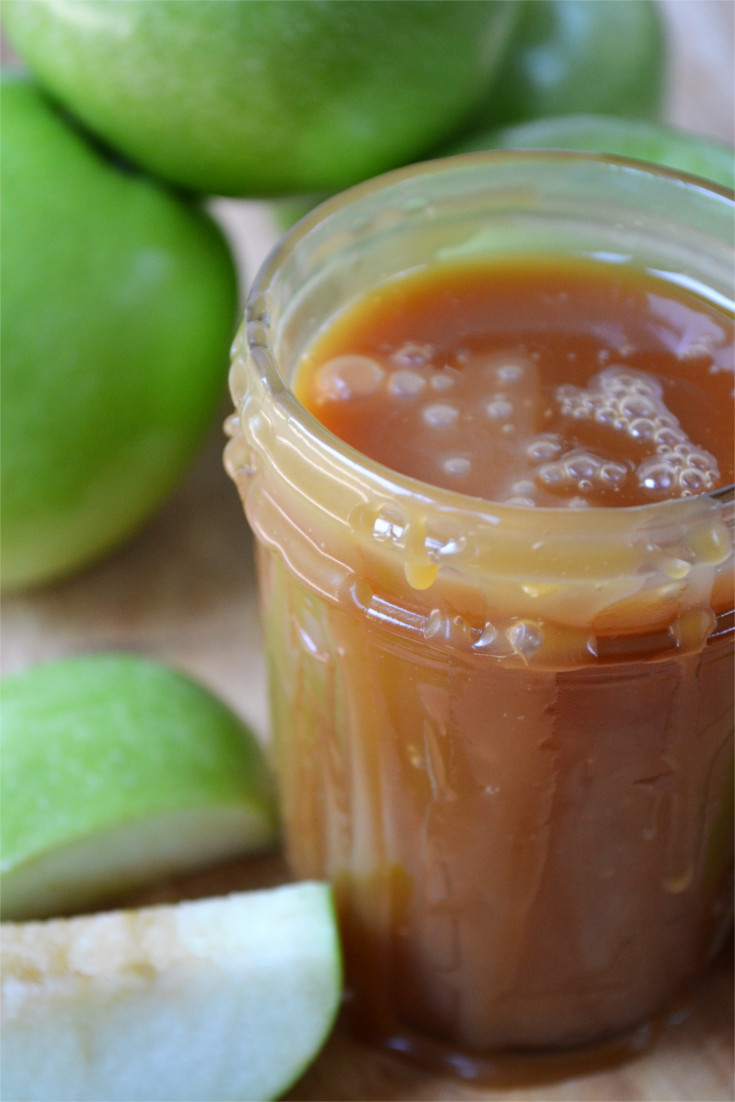 Disclosure: Some of the links in this post are affiliate links. If you click on the link and purchase the item, I will receive a commission. I only recommend products or services that I personally believe will add value to my readers. All opinions stated are strictly my own. Read our full disclosure policy for more information.