This post may include affiliate links. Read our disclosure policy for more information.
BLT Waffles – smokey bacon, crisp lettuce, sweet tomatoes & creamy mayonnaise served between two delicious waffles. This simple recipe, is fun to eat, the kids will love it and it can be on the table in the jiffy.
It seems like every time I serve dinner someone has a complaint. Tell me I'm not alone!!! If I left the menu planning to the kids we would be eating cookies and cake for every meal. The upside is that the complaining would stop. However, as a mom one of my jobs is to feed the kids somewhat of healthy meals, so cookies and cake are out of the question.
You would think that BLT's would be something that they wouldn't complain about, because they all love bacon, however it brings on complaints too. They don't like the crust on the bread or they don't like the tomatoes. So here's my kid friendly version to satisfy their picky little palates.
Kid Friendly BLT Waffles
The kids love waffles and because bacon is normally a breakfast protein I thought that waffles would be a perfect substitution for the bread. As for the tomatoes, they used ketchup instead, it was actually pretty good with ketchup. Of course we had tomatoes too, what's a BLT, with out the T.
I served the BLT Waffles with french fries and fried apples. They were a huge hit, in fact I don't think I'll ever serve them on bread again, they were amazing. One of the nice things about using waffles is that they were round like the tomato. I didn't have to overlap the tomatoes to make sure that I got some in every bite. Also, the little pockets in the waffles hold the mayonnaise really well. It kept it from oozing out when you took a bite. But the best part of all is that we got through a meal without any complaints. I would call that busted fluster (at least for one meal).

BLT Waffles
Ingredients
8 slices bacon, thick cut
8 waffles, homemade or frozen
lettuce
tomatoes
mayonnaise
Instructions
Fully cook the bacon, toast the waffles, then assemble.
Notes
Use frozen waffles and pre-cooked bacon for a super fast meal.
Check for coupons before heading to the store.
Products Featured in this Recipe:
(may include affiliate links)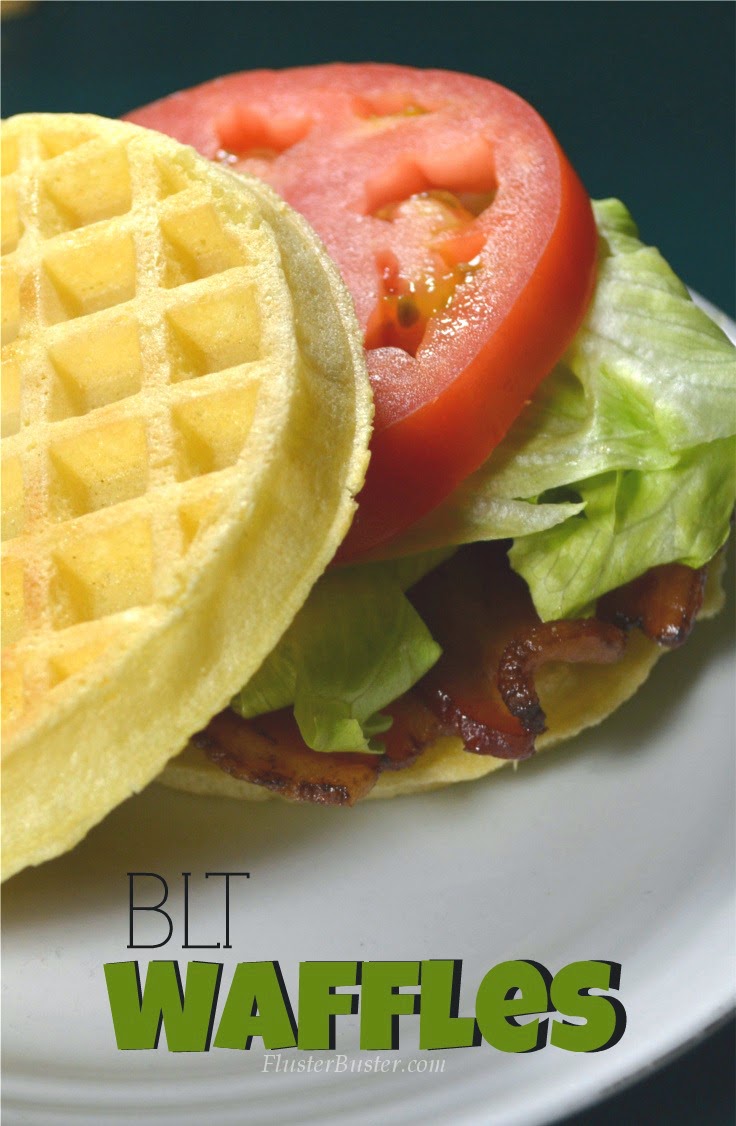 Disclosure: Some of the links in this post are affiliate links. If you click on the link and purchase the item, I will receive a commission. I only recommend products or services that I personally believe will add value to my readers. All opinions stated are strictly my own. Read our full disclosure policy for more information.