This post may include affiliate links. Read our disclosure policy for more information.
What do you have planned for Labor Day?
Our crazy crew is going to be spending it at home. Our middle son is coming home for the weekend and since he hasn't slept in his own bed for a couple of months he wanted to hang out at home.
Since we'll be spending Labor Day at home this year our grill will be getting one heck of a work out. I have a menu planned that would make you drool.
Are you going to be grilling this weekend? Check out some of these amazing grilling recipes that I found over at the Creative Muster.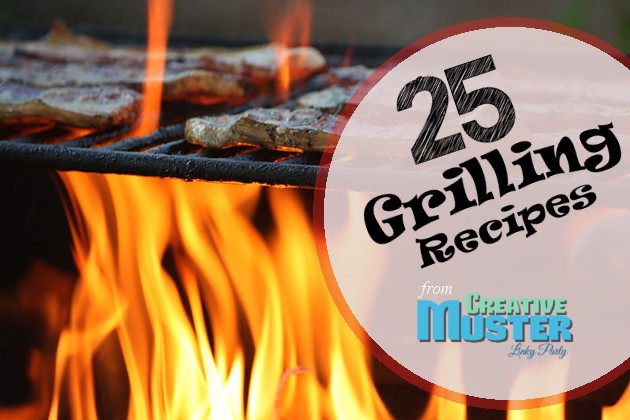 Recipe Ideas for the Grill
These Hawaiian Hot Dogs are wrapped in bacon and topped with Grilled Pineapple Mango Salsa. ~Mom Endeavors
This Bacon Wrapped Beer Can Burger looks like a fun way to grill a burger. ~Sassy Girlz
Want some vegetables? These Grilled Corn Recipes should do the trick. ~Dizzy, Busy & Hungry
Here's another Grilled Corn recipe that sounds super delicious. ~Julie's Lifestyle
Want to spice it up a bit? How about this Sweet Chili Grilled Corn. ~Just 2 Sisters
Don't want corn? These Grilled Vegetables sound like a flavorful option. ~Summer Scrap
Here's a different option Grilled Chik'n Nuggets. ~Nap Time Creations
This Coriander Garlic Grilled Chicken topped with Green Goddess Sauce sounds like a winning combo. ~Strength and Sunshine
Looking for something simple? This Chicken Satay with Peanut Sauce is the answer. ~Alisha Enid
How about Thia food? This Thai Chicken with a Sour, Sweet and Salty Sauce ought to do the trick. ~Feeding Big
Everyone loves food that's on a stick. Blackened Grilled Pork Kabobs. ~ I Thee Cook
Island Pork Chops sound like a delicious grilling option. ~Divine Lifestyle
How about Grilled BBQ Pork Chops with a Pineapple Salsa? ~Homemade Hooplah
You can never go wrong with BBQ Chicken especially with a really good sauce. ~Our Family World
I love all of the ingredients in this Grilled Souvlaki recipe. ~Sweet C's Designs
How about a dip that you can do on the grill? Grilled Eggplant and Roasted Red Pepper Dip. ~Cook Eat Paleo
How about Grilled Chicken with a Persimmon Salsa, yum! ~Strength and Sunshine
Surf and Turf is always a good grilling option. ~I Thee Cook
Have you ever made soup on the grill? This Grilled Corn Soup sounds like a good place to start. ~Honey & Birch
Let's head south with some Grilled Fajitas. ~A Life from Scratch
Have you ever cooked pizza on the Grill? Try this Grilled Cheeseburger Pizza. ~Just Us Four
You can never go wrong with Grilled Shrimp. ~Pancake Warriors
You can't forget about dessert. These 3 Grilled Dessert Burritos should do the trick. ~Hello Nature
Fruit is always delicious grilled. Here are some helpful tips for Perfectly Grilling Fruit. ~Ramblings of a (Bad) Domestic Goddess
Check out these 35 Grill Recipes for more options. ~Pink Heels, Pink Truck
Don't Forget the Salad!!!
Adapted image provided by Northamerica1000 under the CC License