This post may include affiliate links. Read our disclosure policy for more information.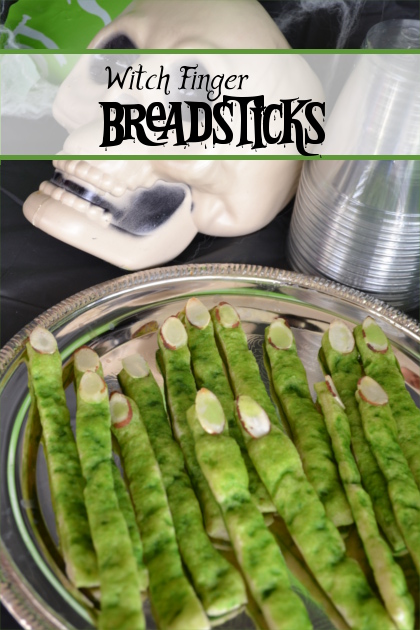 Happy Halloween!!!!
Around our house the treats don't stop when the last pumpkin gets blown out. The kids know that when they are done trick-or-treating mom always has a fun dinner waiting for them and their friends.
This year the kids picked a green theme for Halloween. All of our decorations were done in green, the kids costumes were green and our entire dinner menu was green.
When I was planning the green menu, I was a little worried that the food wasn't going to look very appetizing. I know when I think of green food the first thing that comes to mind is…… mold, and nothing turns your stomach like mold. However, I was up for the challenge!
To come up with the green menu, I first thought about all of the things related to Halloween that were green; Frankenstein, slime, goblins, witches, etc. Then I thought about how I could make those things into green food. The first thing I created were these Witch Fingers using a breadsticks recipe a little green food coloring and some almonds slice.
This post may contain affiliate links – any opinions stated are strictly my own! See our disclosure for more information.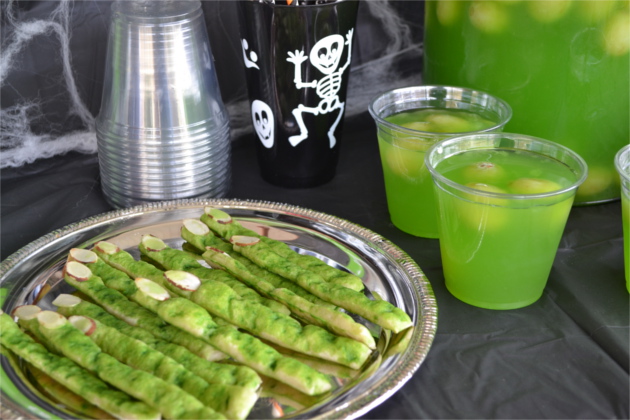 The breadsticks were seasoned with garlic and Parmesan cheese and went really well with the green toadstool soup that I made. The kids got a huge kick out of it all and no one thought mold when they saw it.
Challenge met and won!

Witch Finger Breadsticks
Ingredients
1 package Pillsbury pizza dough
¼ cupwater
8 drops green food coloring
Almond slices
¼ stick butter, melted
garlic salt
Parmesan cheese
Instructions
Preheat oven to 450°.
Unroll dough and cut into ½-inch rectanglar slices.
In a small bowl mix water with food coloring, brush on the pizza dough. Place on baking sheet.
Attach almond slices.
Brush the breadsticks with butter; sprinkle with garlic salt and Parmesan cheese.
Bake for 8-10 minutes.
Do you make anything special for Halloween?
Fluster Buster Tool Chest:
Check out this green recipe