This post may include affiliate links. Read our disclosure policy for more information.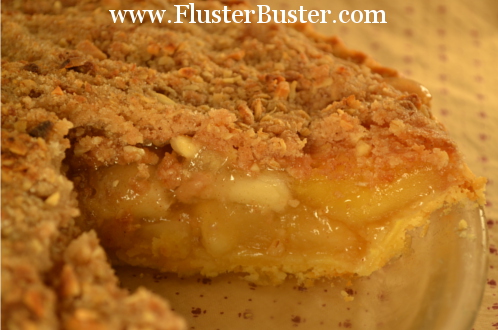 This post may contain affiliate links – any opinions stated are strictly my own! See our disclosure for more information.
Ever since my mom gave me my Grandma's Perfect Pie Crust Recipe I've been craving apple pie. Luckily last October I bought a couple of bushels of apples that I froze up for occasions just like this. I have this great apple pie filling recipe that I use all of the time, I found it a couple of years ago, called the Perfect Apple Pie Filling. I thought that I would try marrying my grandma's Perfect Pie Crust with my recipe for the Perfect Apple Pie Filling.
The combination is a winner, I think it could even win a blue ribbon at next years Apple Festival.

Apple Pie Filling
Ingredients
Filling
¾ cup light brown sugar
¼ cup all-purpose flour
¾ teaspoon ground cinnamon
nutmeg to taste
7 medium apples, peeled, cored and sliced
1 lemon, juice and zest
Crispy Topping
½ cup all-purpose flour
½ cup granulated sugar
6 tablespoons butter, cut into small pieces
¼ cup rolled oats
¼ cup pecans, chopped
½ teaspoon ground cinnamon
Instructions
Preheat oven to 450°.
In a small bowl, mix together, sugar, flour, cinnamon and nutmeg.
In a large bowl, toss the apples with lemon juice, then add the sugar mixture and coat the apples.
Pour the apple mixture into a dough lined pie dish. See Flaky & Crispy Pie Crust.
Top with Crispy Topping.
Bake for 45 minutes. Let rest for 20 minutes. before slicing.
Of all the different kinds of pie, apple is my favorite. What's your favorite?
Fluster Buster Tools