This post may include affiliate links. Read our disclosure policy for more information.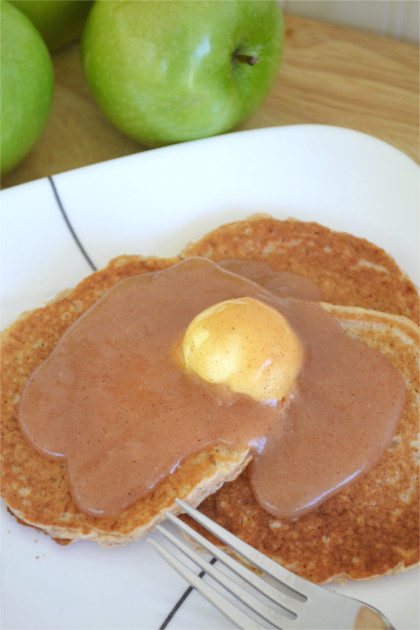 Did you happen to catch last week's Creative Muster? It was choked full of some wonderful Fall crafts and recipes. In fact, there were so many apple recipes that I pulled them all together and put them in a post.
I have a huge list of apple recipes of my own that I've been wanting to get started on, I've just been waiting for our apples to ripen. Last week the apples were just about ready so I decided it was time to do a little shopping.
Yesterday was finally picking day. With my basket in hand, I headed out to my overflowing apple tree. Oh, the delicious treats that have planned my mouth waters just thinking about them.
When I got there I made a little shriek and my basket and jaw both dropped to the ground, there was not one single apple on the tree, not even on the top, Fluster. My first thought was that someone helped themselves to my delicious apples. I was so disappointed! However, as I stood there staring at my barren tree I noticed several hoof prints in the ground around it.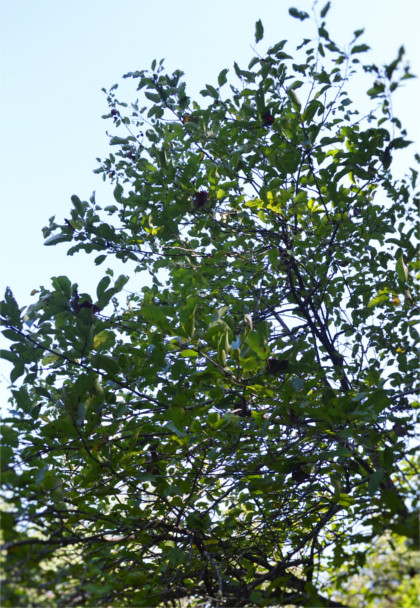 Those delightful deer, that have been visiting us all summer, were actually not here to visit us they were just stopping by to check out the progress of our apple tree. They must have spied me checking out the tree last week and decided to pounce before I started picking. I can't believe that they beat me to it, all that work!
To Bust the Fluster, I decided to make apples into applesauce, or is it lemons into lemonade, whichever, I still had a pantry full of ingredients that needed some apples. After a quick trip to the store and a barrel full of apples I got started on my plan, starting first with one of our favorites, Spiced Apple Pancakes with Cider Syrup.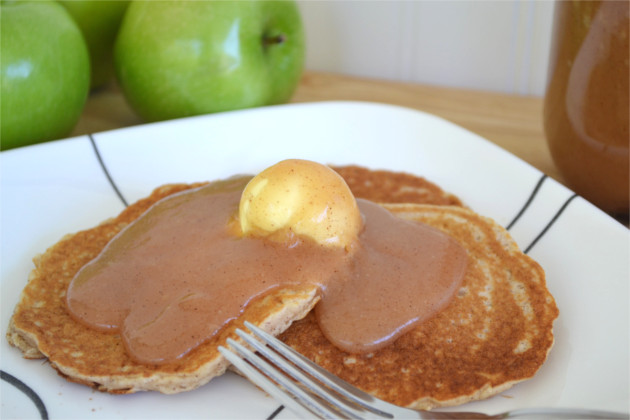 When you take your first bite you'll swear that this dish took a lot of time to make, especially the syrup but surprisingly it is incredible easy to make. It's just a basic pancake mix with the addition of a couple of spices and some apples and the syrup is just a simple, some cider, spices, sugar and cornstarch, it doesn't get much easier than that.
PRO TIP: To make your pancakes super fluffy, substitute the liquid with club soda.

Spiced Apple Pancakes with Cider Syrup
These Spiced Apple Pancakes are incredibly delicious on there own, but when paired with the Cider Syrup they are over the top.
Ingredients
Pancakes
2 cups BakeQuick mix
1 teaspoon cinnamon
¼ cup brown sugar
1 egg
1⅓ cup milk
¾ cup apple, grated
Cider Syrup
1 cup apple cider
1 tablespoon lemon juice
½ cup sugar
1 teaspoon cinnamon
¼ teaspoon nutmeg
1 tablespoon cornstarch
2 tablespoon butter
Instructions
Pancakes
Heat griddle to 375°F.
Stir BakeQuick mix, cinnamon, brown sugar, egg and milk until smooth
Stir in apple.
Bake on hot, lightly greased griddle using a little less than a !/4 cup batter for each pancake. Cook until bubbles begin to break. Turn, cook until golden.
Cider Syrup
Mix together dry ingredients in a small bowl.
Over medium heat bring cider and lemon juice to a boil,
Stir in dry ingredients and return to a boil, stirring constantly.
Continue boiling until thick.
Remove from heat and stir in butter.
There are so many wonderful apple recipes out there, which one is your favorite?
Tools Used: