This post may include affiliate links. Read our disclosure policy for more information.
This is a big week in our house, we have two birthdays and it's St. Patrick's Day.
Saint Patrick's Day is a pretty big deal in our house not only because it's a time to honor our Celtic heritage but it is also an opportunity to discover traditional dishes from that region. Surprisingly, many of those traditional dishes are a perfect fit for our budget friendly meal plans.
Here's what our meal plan looks like this week: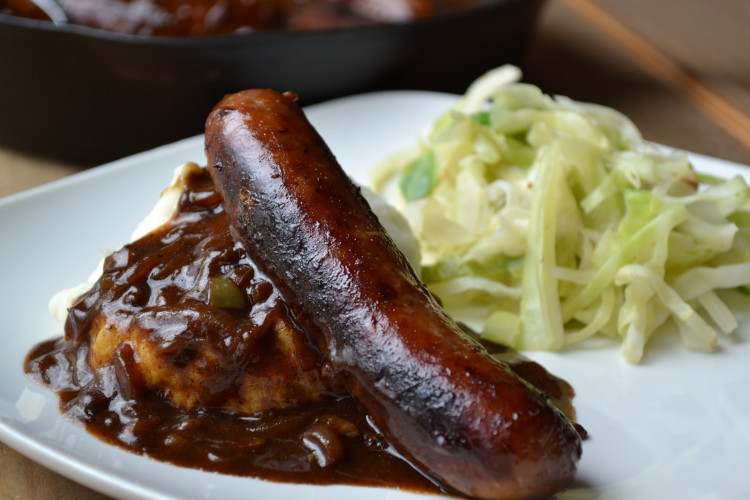 Budget Friendly Meal Planning
Red Beans & Rice – served with green beans and cornbread.
Serves 8

Cost cutting tips:

Instead of purchasing boxed cornbread mix make it from scratch using self-rising corn meal. Self-rising corn meal comes in a 5 pound bag and in the long run is considerably cheaper the boxed versions.

Zatarain's is has a really tasty red beans and rice, but if you want to lower your grocery budget even more without sacrificing flavor, try making red beans & rice from scratch.
To add that authentic Cajun flavoring to your homemade red beans & rice, use your own Cajun seasoning blend. It's really simple to make and costs a lot less than Tony Chachere.
Leftover Pork Tenderloin – Heat up the leftover balsamic pork, potatoes and vegetables from the Week 9 Sunday Meal Plan.
Leftover Red Beans & Rice – Reheat the red beans & rice and make more corn bread if needed. You can have dinner of the table in record time with little fuss.
Fried Spam – served with macaroni & cheese, broccoli and garlic toast.
Serves 4

Cost cutting tips:

Garlic toast can be made at a fraction of the price using day old bread spread with butter and sprinkled with a little garlic and Parmesan cheese.

If you're not real particular about mac & cheese, you can pick up a box for less than a dollar. However, if you're more picky, you can make homemade mac and cheese for about the same price.
Country Oven Fried Fish (Country Recipe Book) – served with crispy oven fries and corn on the cob.
Serves 4

Cost cutting tips:

Purchase frozen fish instead of fresh. Frozen fish can be purchased at a fraction of the price.

Tilapia is an affordable fish that works well with this recipe.

Instead of throwing out the heels or stale bread, store them in a Zip-loc bag in the freezer. Whenever you need bread crumbs or garlic toast pull out what you need.

Instead of using fresh squeeze lemons use lemon juice, it is a cheaper option especially when lemons are not in season.

Lower your budget by making your own french fries. A pound or two of potatoes and a cheap french fry cutter (affiliate link) is all you need to save yourself a few dollars.

When not in season, corn on the cob can be found in the freezer section of most grocery stores.
Beefy Flatbread – served with Spanish rice and tortilla chips.
Serves 4

Cost cutting tips:
Bangers & Mash – served with extreme cabbage, and Irish soda bread (allrecipes). For dessert we're serving (inspiringcooks) in honor of St. Patrick's Day.
Serves 4

Irish soda bread a quick and easy bread that goes well with bangers and mash. If you don't care for soda bread you can substitute it with biscuits.

This is a pretty inexpensive meal to begin with so the only way that you can really lower the cost is by purchasing items when they are on sale.
Download – Week 10: Menu & Shopping List
Budget Friendly Tips
✔ Corned beef brisket is sure to be on sale this week in honor of St. Patrick's Day. It would be a good idea to stock up because you won't see prices this low again until next year.
✔ Stock up when prices are at there lowest. Sales usually go in a 3 month cycle, so if you see an item at it's rock bottom price, buy enough to use between now and the next sale.
✔ One way that I keep my grocery bill low is by using coupons for the items that I need. I rarely plan my menu around the coupons that are available, I find that I end up spending more. Instead I create my menu first and then look for coupons that will lower my bill.
Time Saving Tips
✔ Spending a little time meal planning can make your life so much easier. It'll save you time and money, improve your nutrition, it'll make cooking more manageable and it will give you more control over what you put on the table.
✔ A simple way to save yourself some time in the kitchen is by prepping your food for the week. This can be done by simply washing your fruits, chopping your vegetables or portioning the food for each meal. It's up to you how much you want to do to save yourself sometime later in the week.
About Our Meal Plan
✔ Our menus are designed to feed a family of four, two adults and two teenage boys. It can also feed two adults and 3-4 young children.
✔ Many of the meals included in our meal plan are budget friendly to begin with, however we do offer tips that will reduce the grocery bill even further.
✔ Our menus do not include breakfast or lunch, but there is space for you to fill in what your family likes. Our family eats a pretty simple meal for breakfast and lunch, like cereal or sandwiches and sometimes leftovers. We don't make to much of a fuss over it.
✔ Sunday dinner is our biggest meal of the week, that's when all of the family gets together, so we tend to spend a little more money and include dessert. I try to make enough for leftovers during the week.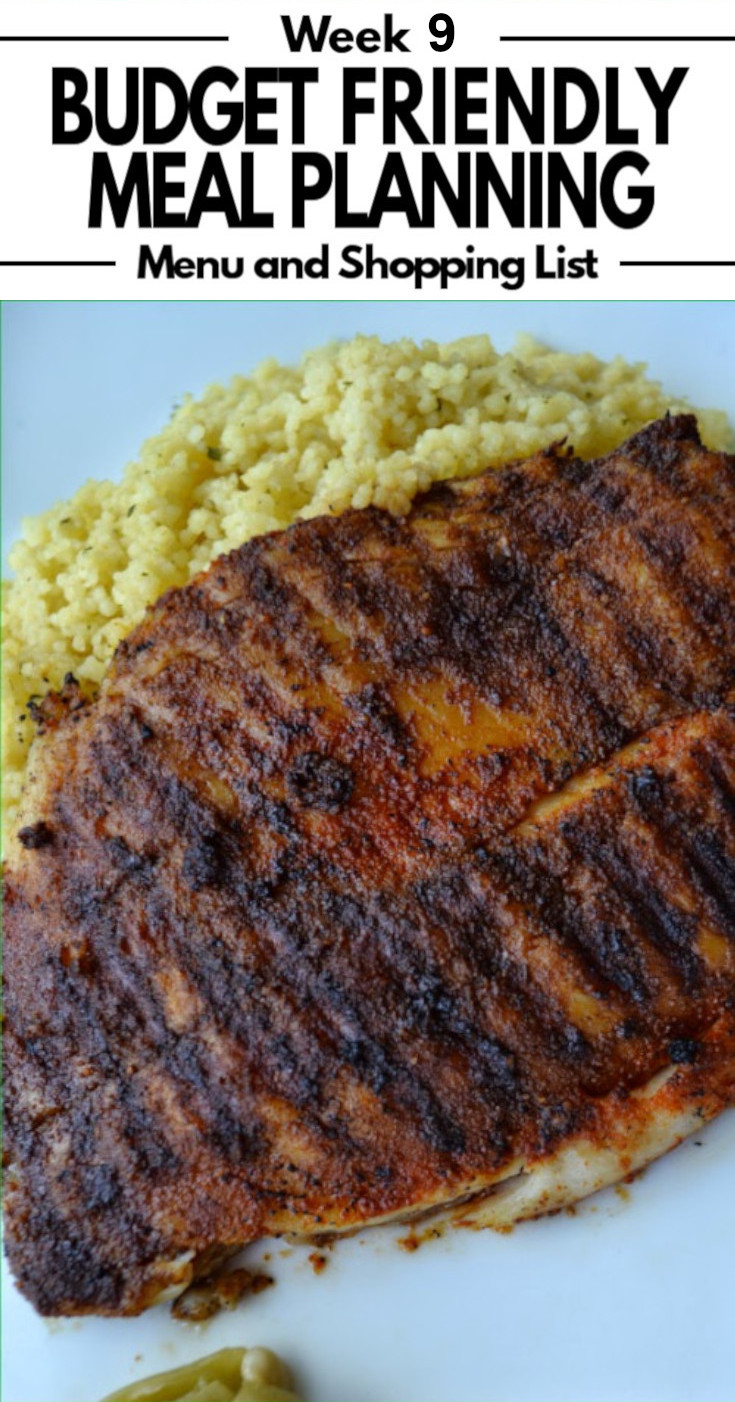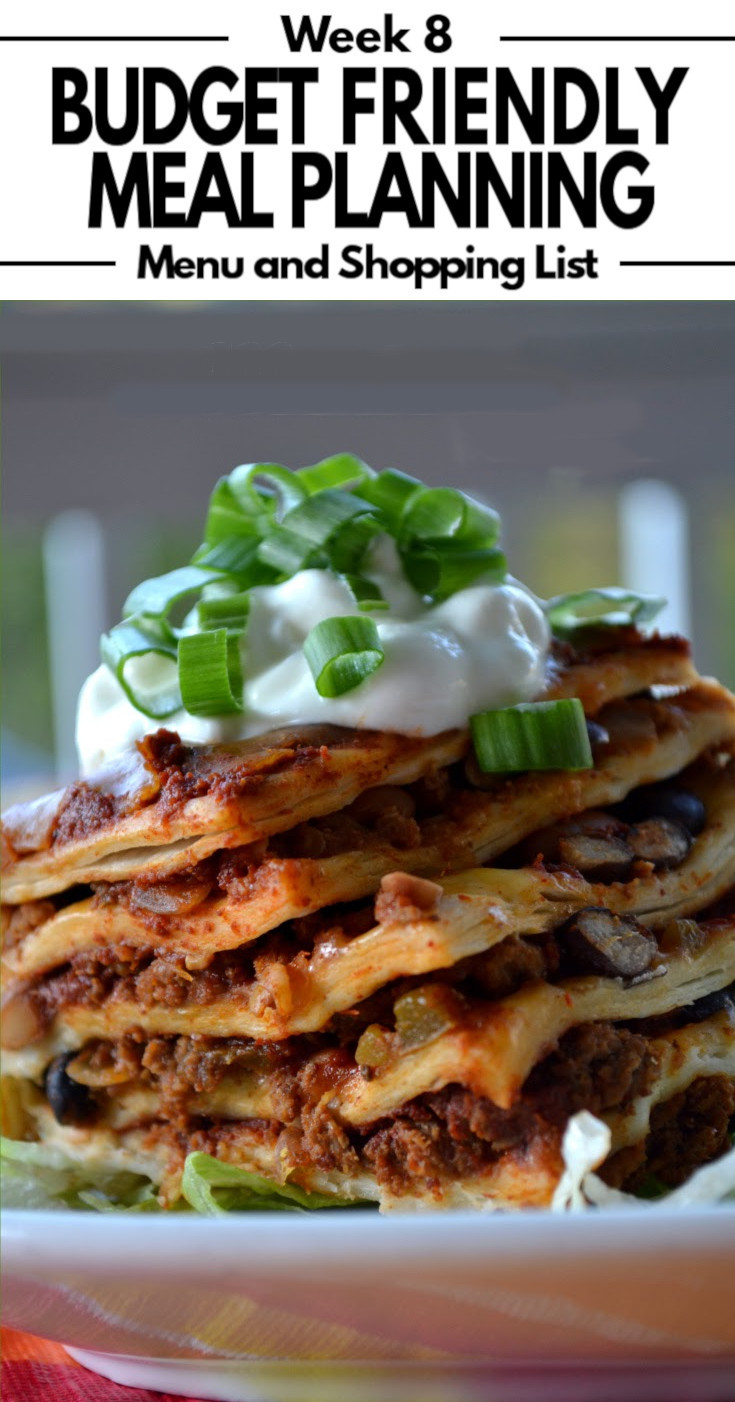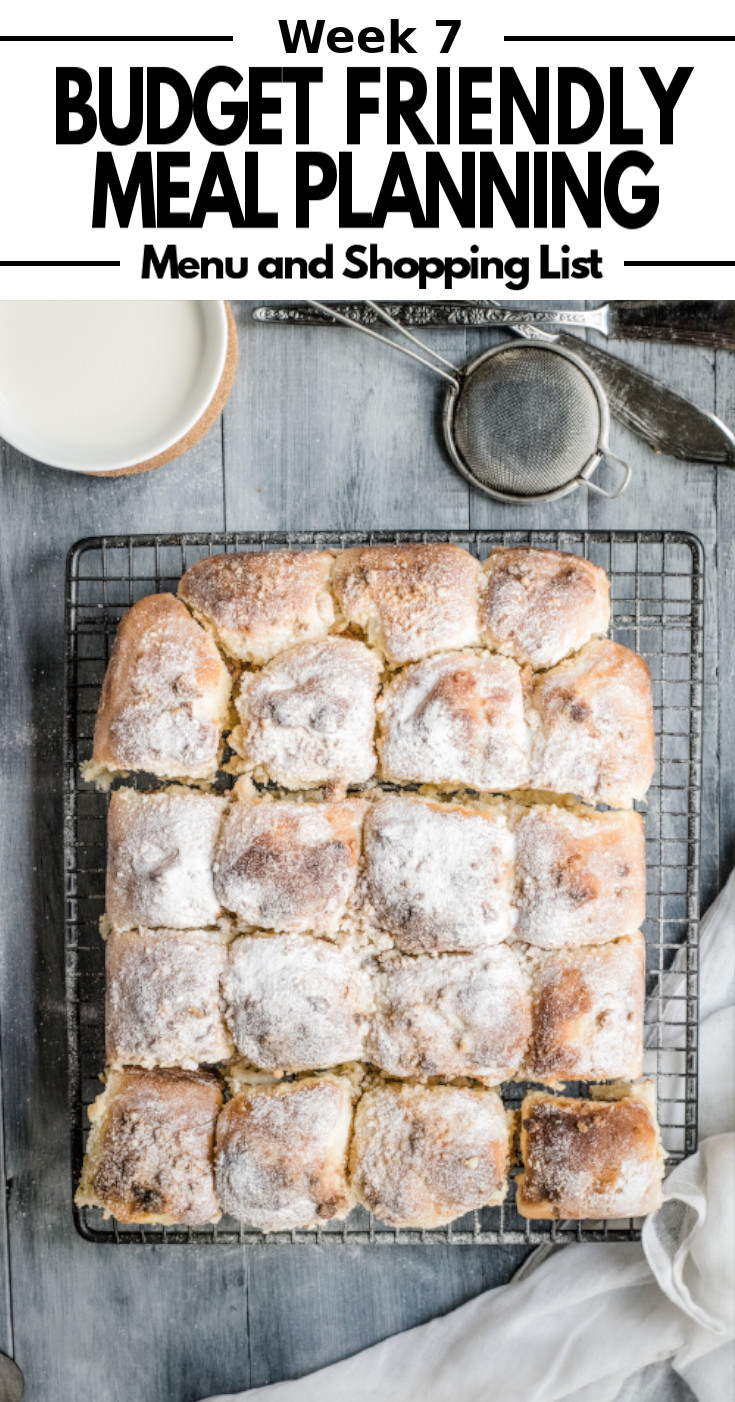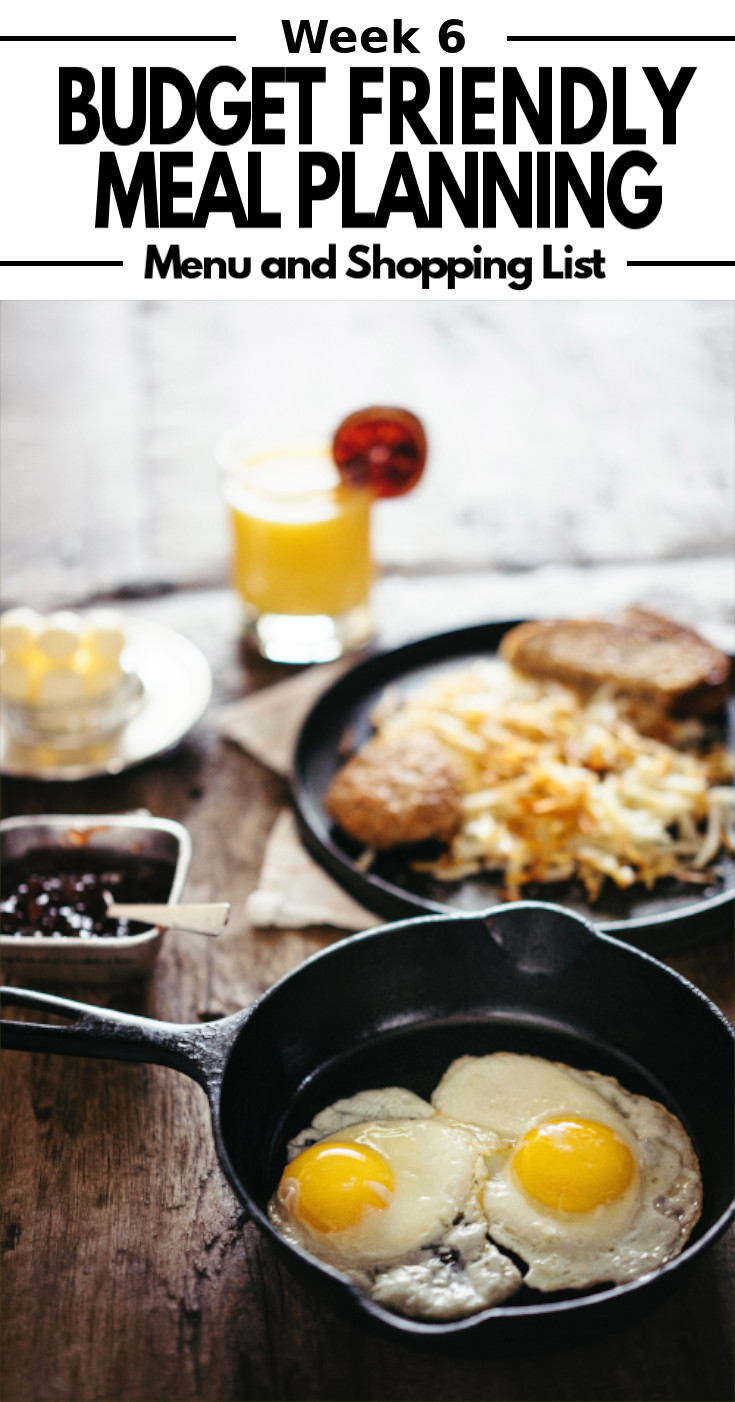 Disclosure: Some of the links in this post are affiliate links. If you click on the link and purchase the item, I will receive a commission. I only recommend products or services that I personally believe will add value to my readers. All opinions stated are strictly my own. Read our full disclosure policy for more information.