This post may include affiliate links. Read our disclosure policy for more information.
How do you take your coffee?
~We like ours pretty strong, especially if it's flavored coffee.
How do you brew your coffee?
~We're still using a coffee maker. I haven't jumped on the Keurig ban wagon yet. It just seems like a waste, making one cup at a time. And, have you seen the prices of the k cups? ridiculous!
One of my flusters with using a coffee maker is I always get a little jittery before I finish the pot, so I end up with leftovers. A couple of months ago, to bust that fluster I came up with a list of 31 Unique Uses for Coffee and not one drop of coffee has gone to waste since.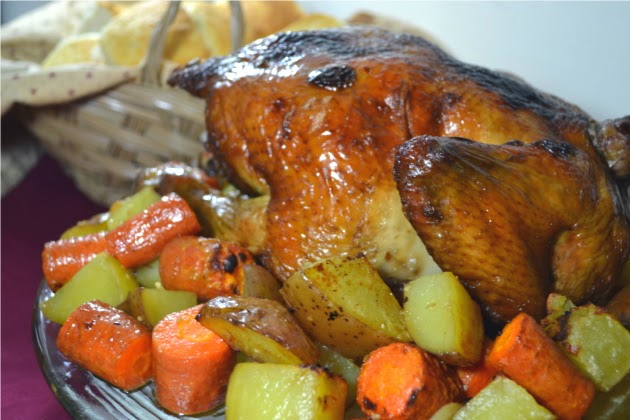 Creating that list made me think of ways that I could use the leftover coffee in my cooking. Since I would normally just throw out the leftovers, it's considered a FREE ingredient, which could be used to create a Feed 4 for 5 meal.
One of our local stores was having an awesome sale on whole fryer chickens this week, only $0.79 per pound. This was the perfect ingredient to try using my leftover coffee with.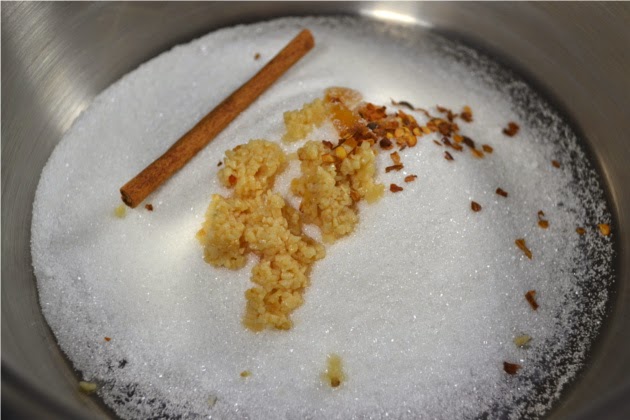 I decide to make a brine, poultry loves to be brined.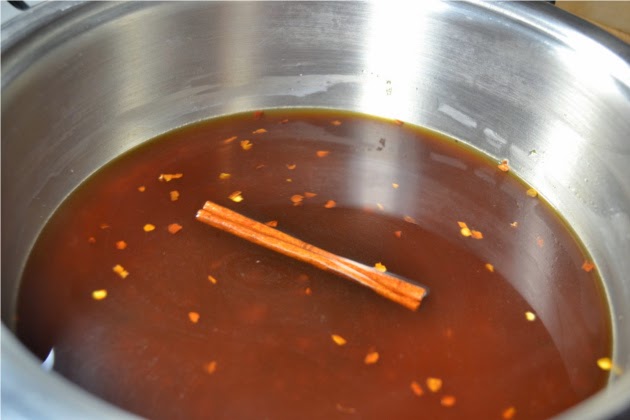 With my leftover hazelnut coffee, some salt, sugar and a few complimentary spices I created a really aromatic brine.
It smelled amazing!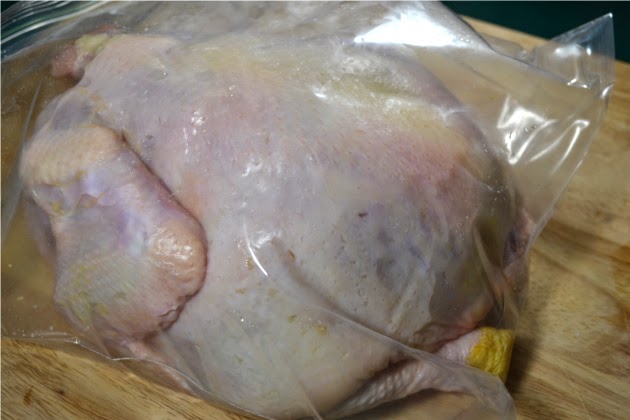 After I washed the bird I placed it in a gallon size freezer bag.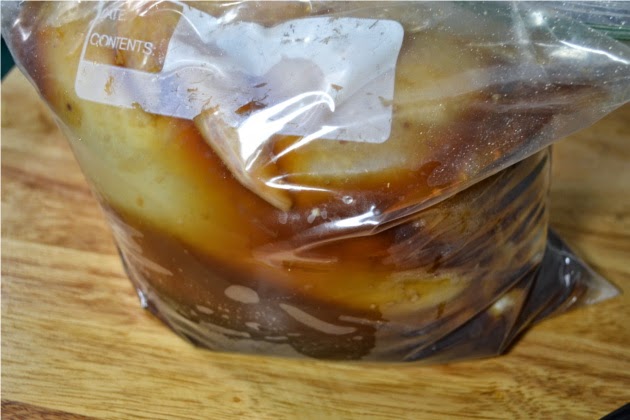 Once the brine cooled I poured it over the chicken, removed the excess air from the bag, sealed it and placed it in the refrigerator overnight.
*I'm going to try freezing one in the brine and see how that turns out. I'm sure it will be just as yummy.
The next day I removed the chicken from the brine, dried it off and roasted it.
While the chicken is beginning to roast, prepare your vegetables for roasting.
Lay the vegetables out, in a single layer, on a baking sheet. Then place in the oven with the chicken.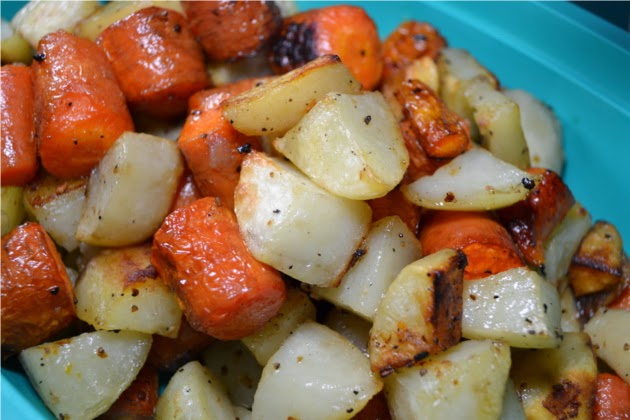 Serve the roasted Hazelnut Chicken with the roasted vegetables and biscuits and you'll have a meal that feeds a family of 4 for only $3.97.
The hazelnut flavoring was amazing with the chicken, it's now one of my favorite ways to serve chicken.
Hazelnut Chicken Dinner
Serves: 4 Category:
Poultry
Ingredients
6 pound whole fryer chicken, washed and dried ($2.37)
1/3 cup salt (free)
3 tablespoons sugar ($0.03)
½ teaspoons crushed red pepper ($0.02)
3 cloves garlic, minced ($0.06)
1 teaspoon ginger, grated ($0.03)
1 cinnamon stick ($0.10)
2 cups hazelnut coffee, strong brewed (free)
2 cups water
4 medium potatoes, cut in ½ -inch chunks ($0.28)
5 large carrots, cut in ½ -inch chunks ($0.30)
1 medium onion, cut in eighths ($0.08)
2 cloves garlic, minced ($0.04)
3 tablespoons olive oil ($0.30)
Salt and pepper
8
BakeQuick
Biscuits
($0.36)
Instructions
1.
In a saucepan, combine salt, sugar, red pepper, 3 cloves of
garlic, ginger, cinnamon, coffee and water. Boil until the salt and sugar have
dissolved. Remove from heat and cool.
2.
Place the chicken in a gallon size freezer bag and add the
cooled coffee brine. Remove air and seal bag. Refrigerate and let marinate for
at least 4 hours.
3.
Heat oven to 425 degrees.
4.
Remove chicken from brine, pat dry and place in a roasting pan.
Discard leftover brine.
5.
Cook the chicken for 15 minutes at 425 degrees on the middle
rack.
6.
In a large bowl, toss potatoes, carrots, onions and 2 cloves
garlic in olive oil. Generously season with salt and pepper.
7.
Arrange the potatoes and carrots in a single layer on a baking
pan.
8.
Reduce the oven temperature to 375 degrees and place the
potatoes and carrots on the bottom rack of the oven.
9.
Cook the chicken and potatoes for 45-minutes to an hour
(internal temperature of chicken should be 165 degrees).
11. Remove chicken and
let it sit for 15-20 minutes before carving.
12. Stir the
vegetables and continue baking for 15 minutes.
13. Place biscuits in
oven and cook for 12-15 minutes.
14. Serve chicken with
vegetables and biscuits.
www,FlusterBuster.com

Cost = $3.97
How to get these prices:
Chicken – ($0.79 per pound) purchased on sale. You'll only use 1/2 of the chicken for this meal. The other half can be refrigerated or frozen for another meal. Save the carcass, it's great for soups.
Sugar – (4 pounds for $1.79) purchased from a discount grocery store. *Buying in larger quantities lowers the cost even more.
Crushed Red Pepper – (1.79 ounces for $1.00) purchased for the Dollar Tree.
Garlic – (1 head for $0.49) purchased from chain grocery store.
Ginger – (1 pound for $3.99) purchased from chain grocery store.
Cinnamon – (4 ounces for $1.59) purchased from a wholesale store.
Hazelnut Coffee – (free) I used the leftovers from our morning coffee.
Potatoes – (10 pounds for $1.99) purchased from a discount grocery store. 1 pound of potatoes yields about 3 medium sized potatoes.
Carrots – (1 pound for $0.50) purchased from a discount grocery store, on sale. 1 pound of carrots yields about 6-8 medium sized carrots.
Onions – (3 pounds for $0.99) purchase from a discount grocery store. 1 pound of onions yields about 3-4 medium onions.
Olive Oil – (12 ounces for $2.39) purchase from a discount grocery store.
Savings Tip:
When meat goes on sale purchase a piece that is big enough to use for more than just one meal. Use the leftovers for a variety of meals throughout the week, this will save you a lot of time in the kitchen and food always seems to taste better the day after.
Use your leftover chicken to make:
Do you have any cheap and easy recipes
that cost around $5.00 to prepare?
Bon Appetit on the Cheap!