This post may include affiliate links. Read our disclosure policy for more information.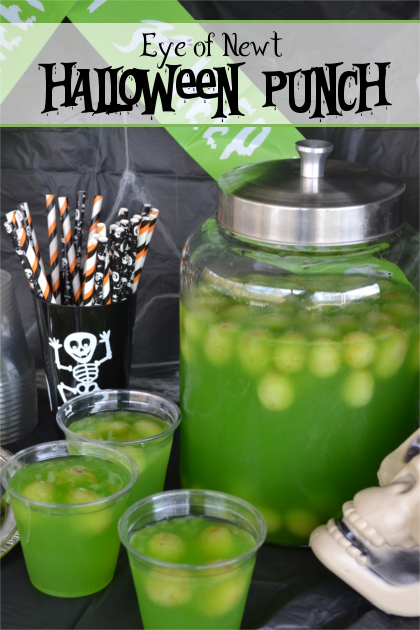 Halloween is a big deal around our house and every year we pick a different theme. Last year it was "The Dead", we made all of our decorations and foods around that theme.
This year the kids picked a "Green Theme" everything had to be decorated with green and all of the food had to be green. I was kinda' leery about the green food thing, I had a bad experience when I was younger.
Okay, I know what's going through your head, mold, but that's not it! When we were little my dad would let my mom sleep in on Saturday mornings and he would make breakfast. One morning us girls asked him if he would make us blue scrambled eggs (I don't know what we were thinking, blue just sounded cool!). If you know anything about mixing colors, when you add blue to yellow and eggs are yellow, you end up with a very disgusting shade of green.  The most unappetizing shade of green that you've ever seen. Seeing those green eggs would ward you away from eating eggs for a very long time and they did for me. Hence my apprehension of having a "Green Theme" Halloween.
However, being the loving mom that I am, I put my own personal distaste for artificially greened foods aside. I planned a green menu that was fun and didn't turn your stomach, I even threw in some green vegetables, they really should have picked a different color. Bwahaha!!!!!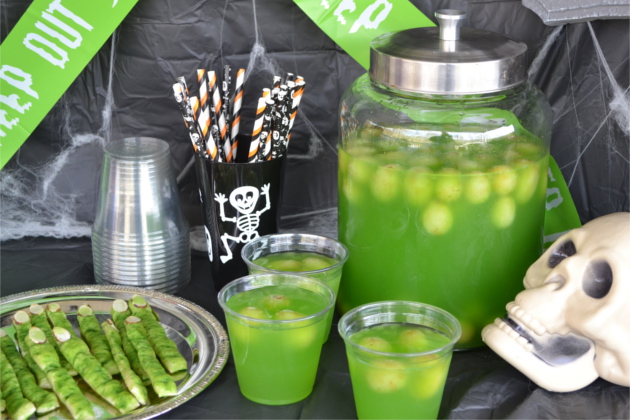 This post may contain affiliate links – any opinions stated are strictly my own! See our disclosure for more information.
On the menu was: Eye of Newt Punch (the recipe is below), Green Soup, Witch Finger Bread Sticks, Kale chips, asparagus, sugar snap peas and green dip, which was all really tasty.
I think after all of these years I'm finally over my green aversion, in fact, this eye of newt punch has become my new beverage obsession.

Eye of Newt Halloween Punch Recipe
Ingredients
1 pound green grapes, washed & stems removed
1 cup sugar
4 cups water
1 package green Kool-Aid (unsweetened)
4 cups pineapple juice
2 cups ginger ale
Instructions
Place grapes in a single layer on a baking sheet; freeze.
In a large punch bowl combine sugar, water, Kool-aid, pineapple juice and ginger ale.
Add grapes before serving.
Notes
The frozen grapes act as the ice for the punch.
What's better for Halloween? Hot or Cold drinks?
Fluster Buster Tool Chest: