This post may include affiliate links. Read our disclosure policy for more information.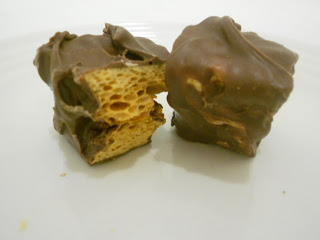 As I'm sitting here watching a zombie movie (this is what you watch when you live in a house full of testosterone) my sweet tooth is really trying to get my attention. I'm trying really hard to ignore it, but on the other hand, getting up to making something sweet and delicious would be a great excuse to not have to watch this movie.
So what could I make to satisfy my sweet tooth? Oooh!! I know, an old goody, that was fun to make when I was a kid – Sea Foam Candy. I haven't made it in years and I can't remember what we used to make it, so I googled it. I found several different recipes and I chose Sea Foam Candy because it looked like it was pretty easy to make. I don't know if it will taste the same, but my sweet tooth said to give it a try. So I'm off to the kitchen, wish me luck.I tried this recipe several times, the first time it foamed up really well, but tasted awful. So I cut back on the baking soda. The second time I used less baking soda. It foamed up well and tasted pretty good but as it was setting it fell. So I googled the Sea Foam recipe again and tried a little vinegar with the baking soda. It tasted pretty good, but as it was setting it fell again. Finally, I changed to the dark Karo Syrup, eliminated the vinegar, and added a little vanilla (my own variation on all of the recipes that I found) and it finally worked. WooHoo! My sweet tooth is finally happy!
Easy Sea Foam
Ingredients:
1  cup  Dark Corn Syrup
1  cup  Sugar
1  tea   Vanilla
4  tea   Baking Soda
1  pkg  Candy Chocolate
Directions:
1. Line a 13″x9″ cake pan with aluminum foil, making the foil higher then the sides of the pan. Spray with cooking spray.
2. Measure and sift the baking soda, set aside.
3. Pour the corn syrup, sugar and vanilla into a large heavy sauce pan. Cook over medium heat; stirring constantly, until sugar dissolves.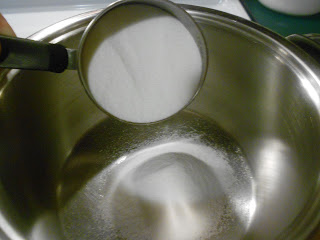 4. Continue cooking over medium heat without stirring. Cook to 300° on a candy thermometer.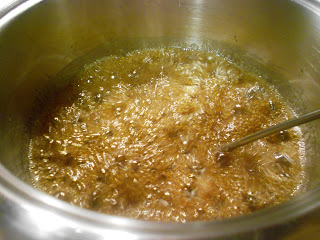 5. Remove from heat and add the baking soda. Mix quickly and thoroughly. The syrup will foam up.
6. Quickly pour mixture into prepared pan.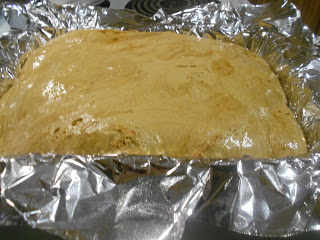 7. Allow to set at room temperature until firm.
8. Invert pan and peel off foil. Cut or break into pieces.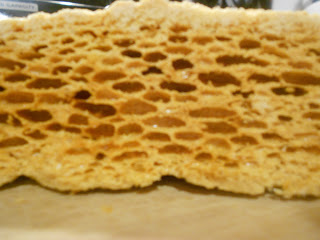 9. If desired, coat in melted chocolate.