This post may include affiliate links. Read our disclosure policy for more information.
Simple Chicken Enchilada Casserole –  seasoned chicken, layered between corn tortillas and cheese and then covered a flavorful sauce. With a few substitutions this meal can serve 4 people for as little as $5.09.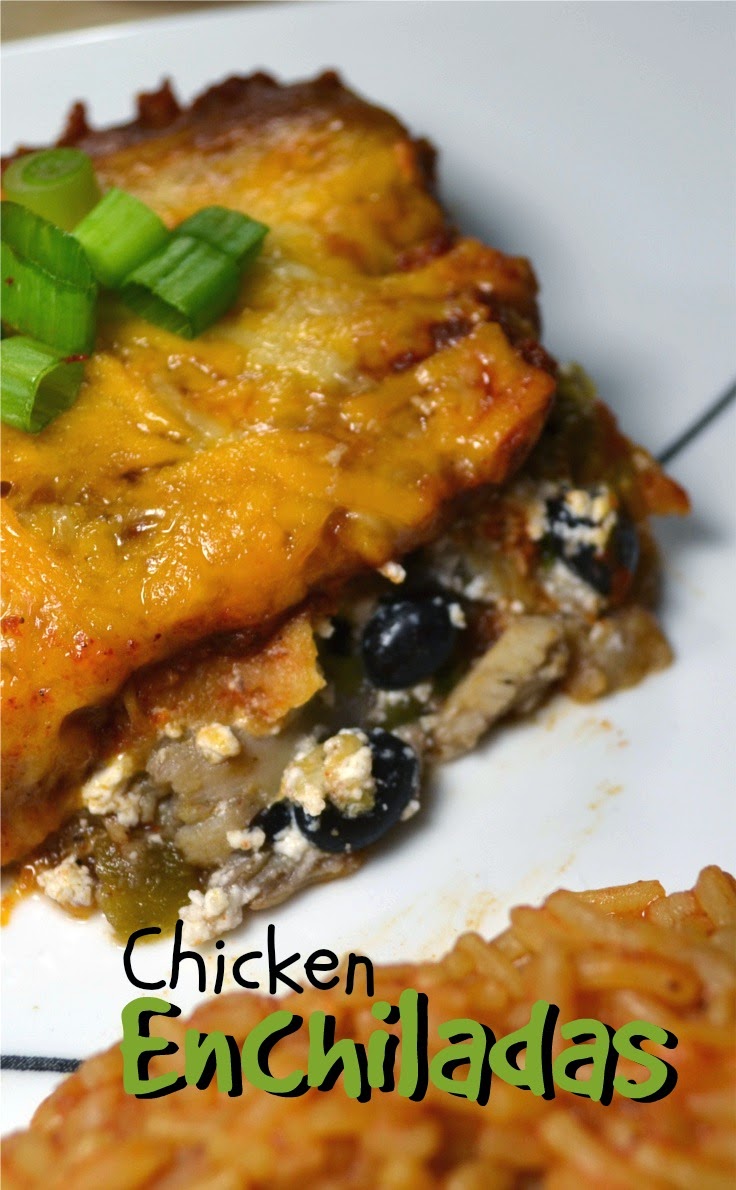 This is another one of my families favorite Feed 4 for 5 meals. The kids always request it whenever they know that we have leftover chicken. What I love about it is that it is so simple, that it makes the perfect weeknight meal.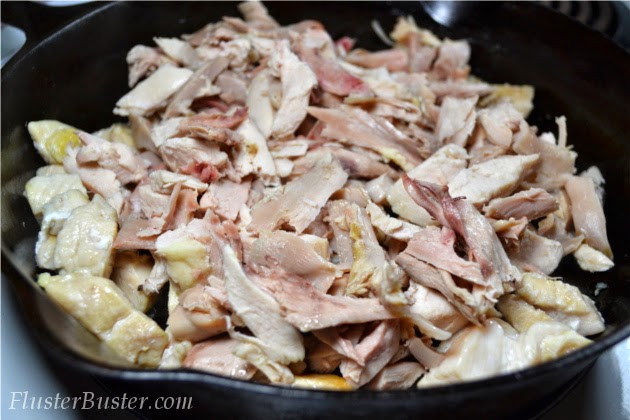 I usually make this meal using up my leftover chicken, but when I don't have any leftovers I'll just cook up a couple of chicken breasts instead.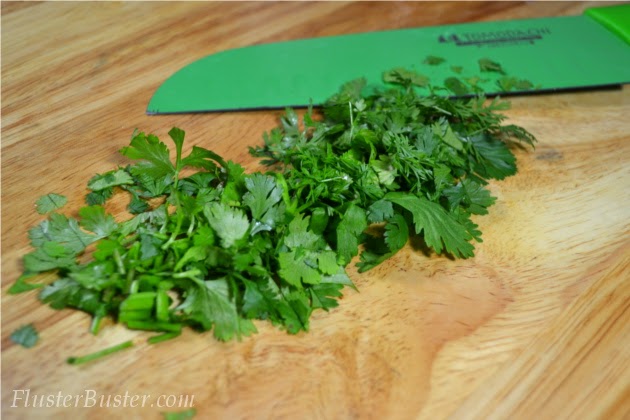 I'm so proud, this cilantro came from my herb garden, which made it a free ingredient. If you don't have an herb garden cilantro can be purchased inexpensively.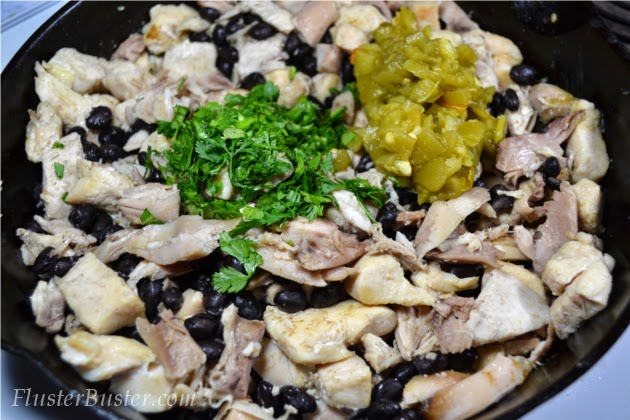 For the black beans you can use a 15-ounce can, that has been rinsed and drained. I prefer to use dry black beans, because of the flavor, texture and the cost.
Using dry beans is a little more work, but if you cook and freeze them as soon as you bring them home from the store it'll be just as easy to use as opening up a can.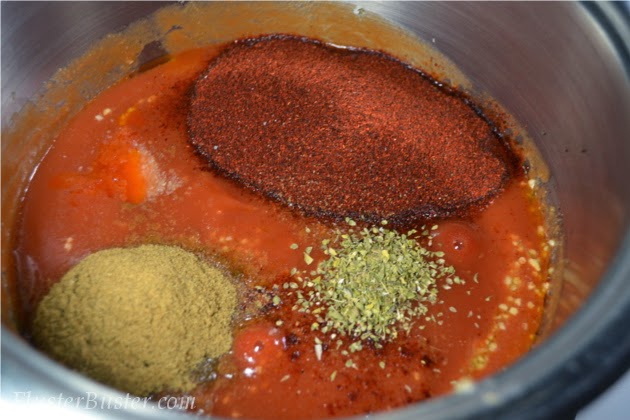 In a pinch I'll use canned enchilada sauce, but I do prefer making it myself. It's a lot cheaper, tastes better and I love how you are in control of how intense the flavor is.
Before putting your tortillas in the dish pour a little enchilada sauce in first. The sauce helps keep the tortillas from sticking and when it bakes the tortillas will soak up the yummy sauce.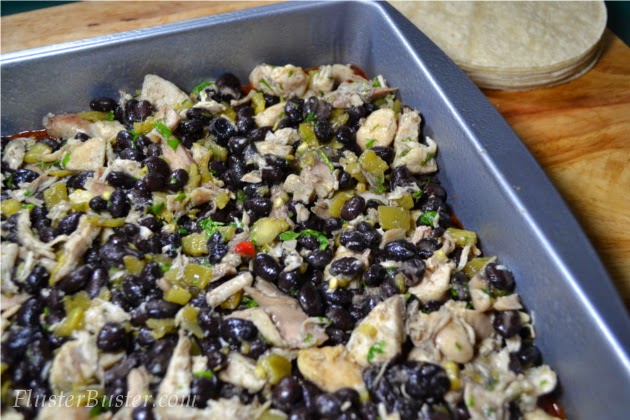 Now you're ready for your chicken and bean layer.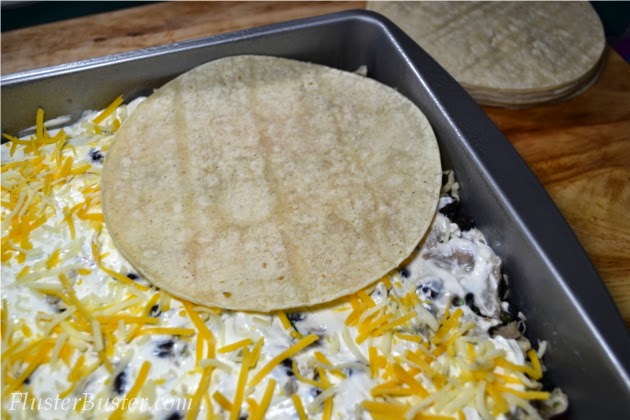 Before topping the chicken with tortillas spread on a layer of sour cream.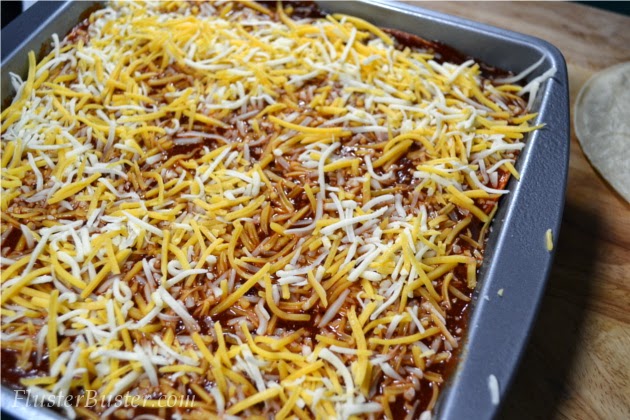 Finally add the tortillas and then top it with the remaining sauce and cheese. Then cover the dish with some aluminum foil and pop it in the oven. Cook for about 30 minutes, remove the foil and bake for an additional 5-10 minutes.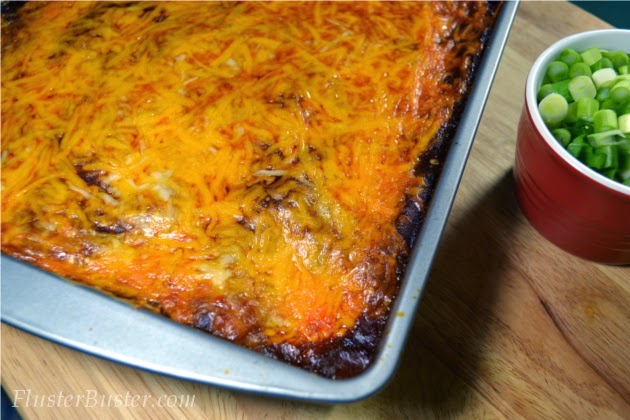 Remove from the oven and let it rest for 5-10 minutes serving.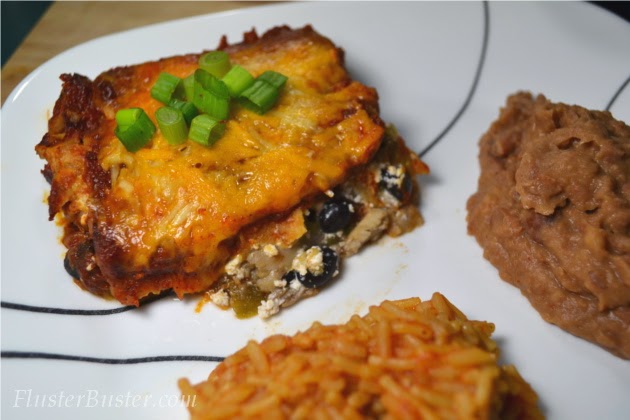 I like to serve it topped with some black olives and green onions along with a side of Mexican corn salad and some Spanish rice or refried beans.

Simple Chicken Enchilada Casserole
Author:
Robin | Fluster Buster
Ingredients
1 (19 ounce) can enchilada sauce
1 tablespoon vegetable oil
2 cups chicken, cooked & shredded
*4 ounce of dried black beans, cooked
1 (4.5 ounce) can green chiles, diced and drained
3 tablespoons cilantro, chopped
8 (6-inch) corn tortillas
½ cup sour cream
1 cup cheddar cheese, shredded
black olives, sliced (optional)
green onions (optional)
Instructions
Preheat oven to 375°.
Heat vegetable oil in a large skillet over medium heat. Add the chicken, black beans, green chile peppers and cilantro, heat until everything is warmed. Remove from heat.
Spread half of the enchilada sauce in the bottom of a 9×9 baking dish. Place 4 corn tortillas over the sauce. Spoon the chicken mixture over the tortillas and cover with sour cream. Cover chicken mixture with the remaining corn tortillas and enchilada sauce. Top with cheese, cover and bake for 30 minutes.
Remove cover and bake an additional 5-10 minutes.
Let stand 5 minutes before serving.
Notes
How to lower the cost:
-Make your own
enchilada sauce
-Use leftover chicken
-Use dry beans instead of canned, 4 ounces dry = 15 ounce canned
-Purchase spices from a dollar store.
-Use coupons when possible
Check for coupons before heading to the store.




Disclosure: Some of the links in this post are affiliate links. If you click on the link and purchase the item, I will receive a commission. I only recommend products or services that I personally believe will add value to my readers. All opinions stated are strictly my own. Read our full disclosure policy for more information.