This post may include affiliate links. Read our disclosure policy for more information.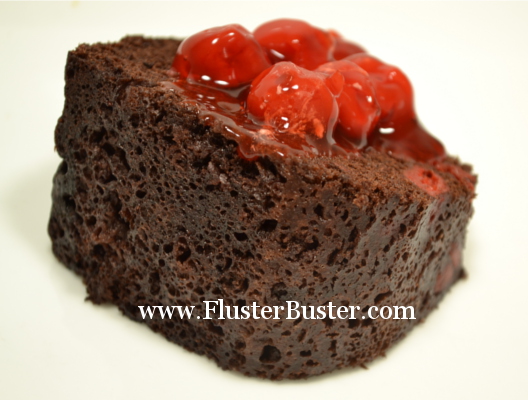 The microwave is one of the most under utilized appliances in our kitchen. Most of us use it primarily for re-heating food, but the microwave can do so much more than that. I used to teach a class on how to use the microwave for baking and believe it or not for cooking meat. People would look at me like I had two heads when they found out that I used my microwave for cooking and baking.
Have you ever used your microwave for baking? Today I want to share with you my
Dump & Bake Microwave Cake
. You're going to be so surprised at how moist and yummy this cake is. The best part about it is you only need 3 ingredients and 18 minutes. It's a great dish to serve to unexpected company. While you're visiting you can pop one in the microwave and have something warm and delicious to serve in a matter of minutes and they'll never know it came out of the microwave.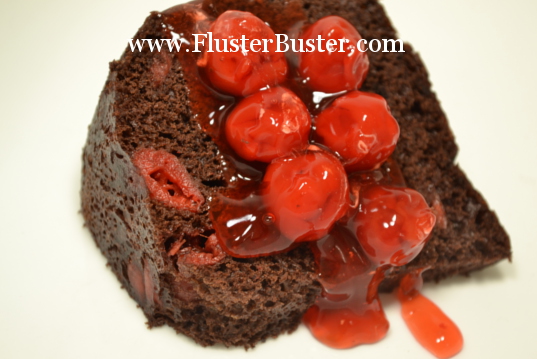 Like I said, this cake requires only three ingredients: cake mix, pie filling and 3 eggs. The cake that I made  today was a Black Forest cake. I used a dark chocolate cake mix and cherry pie filling, this is one of my favorite combinations. The great thing about this recipe is that you are only limited by your imagination. These are some of the other combinations that I have used:
Lemon Cake Mix/Peach Pie Filling
Lemon Cake Mix/Pineapple Pie Filling
Spice Cake Mix/Apple Pie Filling
Spice Cake Mix/Peach Pie Filling
White Cake Mix/Blueberry Pie Filling
Be sure to mix all of the ingredients together by hand, just until moist. Using an electric mixer puts to much air in the batter and the cake will come out to light and you'll have over spill.
In order to bake this cake you need a 3-quart microwave bundt pan. I use
Tupperware's4 Pc Stack Cooker Set
with the cone. The Tupperware has a non-stick surface so you don't need to grease the dish. Another option is to use a
Silicone Bundt Pan
 they work just as well in the microwave as they do the oven, but I would suggest spaying a little cooking spray on it before you add the batter.. If those two options don't work for you, try using a 3 quart microwave dish and use a sugar ice cream cone in the center, however be sure to cover the cone with some waxed paper so the batter doesn't adhere to the cone.
Once you've filled your microwave dish with the batter, place it in the microwave on high for 13 minutes. If your microwave doesn't have a turntable or it has some hot spots, I suggest giving the dish a quarter turn every 3 minutes. This will help the cake bake more evenly. Once it is done baking remove it from the microwave, cover and let it set for 5 minutes. This will allow the cake to finish baking.