This post may include affiliate links. Read our disclosure policy for more information.
Winter Beverage Station Sign – This is a simple DIY project that will add some pizazz to any beverage station. Have you ever admired the way a sign looked, but wished it had something else written on it? I have. So, I'm going to show you an easy, inexpensive way to make your own Java Station sign.
When I created my winter beverage station, I combined the hot cocoa and coffee areas into one space. I wanted a sign for the cocoa side, and another one for coffee. The two areas had been separated previously, but had to be combined because the Keurig was taking up too much space in the kitchen prep area. As a result, the Java Station sign was born. If you'd like to take a peek at my beverage station, read Design Your Own Vintage Winter Beverage Station post to see this sign in action.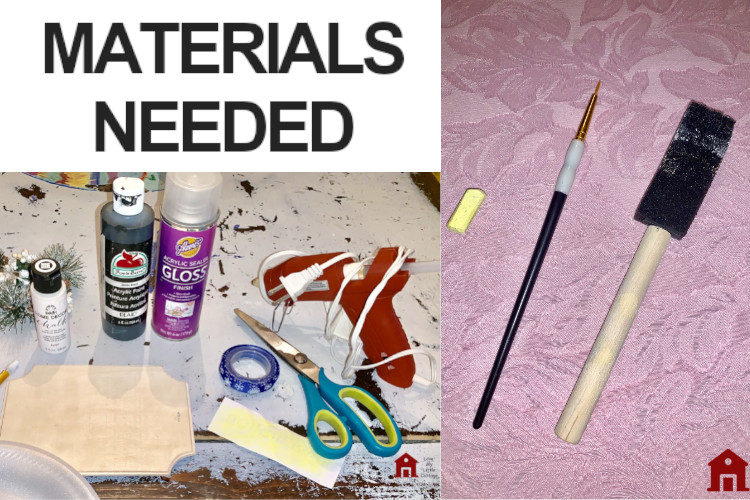 wooden plaque (5 x 7 inches, or 4 x 6 inches)

glue gun and glue sticks

acrylic sealer gloss

Apple Barrel Gloss Black paint

Home Decor White Chalk paint

small wreath

light colored piece of chalk

mechanical pencil

liner brush
I was going to tie a snowflake ribbon bow and hot glue it to the Java Station sign, but I didn't like the way it looked with the wreath. If you decide to use ribbon, you will need the pictured pinking shears to trim the ends of your ribbon.
Instructions
Step 1: Paint the front of your wooden plaque with the 1″ foam brush and the Apple Barrel Gloss Black paint. Let it dry. You can use a blow dryer to hurry things along, if you're impatient like me.
Step 2: Print your Java Station template, then trim off excess paper. Rub chalk (a light color) on the back of the template. Center it right side up at the top of the plaque. Trace over the letters with the end of a mechanical pencil (remove the lead). You should have a nice, clear pattern for painting once you remove the paper.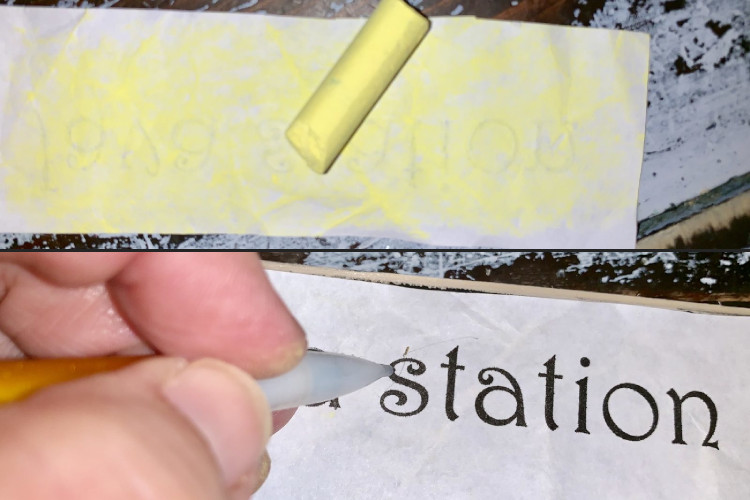 Step 3: Use the liner brush and Home Decor White Chalk paint to paint the letters. Once your sign is dry, take it outside and spray it with the acrylic gloss sealer. Let it dry. Blow-dry if desired.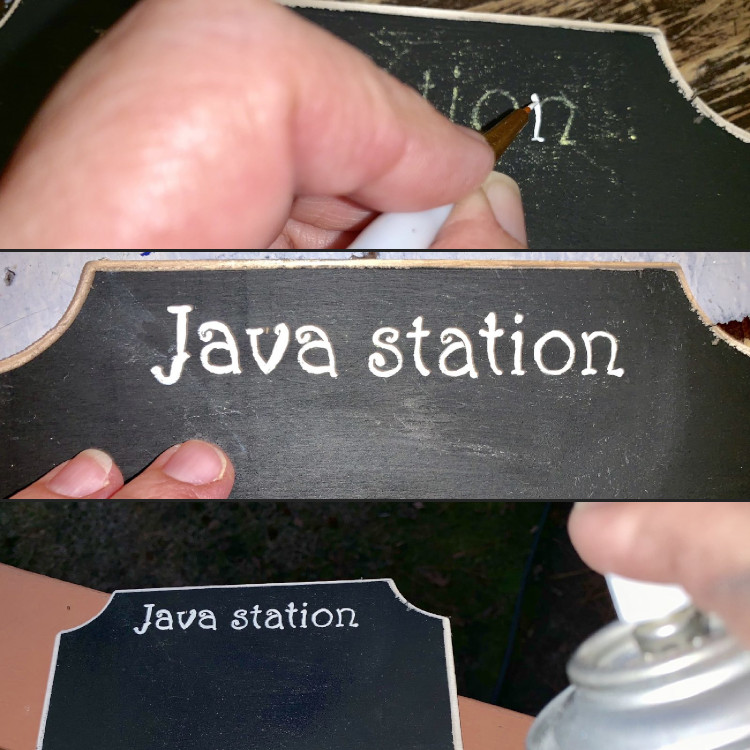 Step 4: Now it's time for the fun part! Plug in your glue gun and let it get good and hot. I use a high-temp glue gun because things adhere much better with the hotter glue. It will burn your fingers though, so it should definitely be used by adults only. I found this beautiful little wreath in a candle set at Goodwill. I try to spend under $50 per month on Love My Little Cottage blog projects, so Goodwill and Dollar Tree are my best friends.
Apply the glue to the back of the wreath, then carefully place it on your sign. Let it dry for about 2 minutes. I wanted my wreath to hang off the sign at the bottom, so I placed it accordingly. You're done! Your sign is ready to hang.
What would you write on your sign?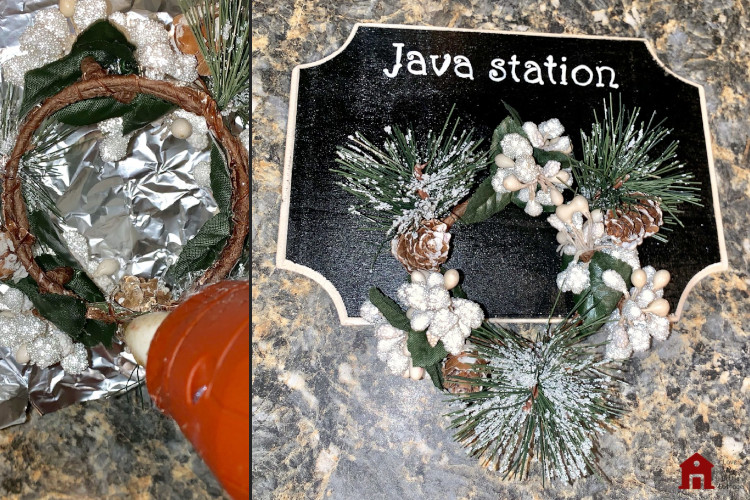 Passionate about all things domestic, as a Christian wife and homeschooling mother of 5 children, I am especially interested in encouraging stay-at-home moms, one-income families, and cottage dwellers of all kinds. I love DIY projects, sewing, decorating, cooking, and collecting and selling vintage dishes. Love My Little Cottage – join our mailing list.
Have a great Week! Kristie
Disclosure: Some of the links in this post are affiliate links. If you click on the link and purchase the item, I will receive a commission. I only recommend products or services that I personally believe will add value to my readers. All opinions stated are strictly my own. Read our full disclosure policy for more information.