This post may include affiliate links. Read our disclosure policy for more information.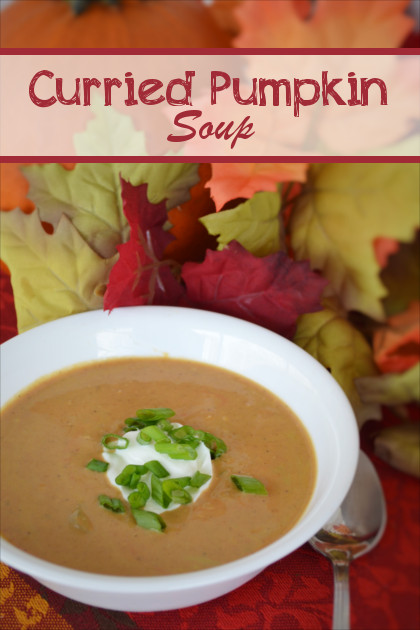 The kids wanted to have a garden this year and when I asked them what they wanted to plant, they chose corn and pumpkins, that's it! Because this was going to be their garden I let them plant whatever they wanted.
The kids worked fairly hard in their garden over the summer, but ended up being a little disappointed that they didn't get very much corn. The pumpkins though is a completely different story, they planted so much that I'm having a really hard time finding things to do with it all. When I asked why they planted so much, they said because they wanted to make pumpkin seeds. I knew that they liked pumpkin seeds but growing enough to feed a small country was a bit much.
Because I didn't want to waste the pumpkins, due to the pumpkin shortage, I decided to can it all. Now I have all of this canned pumpkin that I need to find uses for. When I asked around about what I could do with it my mom suggested that I find a pumpkin soup recipe. She's never made it but had it at a recent dinner party and loved it, so I thought that I would give it a try.
I browsed my cookbook collection and found this Curried Pumpkin Soup recipe in an old church family recipe book. I've made it a couple of times now and it has quickly become a family favorite. I can't believe after all of these years that I've never tried pumpkin soup.
Curried Pumpkin Soup
You know how much I like easy recipes and this one definitely fits the bill, it only took about 20 minutes to make from start to finish. I think the hardest part was the stirring.
You know some of the best recipes that I've ever had have come from cookbooks that were made by church groups, this recipe is proof of that.

Curried Pumpkin Soup
Ingredients
2 tablespoons butter
8 ounces mushrooms, sliced
½ cup onion, diced
2 tablespoons flour
1 tablespoons curry powder
3 cup chicken broth
2 cups pumpkin puree
1 tablespoon honey
½ teaspoon salt
¼ teaspoon nutmeg
¼ teaspoon pepper
12 ounces evaporated milk
sour cream
chives
Instructions
In a large saucepan melt butter; add onions and mushrooms, cook until tender.
Add flour and curry powder, slowly add chicken broth. Stir constantly over medium heat until thickened.
Stir in pumpkin, honey, salt, nutmeg and pepper. Reduce heat and simmer 10 minutes, stirring occasionally.
Add milk and cook until heated through.
Garnish with sour cream and chives.
Notes
Recipe from: Nancy Wilson
There are so many delicious homemade soup recipes out there, which is your favorite?
Fluster Buster Tool Chest