This post may include affiliate links. Read our disclosure policy for more information.
One of the best things to make if you want to create a cheap and easy recipe are casseroles. There are so many ingredients that can be perfectly combined to create a variety of casserole dishes. When I'm creating a casserole dish as a Feed 4 for 5 meal, I generally choose ingredients that I find on sale. Some of the best casseroles I've ever created were from items that were on sale..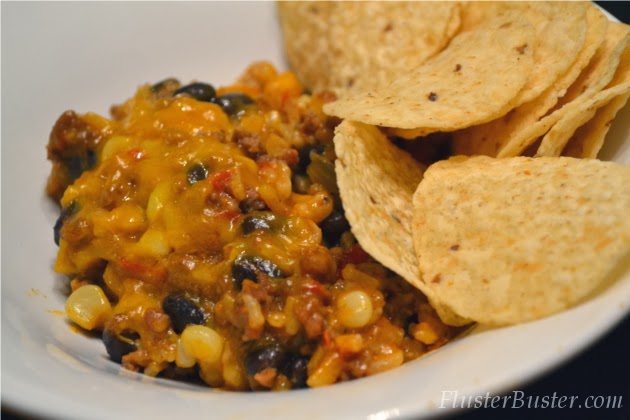 Mexican food is a favorite in our house, we have it about once a week. Tacos and burritos are the most requested, but that gets a little boring week after week. I'm sure the kids wouldn't mind, however I get bored cooking and eating the same thing over and over. To add a little variety to our Mexican menu I created some Feed 4 for 5 meals that have a Mexican twist but in no way resemble a taco.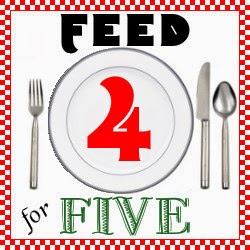 .
   Tex-Mex Casserole
      Serves: 4          Category:
Beef
Ingredients
1 cup white rice  ($0.42)
1 pound ground beef ($1.88)
1 medium onion, chopped ($0.08)
1 cup corn, frozen ($0.30)
1 (15 ounce) can diced tomatoes w/green chilies ($0.49)
1 teaspoon chili powder ($0.05)
1 teaspoon ground cumin ($0.07)
1 teaspoon garlic powder ($0.07)
Salt and pepper
½ cup sharp cheddar cheese, shredded ($0.38)
3 tablespoon corn oil ($0.12)
6 corn tortillas, quartered ($0.36)
Instructions
1.
Cook black beans and rice according to the package directions.
2.
In a large skillet, brown the ground beef and onions.
3.
Drain the excess fat from the ground beef. Stir in, corn,
tomatoes, black beans and rice. Season the mixture with chili powder, cumin,
garlic powder, salt and pepper.
4.
Place mixture in a 9×13 casserole dish and sprinkle with cheese.
5.
Bake for 20 minutes at 350 degrees.
6.
In a small skillet, fry the corn tortillas until they are golden
brown, in corn oil.
7.
Remove the tortillas to a paper towel lined
plate and lightly sprinkle with salt.
www,FlusterBuster.com

Cost = $4.54
How I came up with these prices:
Black Beans, dry – (16 ounces for $1.29) purchased them from a discount grocery store. *To save time, I'll cook the whole bag and then freeze in 2 cup portions. You can usually get about 6-7 cups of cooked beans from a 16 ounce bag. If you don't have time to cook the dry beans you can substitute them with canned beans, but you'll be paying a little more.
White Rice – (32 ounces for $1.69) purchased the rice from a discount grocery store. *To save time, I'll cook a whole bag of rice and freeze it in 2 cup portions. When freezing, to keep the granules separated, lay the rice out flat on a baking sheet and flash freeze. Once the the granules are frozen divide and store in freezer bags. **One cup of dry rice makes about 3 cups of cooked rice.
Ground Beef – (1 pound for $1.88) purchased on sale from our local supermarket. I track the sales and when ground beef goes on sale for this price I stock up and freeze.
Onion – (3 pounds for $0.79) purchased at a discount grocery store on sale. *There are 3-4 medium onions in a pound.
Corn – (16 ounces for $0.59) purchased on sale from a local supermarket.
Tomatoes w/Green Chilies – (15 ounces for $0.49) purchased on sale and with a coupon from our local supermarket. *I purchased a case of tomatoes using coupons that I purchased from ebay. 
Chili Powder – (3 ounces for $1.00) purchased from the Dollar Tree.
Ground Cumin – (4.65 ounces for $2.09) purchased on sale from a local grocery store.
Garlic Powder – (2.5 ounces for $1.00) purchased from the Dollar Tree.
Cheddar Cheese – (8 ounces for $1.50) purchased on sale from a discount grocery store. *1 ounce of shredded cheese equals about a 1/4 cup.
Corn Oil – (48 ounces for $2.39) purchased from a discount grocery store.
Corn Tortillas – (30 count for $1.79) purchased from a discount grocery store.
Savings Tip: 
Frozen vegetables are usually the better buy when trying to save money on your grocery bill. When you purchase a 16 ounce bag of frozen, you are actually getting 16 ounces. When you purchase 15 ounce of canned you're only getting about 8 ounces of vegetables and the rest is water. So, unless you've discovered an incredible sale on canned veggies head to the frozen isle for your veggies.
Do you have any cheap and easy recipes that cost around $5.00 to prepare?
Bon Appetit on the Cheap!