This post may include affiliate links. Read our disclosure policy for more information.
I think every frugal, time challenged mom has spaghetti in their arsenal of cheap and easy recipes. It's one of those recipes you know that you can get on the table quickly, everybody will enjoy and it makes the best leftovers. Spaghetti is simple to make, especially if you're using the jarred sauce, but how much is that jar of sauce costing you? I've created a semi-homemade marinara sauce, that's quick to make, tastes better than the jarred versions and I serve it over pasta with garlic toast and salad for only $4.38.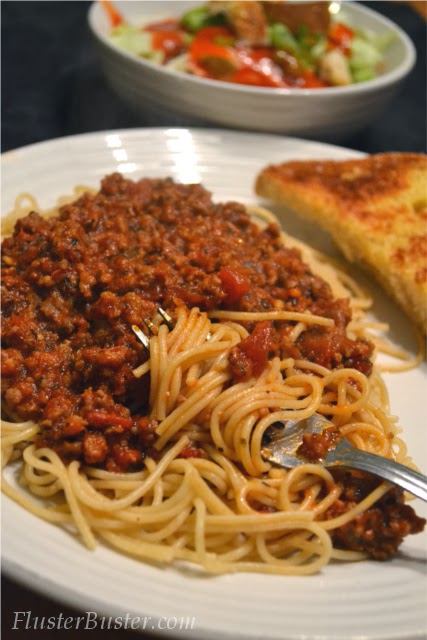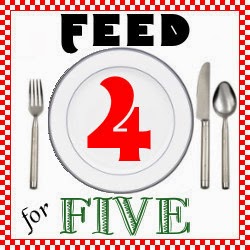 Spaghetti Dinner w/garlic
toast and salad
      Prep Time: 5 Minutes                         Cook
Time: 20 Minutes                         Serves: 4                         Category:
Italian
Ingredients
       2 ½ cups
marinara sauce
($0.79)
1 package (16 ounces) spaghetti ($0.50)
1 pound ground beef ($1.88)
1 medium onion, chopped ($0.08)
4 slices bread (free)
2 tablespoons butter, softened ($0.10)
1 teaspoon garlic salt ($0.03)
¼ cup parmesan cheese ($0.25)
½ head lettuce ($0.50)
½ cup salad dressing ($0.25)
Instructions
1.    Cook the pasta according to the
directions on the package and begin browning the ground beef and onions.
2.
Drain the excess fat from the ground beef and add to the marinara sauce. Simmer for 10 minutes
4.
Butter the bread and sprinkle with garlic salt and a little
parmessan cheese. Place the garlic bread under broiler to lightly toast.
5.
Serve sauce over pasta with a side salad and garlic toast.

Cost = $4.38
Cost Breakdown
Marinara Sauce – (3-1/2 cups for $1.11)
Spaghetti Noodles – (16 ounce package for $0.50) purchased on sale with a coupon. pasta regularly goes on sale for 10/$10. When you see this kind of a sale, it doesn't mean that you have to buy 10 in order to get the sale price, you can buy just one and only pay $1.00. *You can lower the price further by pairing the sale with a coupon. 
Ground Beef – (1 pound for $1.88) purchased on sale from our local grocery store. I track the sales and when ground beef goes on sale for this price I stock up my freezer.
Onion – (3 pounds for $0.79) purchased at a discount grocery store on sale. *There are 3-4 medium onions in a pound.
Bread – (free) instead of throwing out the heals of bread I store them in a Zip-loc bag that I keep in my freezer. Whenever I need bread crumbs or I need to make garlic toast I just pull out what I need.
Butter – (1 pound for $1.69) purchased on sale from a discount grocery store. *Margarine would work too.
Parmesan Cheese – (8 ounces for $1.00) purchased from a dollar store. *A number of dollar stores now accept coupons, so keep your eyes peeled, you could end up saving even more.
Lettuce  – (1 head for $1.00) lettuce regularly goes on sale for a $1.00 or less.*Check your weekly store flyers for sales.
Salad Dressing – (16 ounces for $1.00) purchased from Dollar Tree.
Savings Tip
Companies often offer coupons on their websites, so before heading off to the grocery store check for coupons. Another great place to find coupons is on the companies Facebook page. A little time spent looking for coupons can help lower your grocery bill.
Do you have any cheap and easy recipes?
Bon Appetit on the Cheap!