This post may include affiliate links. Read our disclosure policy for more information.
If you want a happy man, feed him meat and potatoes, at least that's what the men in my house say. If they had their way we would have steak and potatoes every night, fortunately our budget couldn't handle it. To satisfy their carnal palates I came up with a few cheap and easy recipes, like this Hearty Beef Gravy & Potato Dinner that has become one of their favorites.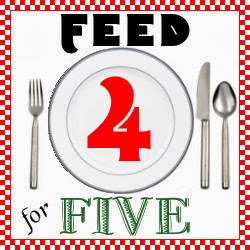 Hearty Beef Gravy and Potatoes
      Serves:
4          Category:
Beef
Ingredients
1-1 ½ cups milk ($0.12 – $0.18)
2 tablespoons butter ($0.10)
Salt and pepper
1 pound ground beef ($1.88)
1 medium onion ($0.08)
8 ounces mushrooms ($0.69)
2 cups
beef
broth
(free)
1 cup
QuickMix
($0.40)
¼ teaspoon Kitchen Bouquet (optional)
15 ounces corn, canned ($0.39)
8
BakeQuick
biscuits ($0.36)
Instructions
1.
Boil potatoes with a little salt until they are fork tender. Drain.
Mash with butter, milk, salt and pepper.
2.
Brown ground beef and onions. Drain the excess fat and add
mushrooms.
3.
Add beef broth to the ground beef mixture and bring to a boil. Slowly
stir in the QuickMix and Kitchen Bouquet to flavor and thicken.
4.
Prepare biscuits according to directions.
5.
Heat corn.
6.
Serve Hearty Beef Gravy over mashed potatoes with corn and
biscuits.
www,FlusterBuster.com

Cost = $4.48
How I got these prices:
Potatoes – (10 pounds for $1.99) purchased on sale from a discount grocery store. *There are about 3 medium potatoes in a pound. 
Milk – (1 gallon for $1.99) purchased on sale from a discount grocery store. *Milk can be frozen, so when you find it a really low price stock up. I don't suggest using frozen milk for drinking but it's great for cooking.
Butter – (1 pound for $1.69) purchased on sale from a discount grocery store. *You could also use margarine, which is a cheaper option.
Ground Beef – (1 pound for $1.88) purchased on sale from a local grocery store. *I track meat prices and when it goes on sale for a low price like this I'll buy several pounds and fill my freezer.
Onion – (3 pounds for $0.79) purchased on sale from a discount grocery store. There are about 3-4 medium onions in a pound.
Mushrooms – (8 ounces for $0.69) purchased from a discount grocery store.
Beef Broth – (Free) the broth was saved from the Roast Beef Crockpot Dinner and froze. *If you don't have any broth you can use water and a couple of beef bouillon cubes.
QuickMix – (7 cups for $2.79) this is something that I make and always have on hand for making sauces and gravies. *It's great to use for thickening sauces and doesn't make lumps.
Corn – (15 ounces for $0.39) purchased on sale from a discount grocery store. *If you grow your own corn and freeze your costs will be even lower. 
BakeQuick Biscuits – (16 cups for $3.18) made using Homemade BakeQuick Mix
Savings Tip
A great way to save on ground beef, when you've missed a good sale, is to buy a cheep roast and have the meat department grind it up for you. Often times it will contain less fat than the ground beef that was on sale.
Do you have any cheap and easy recipes 
that cost around $5.00 to prepare?
Bon Appetit on the Cheap!