This post may include affiliate links. Read our disclosure policy for more information.
Chicken Pot Pie wasn't on the menu this week but with the weather being so cold I thought I would change things up a bit. I whipped out my cheap and easy recipe for Chicken Pot Pie and then checked to see if I had all of the ingredients. Luckily I had everything I needed, that's one of the perks of stockpiling groceries that are on sale.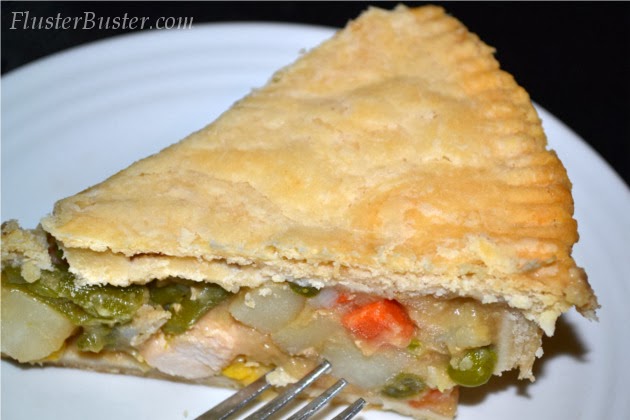 Chicken Pot Pie is one of my favorite comfort foods and with this weather I needed a little comfort. Another reason for switching up the menu is because my daughter-in-love, who recently moved in with us, never had homemade Chicken Pot Pie, she's only had the restaurant or frozen versions, just not the same. I happy to report that my Chicken Pot Pie is better than Marie Callender's, at least that's what my daughter-in-love says.
Whether you're making Chicken Pot Pie from scratch or using convenience products, like gravy and crusts, it's pretty easy. I prefer making mine from scratch because I have the flakiest pie crust recipe around and it's a lot cheaper to make it from scratch. Either way that you choose to make it I guarantee it will taste a whole lot better than the frozen versions.
   Chicken Pot Pie
w/Salad
      Serves: 4          Category:
Poultry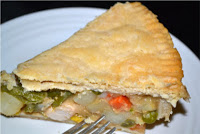 Ingredients
2
Pie Crusts
($1.35)
      2 cups 
chicken gravy
($0.40)
2 cups chicken, diced ($0.99)
1 tablespoon olive oil ($0.10)
1 bag (8 ounce) mixed vegetables, frozen ($0.30)
2 potatoes, peeled and diced ($0.13)
½ onion, chopped ($0.04)
½ head lettuce ($0.50)
½ cup salad dressing ($0.25)
Instructions
1.
Prepare pie crust, divide the dough in half and place in separate freezer bags. Flatten by hand and freeze for 20 minutes.
2.
Prepare chicken gravy and set aside.
3.
In a skillet, cook the onion and chicken in olive oil until the
chicken is no longer pink.
4.
While the chicken is cooking, partially cook the potatoes and
frozen vegetables.
5.
Drain the vegetables and chicken and mix them into the gravy.
6.   Roll out both halves of the dough and place one half in a 10-inch pie pan.
7.    Pour the gravy mixture into the pie crust and top with second
pie crust. Seal the pie crusts together with a floured fork and insert vent
holes in the crust.
8.
Bake at 350 degrees for 30 minutes, or when the crust is golden.
9.
Serve with salad.

Cost = $4.06
Cost Breakdown
Pie Crust – (2 crusts for $1.35) made using my Flaky and Crispy Pie Crust recipe. *I get so many compliments on my pie crust recipe. You could use the already made pie crusts, but they cost a lot more than making them yourself, and they aren't as good.
Chicken Gravy – (1 cup for $0.20) made using my QuickMix recipe. *If you don't have any chicken broth on hand try using chicken bouillon and water. I also like to make it in the pan that I cooked the chicken in for a little added flavor.
Chicken – (1 pound for $0.99) purchased on sale from our local supermarket. *You could even use leftover chicken to cut the cost of this meal even more. 
Olive Oil – (12 ounces for $2.39) purchased from a discount supermarket. *Did you know? There are 2 tablespoons in a fluid ounce.
Mixed Vegetables – (16 ounces for $0.59) purchased on sale from a local supermarket. * I only had to use half of the bag, the other half I'll save for making soup or as a side.
Potatoes – (10 pounds for $1.99) purchased on sale from a discount supermarket. *One pound yields about 3 medium potatoes.
Onion – (3 pounds for $0.79) purchased on sale from a discount supermarket. *One pound yields about 3-4 medium onions.
Lettuce – (1 head for $0.99) purchased on sale from our local supermarket. *$1.00 is the average amount that you pay for a head of lettuce, however it often goes on sale so check your weekly store flyer's.
Salad Dressing – (16 ounces for $1.00) purchased from Dollar Tree.
Savings Tip
You may not have noticed but the size of some of your favorite products are getting smaller.Take a look at a jar of your favorite peanut butter, it looks the same as always, right? Wrong, turn the jar upside down, what do you see? What use to have a flat bottom now has a big crater. Believe it or not that crater accounts for at least 2 ounces of peanut butter. Before the crater you were paying $2.99 for 18 ounces and now you are paying the same amount only your getting 16 ounces. Losing 2 ounces of peanut butter may not hurt your budget to much, but what if I told you that over 30% of all packaged foods have decreased in size but not price. Now that would hurt your budget, right?
So how do you get around this packaging deceit?
Every item in the grocery store has a shelf tag, and every tag includes the products bar code, a description, the price and also the unit price. The unit price is a frugal shoppers best friend. Let's say there are two brands of peanut butter on the shelf for $2.99 and both appear to be the same size. To an untrained, wanna-be, frugal shopper it wouldn't matter which one they chose. However, to the trained, frugal shopper, they know that the jar with a unit price of 16.61¢ is a much better buy than the one with the unit price of 18.68¢. So, the next time you go shopping, check the unit price, you'll end up getting more for your money.
What cheap and easy recipes does your family love?
Bon Appetit on the Cheap!