This post may include affiliate links. Read our disclosure policy for more information.
Normally to create cheap and easy recipes making them from scratch is the way to go. However, once in awhile you can find products that are cheaper to buy than they are to make. This week is one of those recipes where buying some pre-made products will be considerably cheaper than they will be to make.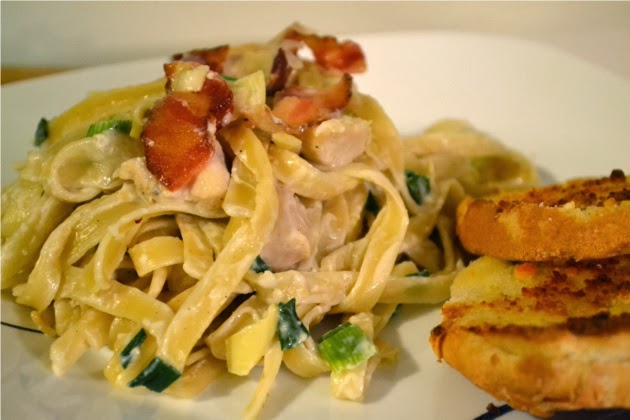 I could have made this meal even cheaper by not adding the bacon, artichoke or green onions, but than it just would have been some plain Chicken Alfredo.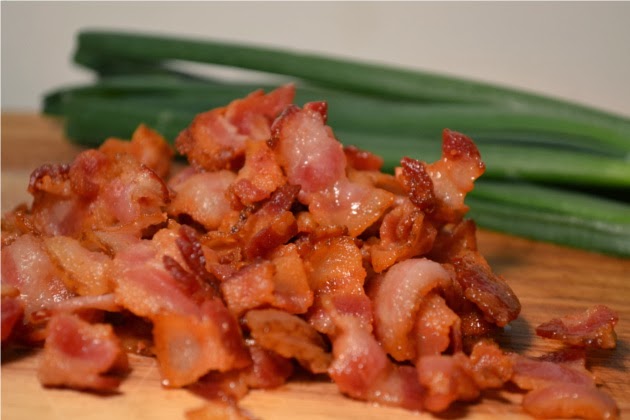 Bacon is one of those things that makes everything taste better, so I had to add it.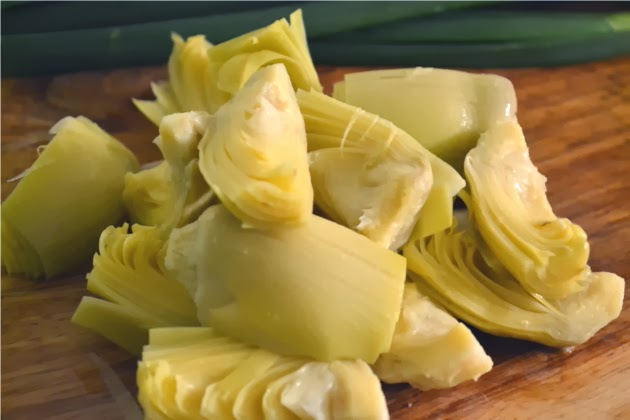 I've been on a bit of an artichoke kick lately, so I had to add that as well.
As a kid my mom would make us artichokes for a snack. We all thought that it was fun dipping the leaves in some lemon butter and scrapping the meat off of the leaves. It wasn't until I was an adult that I realized that my mom was getting the best part, the heart.
Now that I'm a mom I've kept the artichoke heart a secret from my kids.  Ba ha ha!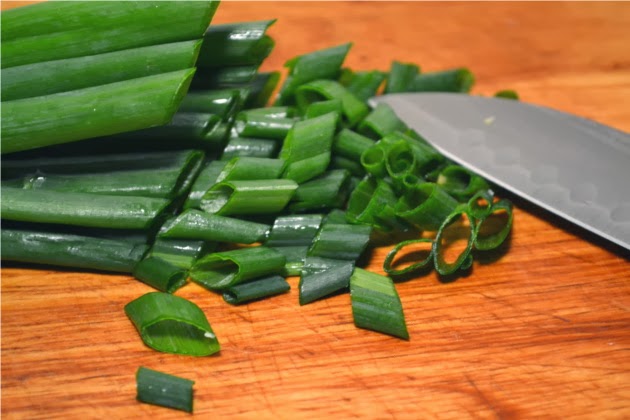 Of course I had to add some green onions, not just for their flavor but because they add some pretty color to the pale pasta, artichokes and sauce.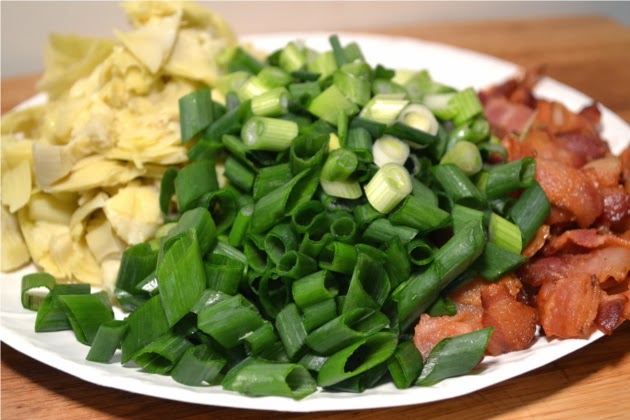 Did you notice there's not a whole lot of bacon left? I was nibbling!
If you have any of these goodies left after waiting for the pasta to cook you can add them to the sauce.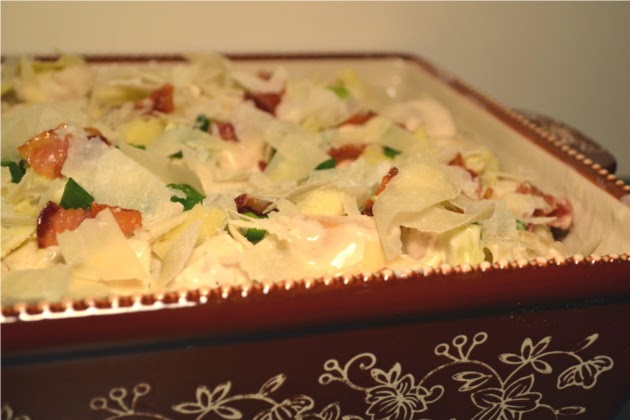 Once you've mixed everything together pour it into a baking dish and sprinkle it with some Parmesan cheese. If you have any leftover mozzarella cheese you could sprinkle that on too.
You can never have to much cheese!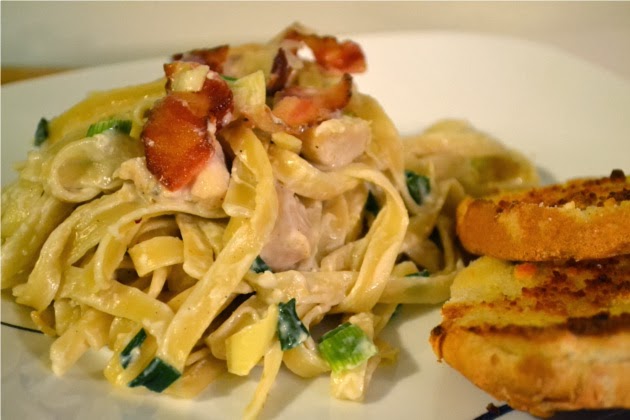 This plate was served up for the picture, if you had seen the plate that I was eating off of there was twice as much pasta on it. My excuse, I just didn't want to get up to dish up a second helping.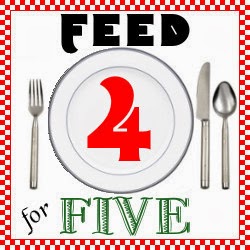 Baked Chicken Alfredo
Author:
Robin | Fluster Buster
Ingredients
16 ounces egg noodles
4 slices bacon
1 pound chicken breast, cubed
15 ounces artichoke hearts, chopped (optional)
4 green onions, chopped
2 cups (16 ounces) Alfredo sauce
¼ cup Parmesan cheese
Instructions
Preheat oven to 350°F.
Cook egg noodles according to package directions, drain.
In a medium skillet, cook bacon until crispy, cool and break into pieces.
Cook chicken in bacon grease until it is no longer pink.
Add bacon, artichokes (optional), onions and Alfredo sauce to the chicken. Simmer until warm.
Combine sauce and noodles and place in a 9x13 baking dish. Sprinkle with Parmesan cheese, Bake at 350°F for 20-25 minutes.
Let sit for 5 minutes before serving
How to get these prices:
Bacon – (12 ounces for $1.50) purchased on sale from a discount grocery store.
Chicken – (1 pound for $1.88) purchased on sale from a local supermarket.
Artichoke Hearts – (15 ounces for $0.69) purchased from a discount grocery store.
Green Onions – (1 bunch for $0.49) purchased on sale from a discount grocery store. One bunch of green onions has around 8-12 onions in it. I wonder how they decide how many to put in a bunch.
Alfredo Sauce – (11.8 ounces for $1.00) purchased from the DollarTree.
Fettuccine Noodles – (16 ounces for $1.00) pasta regularly goes on sale for 10/$10. When you see this kind of a sale, it doesn't mean that you have to buy 10 in order to get the sale price, you can buy just one and only pay $1.00. *You can lower the price further by pairing the sale with a coupon. 
Parmesan Cheese – (8 ounces for $1.00) purchased from a dollar store. *A number of dollar stores now accept coupons, so keep your eyes peeled, you could end up saving even more.
Bread – (free) instead of throwing out the heals of bread I store them in a Zip-loc bag that I keep in my freezer. Whenever I need bread crumbs or I need to make garlic toast I just pull out what I need.
Butter – (1 pound for $1.69) purchased on sale from a discount grocery store.*Margarine would work too.
Garlic – (1 head for $0.49) purchased from grocery store.
Green Beans – (15 ounces for $0.39) purchased on sale from a discount grocery store.*If you grow your own you can can your own and your costs will be even lower. 
Savings Tip
Keep a price book for tracking grocery costs. This takes a little effort but the rewards are huge.
You will know where to shop.
You will know when to shop.
You'll recognize a good deal when you see it.
You will never pay full price again.
Your wallet will be a little thicker.
How to start (start small):
Make a list of items that you use most often. Check your refrigerator and pantry for ideas.
Take your old receipts and jot down the prices, sizes  and dates of the items on your list.
Choose one store to follow. Check the weekly store ad and jot down the prices, sizes and date of the ad for any items that are on your list.
Go to the store you chose and record the prices for each item on your list. Do this for 12 weeks. You'll begin to see a pattern forming of when the items go on sale. This will help you target the best price for that item.
When you've tracked the prices to their lowest price point, stock up. Most of the items on your list will go on sale once every 12 weeks, so purchase enough to last until the next sale.
Be sure to keep your price book current, by checking the prices monthly.
As you start becoming more comfortable with tracking grocery prices you can begin adding more items and more stores.
I keep track of my food prices on a spread sheet which I've saved to Google Docs. That way I can access it from my phone when I'm shopping.
Do you have any cheap and easy recipes 
that cost around $5.00 to prepare?
Bon Appetit on the Cheap!