This post may include affiliate links. Read our disclosure policy for more information.
When creating cheap and easy recipes one thing I've learned, the hard way, is to create the meals from foods that my family already loves.
It doesn't work out to be a cheap meal if nobody likes it
and, it's not that easy when I have to make something else that they do like.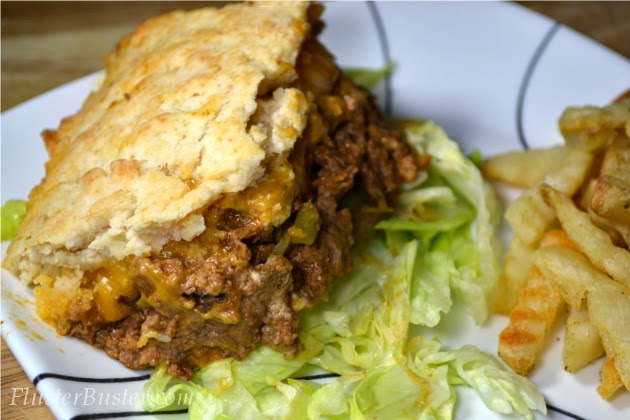 Because everyone loves cheeseburgers in our house I thought that I would put my cheap and easy spin on them.
Instead of using hamburger buns for this recipe I thought that it would be a good idea to biscuits. It's cheaper and it's more filling. Which means the hamburger would go further in order to fill everyone's bellies.
Spray the dish with a little cooking spray.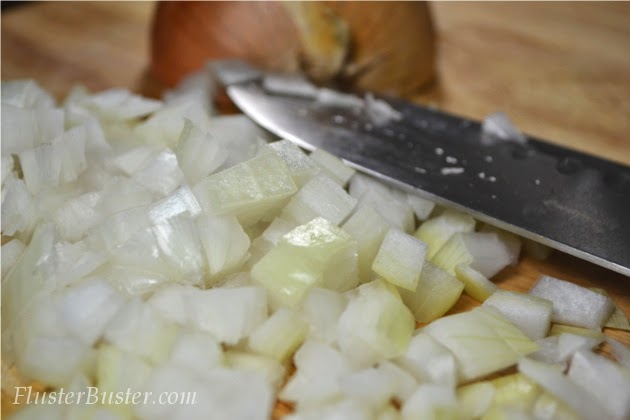 Chop the onion. Remember if you freeze the onion  for 15 minutes before cutting you'll avoid tearing up.
You can use any kind of dill pickles. I had dill slices on hand so that's what I used this time. I've also used dill relish and whole pickles.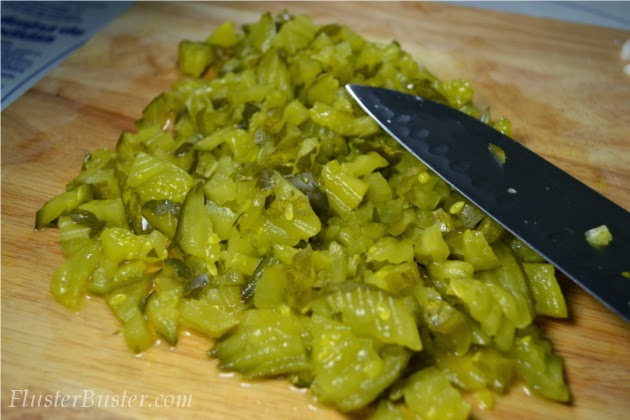 Chop up your pickles. I really like pickles so I cut them in big chunks.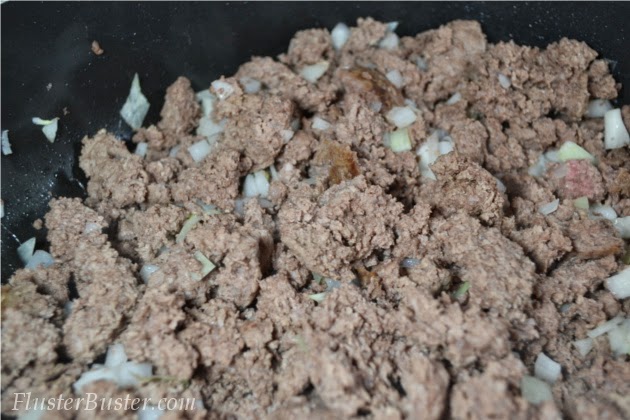 Once you've browned the ground beef add the onions.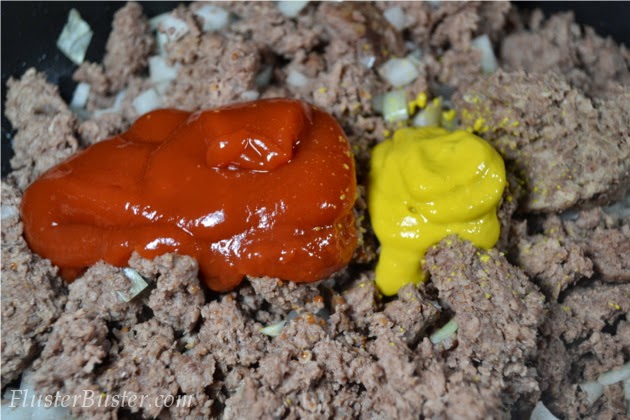 Then add the ketchup and mustard.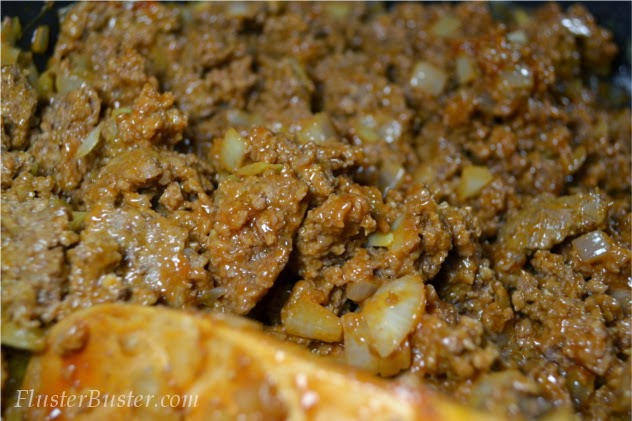 Stir it up real good.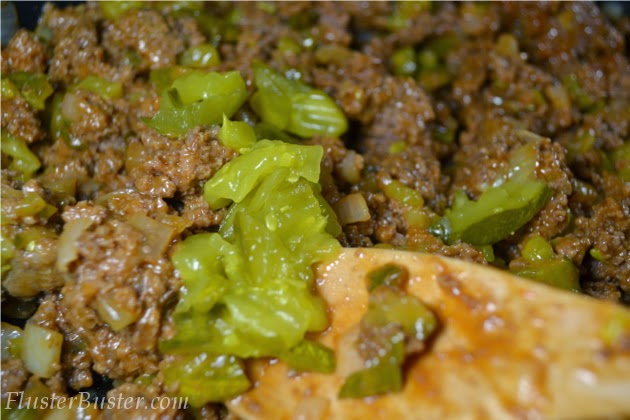 and then stir in your pickles.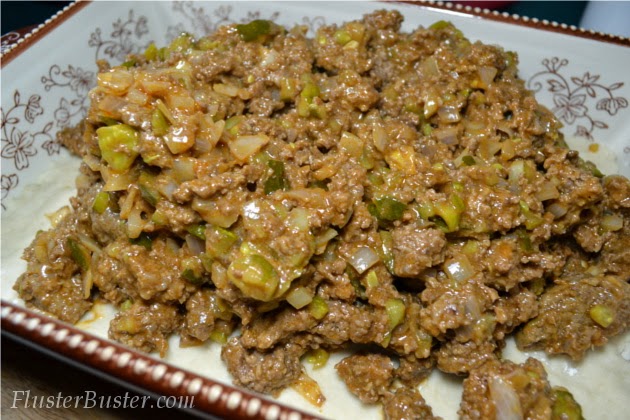 Pour the mixture in your pie dish.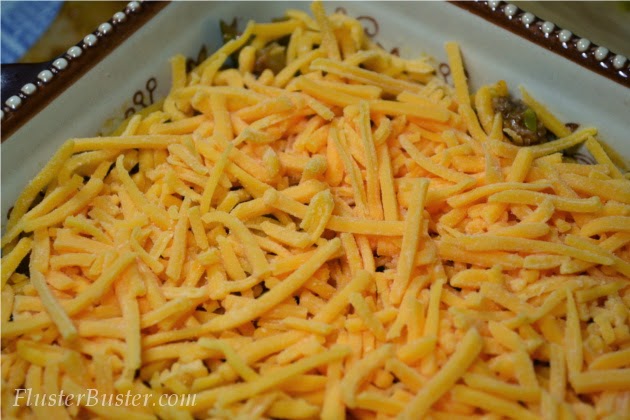 Top it with some cheese.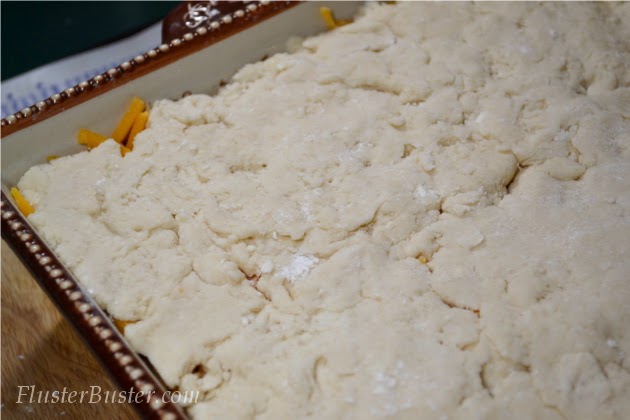 and then, finish it up by lining the top with the biscuits.
Now pop it in a 450 degree oven for 20-25 minutes, or until the biscuits are golden brown.
Serve it on a bed of lettuce with some french fries on the side.
Enjoy!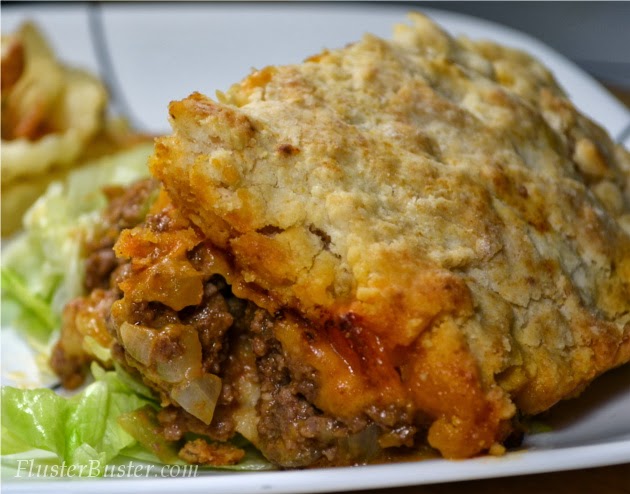 Cheeseburger Pie
Author:
Robin | Fluster Buster
Ingredients
1 package biscuits
1 pound ground beef
½ medium onion, diced
3 tablespoons ketchup
1 tablespoon mustard
½ cup dill pickles, chopped
2 cup cheddar cheese, shredded
lettuce, shredded
Instructions
Preheat oven to 450°F
In a large skillet, brown the ground beef. Stir in onion, ketchup, mustard and pickles.
Pour mixture into an 8" pie dish, sprinkle with cheese and top with biscuits.
Bake for 20-25 minutes, or until golden brown.
Serve on a bed of lettuce.
What I paid for this meal: $4.71
Savings Tip:
Get a Rain Check!! When I found ground beef on sale for $1.88 a pound I knew that I wanted to stock up for that price. I was looking to purchase about 75 pounds, however there wasn't 75 pounds in the meat case. I took what I could and left a few for other savvy shoppers. Since I picked up less than what I wanted I went to the front desk and asked for a Rain Check.
What is a rain check?
It's a ticket, entitling a customer to purchase at a later date and for the same amount as the sale price for any item that is temporarily out of stock.
You can get a rain check for any item that is on sale and is out of stock. Most rain checks are good for 30 days. Sometimes I'll go to the store on the last day of the sale in hopes that the items I want are out of stock. The purpose is to get a rain check and hope that a coupon for the item will come out before the rain check expires, which helps me save even more money.
Do you have any cheap and easy recipes