This post may include affiliate links. Read our disclosure policy for more information.
Baked Rosemary Cod with Southern Green Beans & Rice. This cheap and easy fish dish is light and flaky with a nice hint of rosemary. It pairs nicely with the bacon fried green beans and lightly flavored rice. This complete meal will feed a family of 4 for just $4.95. #codrecipe #easyrecipe #cheapmeals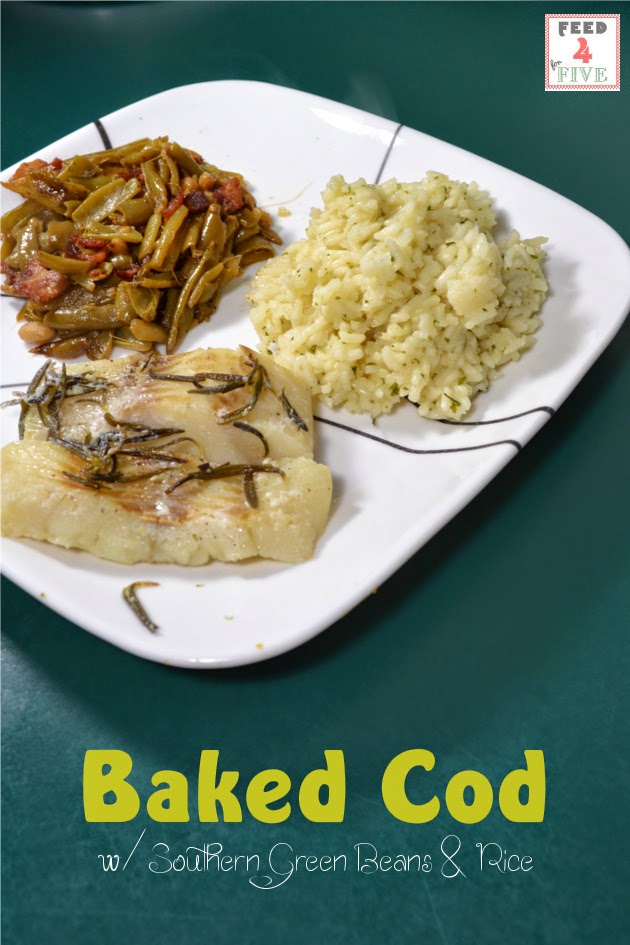 First of all let me apologize for my bad pictures. LOL! Some nights my family just doesn't want to wait for me to take pictures before they can eat and this was one of those nights.
I love to serve fish, but I don't do it as often as I should. I know that it's really good for you and that you should serve it at least a couple of times a week, but for some reason it rarely makes it to my weekly menu. I guess I'm going to have to make a conscience effort to add it.
I told you my family was in a hurry to eat so I neglected to take pictures of the fish and rice. However, I was able to get pictures of the process of making these yummy southern style green beans. Boy was I out of it when I did this meal!
Before moving to the south I rarely used bacon, except for breakfast. Here they seem to use bacon in EVERYTHING, like these green beans. I have to say I was a little skeptical the first time I tried them, but once I did there was no going back and my waistline proves it.
All you have to do is cut up the bacon into little pieces and fry.
Once the bacon is fully cooked you add a can of drained, green beans and fry them in the bacon grease. The green beans soak up that grease and add an amazing flavor to them.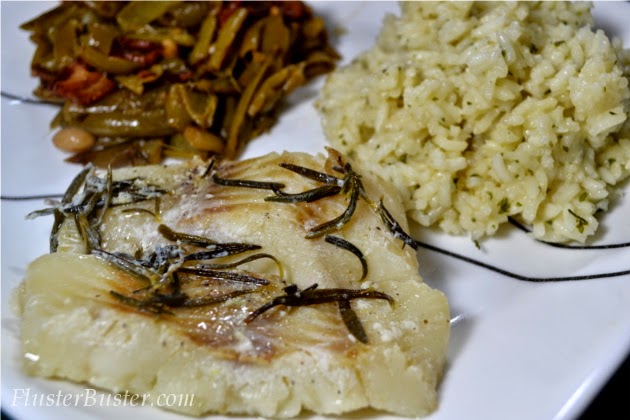 That's about all there is to this meals, it easy and affordable and your family will walk away from the table satisfied. If they even make it to the table because they are in such a hurry to eat.
   Baked Rosemary Cod
      Serves: 4          Category:
Fish & Seafood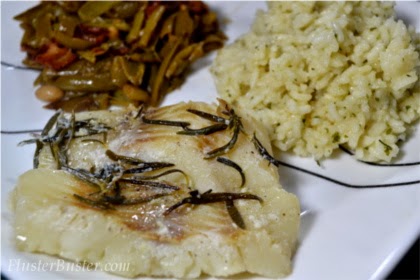 Ingredients
16 ounces cod filets, frozen ($3.49)
2 sprigs rosemary, stripped and roughly chopped (free)
2 tablespoon olive oil ($0.20)
Sea salt and pepper, to taste
1 cup white rice ($0.42)
2 chicken bouillon cube ($0.15)
2 tablespoons parsley, chopped (free)
2 slices bacon, chopped ($0.30)
1 can (15 ounces) green beans, drained ($0.39)
Instructions
1.
Mix the rosemary and olive oil in a bowl. Roll the fish in the
marinade and place in the refrigerator for 10-15 minutes.
2.
Preheat oven to 425°.
3.
Lay fish on a large piece of aluminum foil, season with salt and
pepper and seal shut.
4.
Place on top rack in oven and let bake for 15-20 minutes, until
the fish is just done.
5.
Remove from oven and let it sit for 5 minutes; sealed.
6.
Cook the rice according to package direction; except add the
bouillon cubes to the water when boiling,for flavoring.
7.
When the rice is finished stir in parsley.
8.
In a small sauce pan, brown the bacon. Retain the bacon and
bacon grease in the pan and add the green beans. Fry the green beans in the
bacon grease until cooked through.
9.
Serve fish with green beans and rice.
www,FlusterBuster.com

Cost = $4.95
How to get these prices:
Cod – (16 ounces for $3.49) purchased from Save A Lot.
Rosemary – (Free) grown in my herb garden.
Olive Oil – (12 ounces for $2.39) purchased from Save A Lot.
Rice – (32 ounces for $1.69) purchased from Save A Lot. *To Save Time: Cook a whole bag of rice and freeze it in 2 cup portions. When freezeing, to keep the granules separated, lay the rice out flat on a baking sheet and flash freeze. Once the granules are frozen, divide and store in freezer bags. **One cup of dry rice make about 3 cups of cooked rice.
Chicken Bouillon – (25 cubes for $1.99) purchased from Save A Lot.
Parsley – (Free) grown in my herb garden.
Bacon – (12 ounces for $1.50) purchased on sale from Save A Lot. *When I find prices this low I buy large quantities and freeze. Bacon will freeze for up to 6 months.
Green Beans – (15 ounces for $0.39) purchased on sale from Fas-Chek. *I bought several cases when I found this sale.
Savings Tip:
When you keep a price log it's easy to tell if you are getting a good deal or not. When you see that it's at it's lowest, stock up. Just be sure that you know the shelf life of the item before purchasing. It's not a good deal if you bought it and it goes bad before you can use it.
What cheap and easy meals do you feed your family?