This post may include affiliate links. Read our disclosure policy for more information.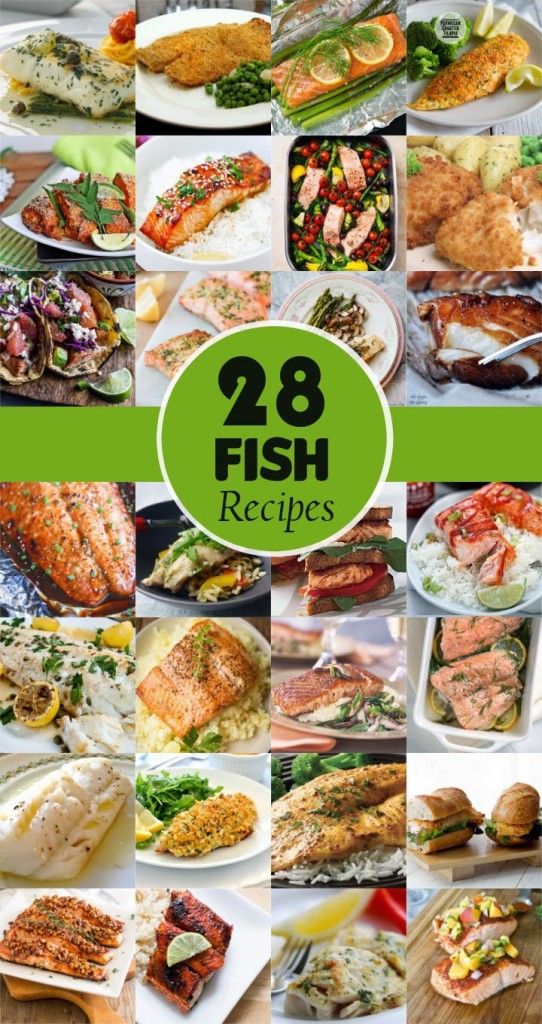 Wednesday's are officially fish day at our house and since I've been getting kinda' bored with my recipes I put together this delicious list to keep my meal planning super easy. Most of the recipes are on the healthier side, but a few have been added because they just sounded to yummy to pass up.
Non-Boring Fish Recipes
Citrus and Herb Roasted Halibut found on Grandmother's Kitchen
Baked Tilapia with Panko Crust found on About Food
Salmon and Asparagus found on Cooking Classy
Parmesan Crusted Tilapia found on Taste and Tell
Baked Fish Indian Style found on Swasthi's Recipes
Ginger Garlic Baked Salmon found on Rasa Malaysia
Bikini Fast Diet: O'Kelly Fish found on Daily Mail
Crispy Baked Fish found on My Health Matters
Cuban Fish Tacos with Citrus Mango Slaw found on Half Baked Harvest
Lemon Garlic Herb Crusted Salmon found on My Natural Family
Oven Roasted Sea Bass found on A Healthy Life for Me
Baked Honey Marinated Cod found on No Goji's, No Glory
Asian Salmon in Foil found on Damn Delicious
Ginger and Cilantro Baked Tilapia found on The Kitchn
Salmon Club Sandwich found on Food & Wine
Sweet and Spicy Sriracha Baked Salmon found on Baker by Nature
Baked Fish with Lemon Butter and Capers found on Simply Delicious
Garlic Ginger Glazed Salmon found on Let the Baking Begin
Herb Baked Tilapia found on Muffin Top-Less
Oven Poached Salmon found on Inspired Taste
Poor Mans Lobster found on Frugal Living Now
Healthy Parmesan Garlic Crumbed Fish found on RecipeTin Eats
Curried Baked Fish found on All You
Baked Tilapia Sandwich found on Hungry Brownie
Maple Walnut Crusted Salmon found on The Healthy Foodie
Skinny Sweet and Spicy Salmon found on Skinny Mom
20 Minute Garlic and Herb Baked Cod found on Lauren's Latest
Chili-Rubbed Salmon with Peach Pineapple Salsa found on A Zesty Bite
How many days a week do you serve fish?