This post may include affiliate links. Read our disclosure policy for more information.
We've been doing the Home Organization Challenge for 7 days now. Are you beginning to see changes to your home? I want to let you in on a little secret, the goal of the Home Organization Challenge isn't really about organizing your home, it's about developing life long habits that lead to an organized home and life. I can't stress to you enough how important it is to your success, that you take the challenges one day at a time and most importantly, to have FUN!
Each challenge is designed to work on one small, new habit at a time and each new habit builds on the previous one. It's kinda like building blocks, you have to start by anchoring the first block, once it's in place you can begin carefully adding more. If you add the blocks to quickly they are bound to fall. The same is true as you are going through the challenges, do them to quickly, and you won't succeed.
Today's Challenges: (remember to celebrate after each one)
Mini-Challenge
Before we get to the Day 7 challenge I want you to think of a fun way that you can celebrate your accomplishments. The rules are easy:
The celebration must be physical and/or verbal.

It has to be fun or funny.

It must be performed after the completion of every challenge.
Let me know what you came up with!
Day 7 – Sailing Smoothly
Do you plan your day before it starts? or, do you just wing-it? Believe it or not a few minutes of planning will have you Sailing Smoothly throughout the day. There is a lot of value in knowing what needs to be done and when. This is especially helpful if your family has a lot of commitments.
Sailing Smoothly Guide
To Do List – Begin a "To Do" list. Divide a sheet of paper into three sections and label them: (1) Have to; (2) Need to; (3) Want to. Place everything that has to be done into section 1, then place everything that you Need to-do into section 2 and finally place the things that you want to-do into section 3. Throughout the day as you accomplish the tasks on you list, cross them off. Anything that wasn't completed at the end of the day can be tacked on to tomorrows "To Do List".
Calendar – Check your calendar and put these items on the "Have To" section of your To-Do List.
Plan & Prep – What's for Dinner? Pull out all of the ingredients that you will need. If the meat is frozen it will be thawed out by the time you get home. If you are missing an ingredient or two you can stop by the store on your way home. Just a couple of minutes of prep time in the morning will put a healthy dinner on the table at a decent hour.
The Kiddos – Create a "To Do List" for the kids. Post it someplace where they can see it.
Drop Spots – These are the flat surfaces in our homes that tend to collect items that we don't put away. In my home it is the dining room table and the end tables. Take just a few minutes and put these items away.
Benefits of Sailing Smoothly:
You won't miss appointments.

Your home will be less cluttered when you get home.

The kids know what is expected of them.

You won't forget the things that need to be done.

Relieves stress.

Gives others the appearance that you've got it all together.
For the Kiddos: Before they head out the door make sure that they clear the drop spots in their rooms. Remind them that doing this simple thing in the morning gives them more time to play in the afternoon.
Helpful Tips:
Give the kids a "To Do" list that is age appropriate.

Don't spend more than a few minutes clearing Drop Spots.

Make a weekly menu to make planning meals easier.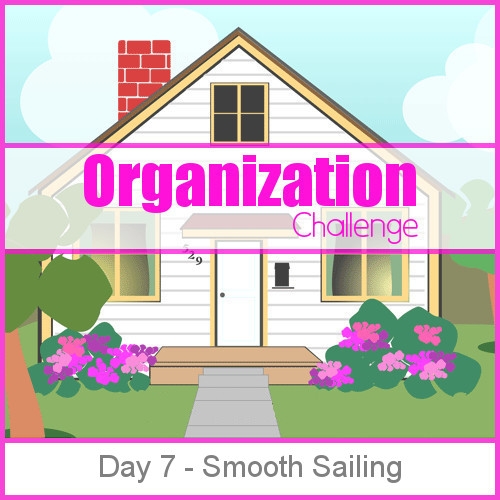 Join our Pinterest Group Board: Clean & Organize
Disclosure: Some of the links in this post are affiliate links. If you click on the link and purchase the item, I will receive a commission. I only recommend products or services that I personally believe will add value to my readers. All opinions stated are strictly my own. Read our full disclosure policy for more information.