This post may include affiliate links. Read our disclosure policy for more information.
Yesterday's Home Organization challenge was setting up and and powering through our weekly Power Hour activities. How long did it take you to power through your list? Don't forget to mark down your time to beat. For today's weekly challenge we're moving into the office. There is always so much to be done in this area of our homes and if we don't stay on top of it, it can get out of control, fast.
Continue perfecting these Challenges: (don't forget to celebrate)


Day 15 – Office Day
The Office Day is when we set aside time to take care of our home office duties. Setting one day a week aside for the office helps your to keep a handle on all of the correspondence that we receive via our mail box and emails. It also helps us to keep our bills up to date, avoiding unnecessary late fees and ultimately hurting our credit. When you keep up with this on a weekly basis you'll find that you save yourself a lot of time and headache in the long run.
Here is a list of some Office Day activities:
Pay Bills
File Paperwork
Respond to Emails
Clean out Junk Mail Folder
Organize Desk
Write Letters
Make Phone Calls
Research insurance rates
I have my Office Day scheduled for Tuesday's. This day works best for me because I don't have a lot of distractions. I can really focus on what needs to be done and not have any interruptions when I'm on important phone calls.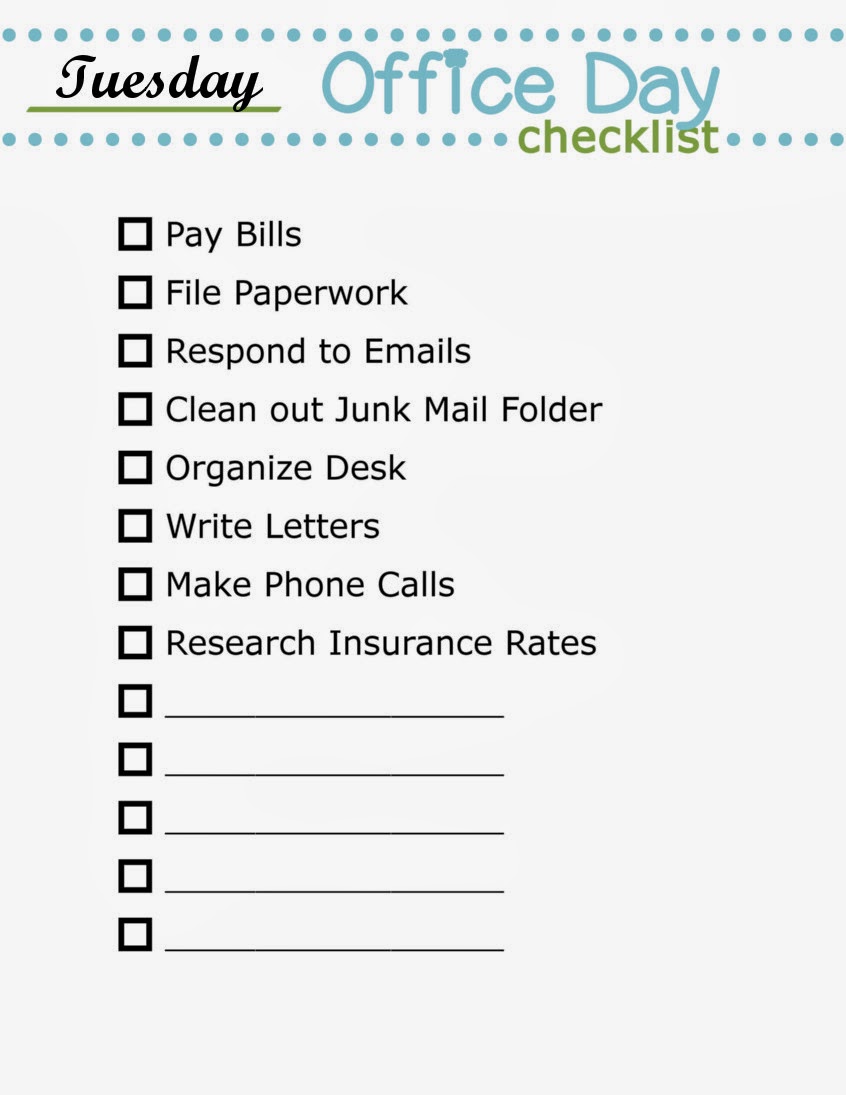 After you print the Office Day and you've added your activitiesm file it under the weekly tab in your Reminder Binder. I like to place the printable in a sheet protector so that I can use a dry erase marker to mark off the activities as they've been completed. At the end of the week you'll decide which day of the week will be best for performing the activities.