This post may include affiliate links. Read our disclosure policy for more information.
How are your daily challenges going? and, the kids? Today we're going to begin working on the weekly Home Organization Challenges. We will be covering one new challenge everyday this week. Each challenge will represent one day of the week. At the end of the week you'll take all seven of the challenges and arrange them in an order that works for you. I'll explain more about this throughout the week.
Continue perfecting these Challenges: (don't forget to celebrate)


Day 14 – Power Hour
Today we're going to tackle some household chores activities that need to be completed once a week. This is not detailed cleaning it's more about freshening up our homes until we get to the detailed cleaning. I'll talk more about detailed cleaning next week but for now let's just concentrate on freshening up our homes (and lives).
I call this the Power Hour, because the goal is to power through all of the activities within an hour. I usually get the kids involved and we make a game of it. We set a timer and try to beat the previous weeks time. We even have a board that we post the "Time to Beat" on. It's all about making it fun and the best part is the kids really look forward to it.
Here is a list of some Power Hour activities:
Change the sheets
Empty all of the trash cans
Clean the inside of the microwave
Vacuum & Sweep
Mop
Dust
I have my Power Hour scheduled for Monday's. It just made sense for me to complete it after a weekend of everyone being home and trudging in and out. Plus, it's a great way to start your week with your home having a fresh look.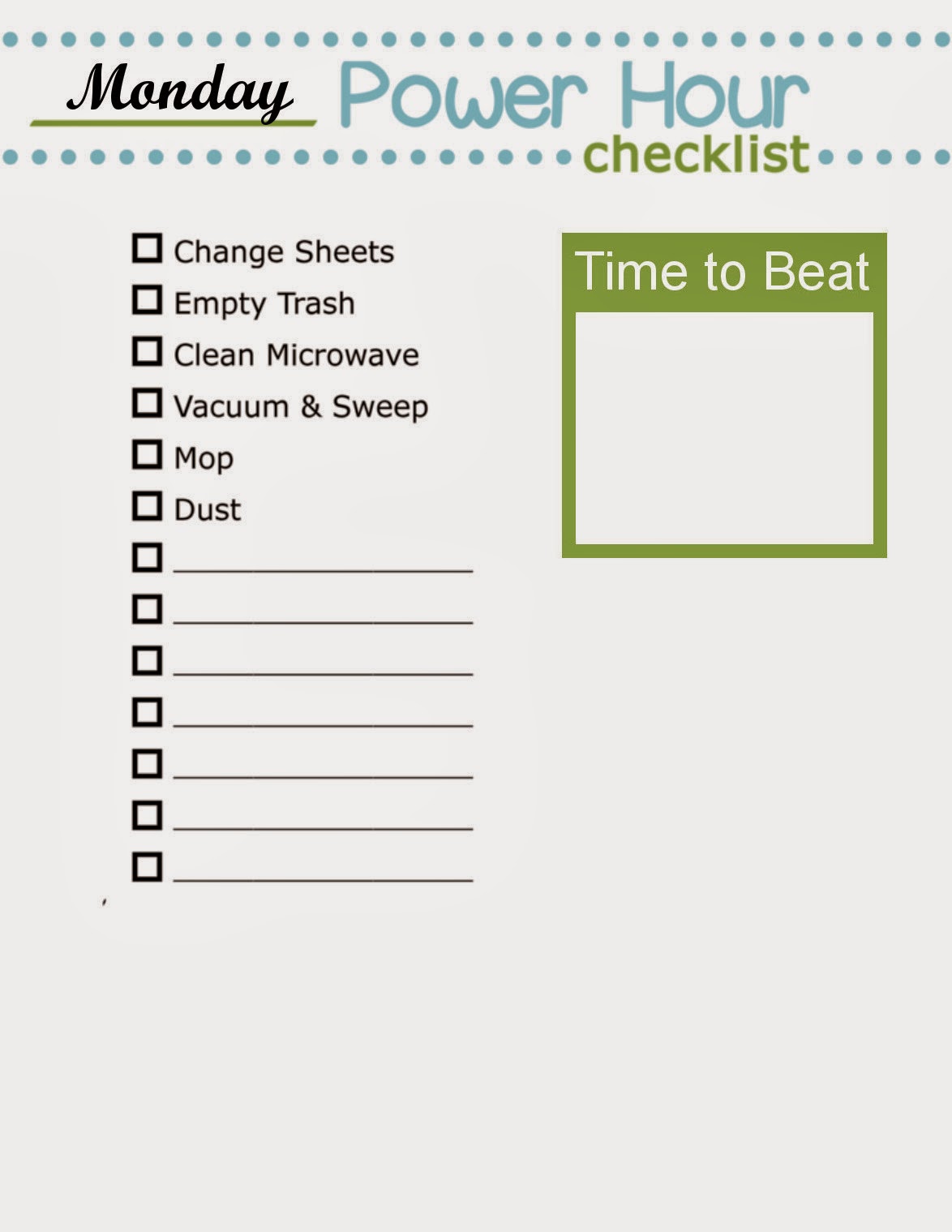 After you print the Power Hour checklist, add your activities to the list. Remember you only have an hour to do them in so really think about what needs to be done. When you're finished file it in your Reminder Binder under the Weekly tab. I like to place the printable in a sheet protector so that I can use a dry erase marker to mark off the activities as they've been completed. At the end of the week you'll decide which day of the week will be best for performing the activities.