This post may include affiliate links. Read our disclosure policy for more information.
Earlier this week I was running out of ideas of what to write about for the 
Frugal Living WWII Tips
series. When I started this I thought that it was going to be a long running series but all of a sudden I ran into a writers block. For the life of me I couldn't think of anything, I knew there were more tips but they just weren't coming to me. I think I was having writers block because I wasn't feeling very good; sore throat, headache, body ache. I called my mom, that's what I do when I'm not feeling good and she told me to rub some Vick's on my throat and wrap it with one of my hubby's clean socks. All of a sudden my writers block was gone, this was one of the many things that my grandma did with Vicks VapoRub.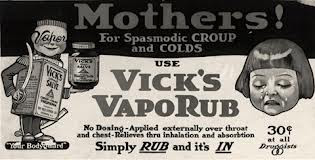 Vicks VapoRub was something that we always had in our medicine cabinet when we were growing up, I also remember it being in my grandmas. I began calling family members to get their ideas for this WWII topic. Much to my surprise they remembered my grandma using it for a bunch of different reasons. I was shocked at how versatile this little jar of vapor was. By the way, the Vicks and sock cured my sore throat.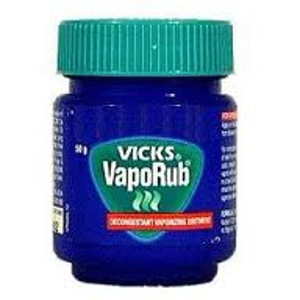 Sore Throat – rub on your throat and wrap with a tube sock.
Decongestant – rub on your chest and under your nostrils.
Coughs – to minimize coughing, rub generously on your feet and cover with socks.
Sore Muscles – massage a generous amount on sore muscles.
Headaches – rub a small amount on your temples and forehead.
Ear Aches – to relieve pain, apply a small amount to a cotton ball and place in ear.
Nail Fungus – rub on infected toenails. The nail will turn a dark color as it kills the fungus. The dark color will go away as the nail grows out.
Mosquito Repellent – rub a small amount on exposed skin.
Itchy Bug Bites – rub on bite and cover with a band aid.
Cracked Heels – rub on feet in the morning and at night.
Acne – to clear it up, dab on zit.
Cold Sores – rub a little on the area when you begin to feel one coming on.
Splinters – to remove, apply to the splinter and cover with a band-aid before going to bed. The next morning the splinter will be on the band-aid.
What unusual ways have you used Vick's VapoRub?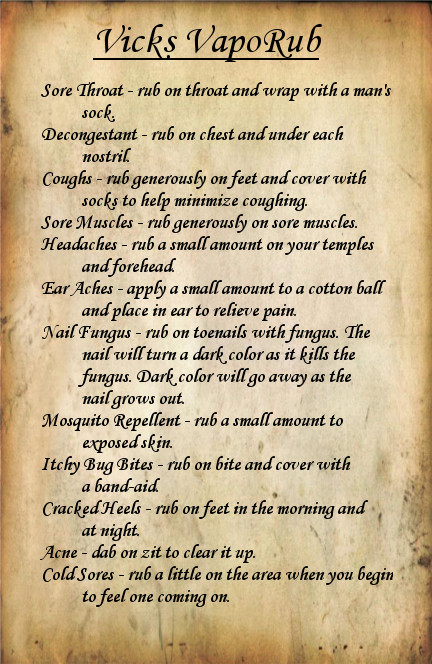 ** If, by some small miracle, you worked at Amway in Ada, MI and were the person my mother loaned the notebook to, please contact me. The notebook is a small (approx 6×9), black, 3-ring binder, and contains hand drawn patterns (teddy bear), recipes, tips and tricks. It would mean so much to my family to have it back.